This dairy free fudge is smooth, creamy, and so delicious, you would never guess it is free of dairy and the other most common allergens!)
Jump to:
I love to make this dairy free fudge recipe around the holidays but there was a time that I thought a fudge recipe without milk would be impossible.
My favorite recipe was "Double Decker Fudge". It included a chocolate layer and a peanut butter layer. The recipe called for marshmallow crème (off-limits if you have an egg allergy), peanut butter chips, chocolate chips and evaporated milk.
Duplicating this recipe meant finding substitutes for all of those allergen filled ingredients.
Dairy free ingredients
Evaporated milk
The original fudge recipe called for evaporated milk. Evaporated milk is regular milk that has had 60% of the water removed from it by heating it.
When I originally made this fudge recipe, I used powdered potato milk and mixed it to a higher concentration. That's right...potato milk! It actually worked well but, unfortunately, it is no longer available so I had to find another solution.
My solution? Use a dairy free milk (I have tried rice, soy, and oat milks) and cook it down so it is more concentrated. This is not a quick process but it works!
To do this, just pour 2 cups of your favorite dairy free milk in a large saucepan. Cook it over medium-low heat until it is reduced to ¾ cup.
Now, it is tempting to walk away from the stove and get involved with other things while you're doing this because it is a slow process. However, don't go too far because you don't want the milk to boil over or burn. Be sure to watch it more closely as it reaches a higher temperature and stir occasionally. The process takes about 40-60 minutes so take that into account when you're making this fudge.
I know, I know...that's a pretty big time commitment just for some fudge. Let me assure you...it's worth it! 🙂
If you want to skip that process, you can find dairy free evaporated milk in the form of coconut milk. If you can have coconut, go ahead and substitute ¾ cup of that for the 2 cups of dairy free milk and skip the first step in the recipe.
Sunflower butter
This is also nut free fudge! My go-to substitute for peanut butter is sunflower butter. I especially like Sunbutter because it is made in a facility that is free of the top 8 allergens.
I try to buy the no-sugar added kind in general but it's really not important for this recipe. We're going "all in" on sugar for this one! Use whatever sunflower butter you'd like.
If you don't have a tree nut or peanut allergy, you can also substitute peanut butter or any kind of tree nut butter (almond, cashew).
Chocolate Chips
For the chocolate layer of this fudge, I use dairy free chocolate chips. I prefer to use mini chips because they melt faster making it easier to get the chocolate fudge layer smooth in a short amount of time.
Enjoy Life Foods chocolate chips are one option. They come in mini chips and they are free of the top 8 allergens.
Another option is Nestle Allergen-Free Semi-Sweet Morsels which do not come in mini chips but will still work just fine in this recipe.
Recipe tips
Making fudge requires a little bit of technique to get it just right. Here are some tips for successful fudge-making:
Have the ingredients and equipment ready before you start. Once you start cooking the fudge and it gets to the right stage/temperature, you have to work quickly. At that point, you won't have time to measure out your chocolate chips and sunflower butter or get your pan ready. Do these things first!
A candy thermometer is helpful. I have made the fudge without a candy thermometer but it is really helpful to have one. Fudge needs to be cooked to "soft ball stage" to be thick enough to hold its shape but not hard.
No candy thermometer? I have made this fudge many times without a candy thermometer so it can be done. Just cook the mixture for 5 minutes once it is boiling. Another indicator that it is near ready is when the mixture starts to turn a light brown color.
Work quickly. The fudge will start to thicken pretty quickly. Start with the sunflower butter layer being sure it is smooth before spreading it onto the bottom of the pan. Next, move onto the chocolate layer.
Cool completely. I usually just put the pan right into the refrigerator to speed up the cooling process.
Cut into pieces and serve (or save). I cut the fudge into 1 inch squares and transfer them to an airtight container. I often store the fudge in the freezer and include it on cookie plates during the holiday season.
I hope you enjoy this decadent (and dairy free!) fudge!
Related recipes
📖 Recipe
Dairy Free Fudge
This dairy free fudge is also free of egg, soy, wheat/gluten, peanuts, tree nuts, fish, and shellfish.
Equipment
Candy thermometer (optional but helpful)
Ingredients
2

cups

dairy free milk

½

cup

sunflower butter

1

cup

"safe" semi-sweet chocolate chips

see post for suggestions

2-¼

cup

granulated sugar

1-¾

cup

mini marshmallows

¼

cup

"safe" margarine

see post for suggestions

1

teaspoon

vanilla extract
Instructions
Pour the dairy free milk in a saucepan and cook over low heat until it is reduced to ¾ cup, stirring occasionally.

Line an 8-inch square pan with foil, extending it over the edges of the pan. Put the sunflower butter in a medium bowl and the chocolate chips into another medium bowl.

Combine the sugar, marshmallows, dairy free milk, and margarine in a 3-quart saucepan. Cook over medium heat, stirring constantly until the mixture boils. Stirring constantly, cook for 5 minutes or until a candy thermometer reads 234-240° F.

Remove from heat and add the vanilla extract. Immediately pour half of the hot mixture (2 cups) into the bowl with the sunflower butter and half into the bowl with the chocolate chips. Using a rubber spatula, stir the sunflower butter mixture until it is smooth. Pour into the foil lined pan and spread evenly. Next, mix the chocolate chips and hot mixture together until the chocolate chips are melted and the mixture is smooth. Immediately spread over the sunflower butter layer.

Cool completely in the refrigerator, about 1 hour. Remove from the pan and place the chocolate layer down on a cutting board. Remove the foil. Cut into 1 inch squares. Store in an air tight container.
Notes
If you can't have sunflower butter, omit it and increase the amount of chocolate chips to 2 cups. Pour all of the hot mixture into the chocolate chips and follow the rest of the instructions above.
Nutrition facts for 1 piece of fudge: Calories: 137, Total fat: 5.5 grams, saturated fat: 1.9 grams, trans fats: 0 grams, cholesterol: 0 mg, sodium: 22 mg, Total carbohydrates: 22 grams, fiber: 0.8 grams, sugars: 19, protein: 1.5 grams
Nutrition
Love this recipe?
Please leave a rating ⭐⭐⭐⭐⭐ and share your comments below!
Stay in touch on social media! You can find me @ Instagram, Facebook, and Pinterest. I love getting your feedback so please tag me if you try a recipe!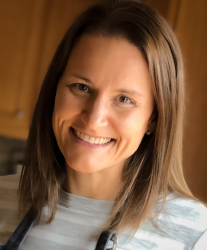 Latest posts by Kristi Winkels, RDN, LD
(see all)