Looking for a nut free chocolate spread? This recipe will take care of your craving but without the top 9 allergens (including peanuts and tree nuts). It's perfect for dipping, spreading, or just eating right from the jar, and you can make it in less than 30 minutes!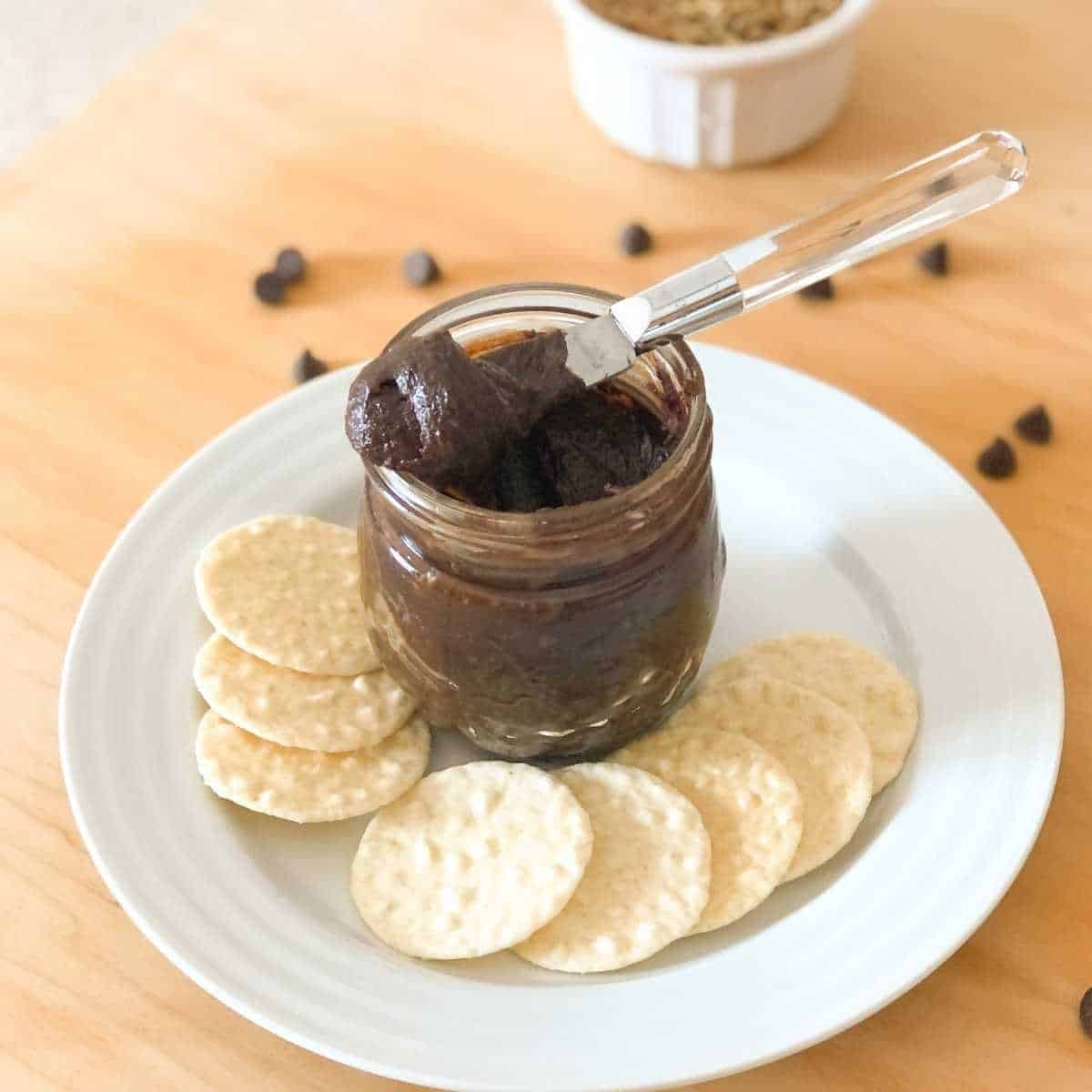 Jump to:
You might have heard of something called Nutella which is a chocolatey spread made with hazelnuts, a tree nut. It also happens to contain other allergens like soy lecithin and milk powder. So, it may be delicious but it's not allergy-friendly.
That doesn't mean you have to miss out on enjoying a chocolate spread! You can make your own nut free nutella (or even find some safe ready-made options, too!)
Is there a ready-made chocolate spread that is nut free?
Yes, you can buy several nut free chocolate spread options that are ready-made!
88 Acres Dark Chocolate Sunflower Seed Butter - I have sampled this one and it is DELICIOUS! It comes in a 14-ounce jar or you can get single-serve pouches (very convenient when you're on the go). I love that 88 Acres products are not only nut free but also free of the top 9 allergens as well as mustard and sulfites.
Beyond the Equator 5 Seed Butter (Chocolate) -Also made in an allergen-free facility that only processes seed products (sunflower, pumpkin, hemp, flax, and chia). They do not process any nuts or sesame seeds.
Sunbutter - Chocolate - Sunbutter is another company that is free of the top 9 allergens! I found the 16-ounce jar of chocolate Sunbutter on Amazon but you might be able to find it a little cheaper at your local specialty food store. You can search for a store near you at Sunbutter.com.
Why make your own nut free chocolate spread?
When you have food allergies, it's likely that you're making foods from scratch more than most people. So, it's nice to be able to buy a ready-made option to save the work of making it yourself.
With that said, there are a few reasons that you might prefer to make your own:
You can save money. Even though allergy-friendly ingredients like chocolate chips and sunflower seeds without cross-contact with nuts can be expensive, making your own is going to be cheaper.
Availability. Some of the ready-made products are only available in specialty stores or online. You'll be able to find ingredients to make your own at most regular grocery stores.
You can customize it to your own needs and taste. Don't like super sweet? You can reduce the sugar (or omit it altogether). Not sweet enough? You got it - just add more.
It's fun! This is an easy recipe to make and fun to watch it come together using just your food processor and seven ingredients.
Ingredients and equipment
Roasted sunflower seeds - Sunflower seeds can be at high risk of cross-contact with tree nuts and peanuts. Read labels carefully to be sure you're choosing one that is safe. I like roasted, unsalted seeds from Trader Joe's.
Semi-sweet chocolate chips - If you can have dairy, these should be easy to find. If you need dairy free (or free of other common allergens), allergy friendly chocolate chip options include Enjoy Life Foods, Nestle Allergen Free Baking Chips. I also recently found Great Value top 8 allergen-free chocolate chips at Walmart.
Cooking oil - You can use any kind of oil that you have on hand. I like grapeseed oil but have also used canola oil. They both have a mild flavor so they won't throw off the flavor of the spread.
Cocoa powder - Again, read labels to be sure there's no cross-contact with nuts or other allergens.
Maple syrup - Pure maple syrup is the best! If you don't have it, you could substitute powdered sugar.
Vanilla extract
Food processor - You don't need anything fancy, just something that has a puree function. I use my Kitchenaid chopper which works just fine.
How to make it
Step 1: Start by putting the sunflower seeds in your food processor.
Step 2: Begin pureeing the seeds. After a couple of minutes, the mixture will become mealy and then start to stick on the sides of the food processor. Stop periodically and scrape the sides of the bowl.
Step 3: The mixture will start to stick together. Just continue to scrape the sides of the bowl and then continue to puree until it becomes smoother.
Note: It can get pretty hot - if you notice this, just pause for a minute and start again. It might seem like the process takes a while but this helps the mixture to be smooth and creamy.
Step 4: Prepare the chocolate sauce to add to the sunflower seeds. First, measure the chocolate chips into a glass bowl and add the oil.
Step 5: Microwave for 30 seconds, remove and stir.
Step 6: Repeat the process until the chocolate is melted and smooth.
Step 7: Add the maple syrup, vanilla extract, and cocoa powder. Stir until the mixture is smooth. Add the chocolate mixture to the pureed sunflower seeds.
Step 8: Puree the mixture until it is blended well and smooth. Add 1 tablespoon of water and continue to puree. Stop, scrape the sides of the bowl, add the remaining water, and puree again until smooth and creamy.
Recipe tips and variations
You can try adding a pinch of salt or cinnamon for a little flavor boost.
Store this spread in an airtight container like a pint-sized glass jar or plastic container. It will keep in the refrigerator for 2-3 weeks (but you'll probably eat it all before then!) 😁
You can serve it as a dip or a spread. My son chose to dip individual Rice Chex cereal in it while I went for a larger option- rice crackers. Apple slices are another delicious option!
More nut free treats
📖 Recipe
Nut Free Chocolate Spread
Nut free chocolate spread is free from peanuts, tree nuts, and other common allergens and makes a satisfying snack!
Ingredients
½

cup

sunflower seeds

roasted and unsalted

2

tablespoons

cooking oil

2

tablespoons

pure maple syrup

2

tablespoons

cocoa powder

2

teaspoons

vanilla extract

2

tablespoons

water
Instructions
Add roasted sunflower seeds to a food processor and puree. The seeds will become mealy, then clump together, and then become more smooth. This process takes about 5-10 minutes. Scrape the sides of the food processor periodically. If you notice that the mixture is getting hot, stop pureeing and allow it to cool a bit.

Pour the chocolate chips into a glass measuring cup along with the cooking oil. Microwave for 30 seconds and stir. Continue microwaving and stirring in 30 second intervals until the chocolate is melted completely. Add the cocoa powder, maple syrup, and vanilla extract and stir until smooth. Pour the chocolate mixture into the sunflower seed mixture.

Blend the chocolate and sunflower seed mixture until smooth. Add the water one tablespoon at a time until the mixture is to the desired consistency.

Transfer to a glass pint jar or plastic container and store in the refrigerator for 2-3 weeks.
Nutrition
Serving:
1
tablespoon
Calories:
135
kcal
Carbohydrates:
10
g
Protein:
3
g
Fat:
11
g
Saturated Fat:
2.5
g
Sodium:
1.8
mg
Fiber:
2
g
Sugar:
6
g
Love this recipe?
Please leave a rating ⭐⭐⭐⭐⭐ and share your comments below!
Stay in touch on social media! You can find me @ Instagram, Facebook, and Pinterest. I love getting your feedback so please tag me if you try a recipe!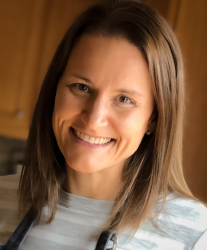 Latest posts by Kristi Winkels, RDN, LD
(see all)