Nut-free trail mix can be difficult to find ready-made so why not make your own? Not only does making your own mix allow you to customize to your specific allergens and taste but you'll save money, too!
Trail mix gets its name because it's made for on-the-go snacking. You don't have to be hiking to love this portable snack!
Many trail mixes that you buy at the store contain common allergens such as tree nuts, peanuts, dairy, and gluten.
Here are some tips for creating your own allergy friendly, gluten free, nut free trail mix.
Start with a whole grain
When I make a trail mix, I love to incorporate some type of cereal. Whole grain cereals like Corn Chex, Rice Chex, or Cheerios are good options for a gluten free trail mix.
The carbohydrates in the cereal are filling and provide quick energy. Plus, cereal is an inexpensive ingredient that kids tend to love.
Another whole grain option is popcorn. Popcorn is naturally gluten free and is a good source of fiber. Try sprinkling different seasonings on it like cinnamon, chili powder, or Italian seasoning to add a flavor punch to your trail mix.
Power up with protein
Protein makes a snack more filling and satisfying. Most trail mixes include tree nuts and peanuts but those are obviously not options for everyone!
Pumpkin seeds are a great addition to a trail mix because they not only provide protein and fiber but also have vitamin E and other antioxidants as well as magnesium.
Another nut-free protein option is sunflower seeds. The downside is their small size makes them more difficult to eat one by one but they're great by the handful!
Add something sweet
Most trail mixes mix a little something savory (like nuts) with something a little sweet.

Dried fruit adds sweetness without all of the sugar of chocolate candy that is often in prepared trail mixes. There are so many different dried fruits to choose from but I love dried cranberries, cherries, blueberries, and banana chips. Try to find dried fruit that doesn't have a lot of added sugar for the healthiest trail mix.
I also like to add a few chocolate chips to my kids' trail mix. We love the Enjoy Life Foods Mega chunks (big chunks of chocolate - what's not to like?!) We also like Nestle's allergen free white chocolate morsels just to mix it up once in a while.
Mix it up
I usually make single-serving bags/containers of trail mix rather than making it in bulk.
Often when making in bulk, smaller ingredients (like sunflower seeds) fall to the bottom making it difficult to get an even distribution of ingredients.
If you want to make several servings of trail mix at a time, consider creating an assembly line of your ingredients and filling individual baggies.
This process doesn't have to be too complicated or precise.
Here are approximate amounts that seems to work well in a trail mix:
¼ cup whole grain gluten free cereal (like Cheerios)
2 tablespoons no sugar added dried fruit (like raisins and banana chips)
2 tablespoons sunflower or pumpkin seeds
½ tablespoon chocolate chips (like Enjoy Life)
The nutrition content is going to vary a bit but, in general, this mix will provide approximately:
220 calories
13 grams of fat
3 grams saturated fat
55 milligrams sodium
28 grams carbohydrates
3.5 grams fiber
9 grams sugars (1 gram added sugars)
5 grams protein
Have fun with different flavor combinations and enjoy! 🙂
More snack ideas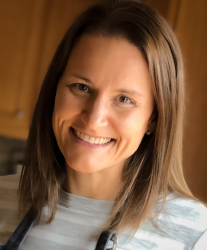 Latest posts by Kristi Winkels, RDN, LD
(see all)