This wheat free stuffing is also free of dairy, eggs, soy, fish, shellfish, peanuts, and tree nuts making it an allergy-friendly dish that all of your guests will enjoy.
Jump to:
A Thanksgiving must-have
For me, Thanksgiving dinner would not be complete without stuffing. So, when my son was old enough to eat solid foods, I was highly motivated to figure out how to make an allergy-friendly version that everyone could enjoy. In my past life (before food allergies), I made stuffing using the boxed mix or, if I was going all out, a bag of seasoned croutons.
Nowadays, you can find wheat free stuffing mix at the regular grocery store. But, in 2006, it was not an easy item to find so I decided to make my own from scratch.
The ingredients
Safe bread for croutons
My son is allergic to wheat, eggs, dairy, barley, and peanuts so step one was to find bread that is free of those allergens. I have found that there are a lot of great gluten free bread products out there but many of them contain egg.
It really didn't matter that every wheat and egg-free bread we had tried was too dry and crumbly for our taste. For croutons, dry and crumbly works!
My go-to bread for this recipe is Food for Life's brown rice bread because I think the flavor is similar to whole wheat bread. I have also used white gluten-free bread and it works well, too.
Gluten free broth
I use either Kitchen Basics Gluten-Free Broth or Pacific brand broths that come in the aseptic containers (the boxes). It's just a lot more convenient than using granules to make broth. For Thanksgiving, I cut corners wherever I can!
Prep ahead of time
The croutons
This recipe isn't as quick and easy as boxed stuffing or even pre-made bags of seasoned croutons. Luckily, the most time-consuming part – making the croutons – can be done a few days ahead of time!
I usually dry the bread the weekend before Thanksgiving and then store the min airtight containers or resealable bags.
I also usually have to hide them because my kids like to snack on them! ? ?
The vegetables
I usually chop the carrots, onions, celery, and shallots the day before and store them in airtight containers.
You could even go so far as to toss the croutons and vegetables together the night before and then just add the broth in the morning.
Add the broth
This recipe calls for 2-½ cups of broth to be added to the crouton mixture. I have found that this amount varies quite a bit depending on how dry the croutons are and what kind of bread you use. I continue to add broth until the bread won't soak it up anymore, sometimes it is closer to 4 cups.
Even though this stuffing does require a little bit more effort, it's delicious and makes our Thanksgiving dinner complete!
Bake it...
I usually assemble this dish in the morning right after I put the turkey in the oven. After I have tossed together the croutons, vegetables, spices, etc. and added broth, I cover it and put it back in the refrigerator.
Whenever I make Thanksgiving dinner, I struggle with oven space. I typically take this dish out of the refrigerator about 30 minutes before I take the turkey out of the oven. This lets it worm up to room temperature so it doesn't have to bake as long after the turkey comes out.
I have even put it in the microwave for a few minutes just to give it a head start. Once the turkey comes out of the oven, my casseroles go in for about 20-30 minutes.
...Or slow cook it
Over the years, I have tried to rely less on my oven and use my slow cooker and pressure cooker more often for Thanksgiving dinner.
This stuffing works very well in the slow cooker! Again, I put it together right after I put the turkey in the oven and add it right to the slow cooker.
I start it on the high setting for an hour or two and then reduce to low so it doesn't get too dried out. I like having it off to the side and out of the way!
This stuffing may take a little more effort that a box stuffing or even pre-made bags of seasoned croutons but it's well worth the effort, especially on Thanksgiving!
Related recipes
📖 Recipe
Wheat Free Stuffing
Thanksgiving dinner is not complete without this wheat free stuffing. It is also free of dairy, eggs, soy, gluten, peanuts, tree nuts, fish, and shellfish.
Ingredients
Cooking spray

1-½

loaves gluten free bread

soy, egg, dairy-free bread (or enough to make 6 cups)

¼

cup

olive oil

2

onions

diced

2

stalks celery

diced

½

cup

diced carrot

2

shallots

minced

2

teaspoons

rubbed sage

2

teaspoons

dry thyme leaves

2

teaspoons

sea salt

1

teaspoon

freshly ground pepper

½

cup

white wine or broth

2 ½

cups

gluten-free chicken broth

(see note)
Instructions
Preheat the oven to 300 degrees F. Spray a baking sheet with cooking spray. Cut the bread into ½ inch cubes and place on the baking sheet in a single layer. Toast in the preheated oven for about 45 minutes being sure to toss the cubes every 15 minutes to ensure even toasting. When the bread cubes are dried completely, remove them from the oven and cool. Store in an air tight container until you are ready to make the stuffing.

Heat the oil over medium heat in a saute pan. Add the onions, celery, carrot, and shallots to the pan and saute until tender. Add the sage, thyme, salt, and pepper and cook for an additional two minutes stirring frequently. Add the wine (or broth) and continue to cook for two more minutes or until the wine is reduced by half.

In a large bowl, place the toasted bread cubes and toss in the vegetable mixture. Add the chicken broth gradually and stir until the bread cubes are evenly moistened and no longer crunchy (this may require more broth). Transfer to a baking dish and bake at 325 degrees F for 20-25 minutes.
Notes
The amount of broth you use may vary depending on the type of bread you use and how dry it is. Add broth until the croutons no longer soak up the liquid and they are no longer crunchy.
Love this recipe?
Please leave a rating ⭐⭐⭐⭐⭐ and share your comments below!
Stay in touch on social media! You can find me @ Instagram, Facebook, and Pinterest. I love getting your feedback so please tag me if you try a recipe!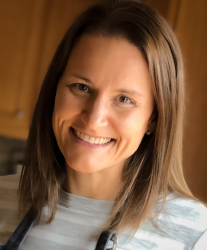 Latest posts by Kristi Winkels, RDN, LD
(see all)