A classic Thanksgiving dish, green bean casserole is usually made with dairy and wheat-filled ingredients. This version is free of the top 8 allergens but still delicious enough for any feast!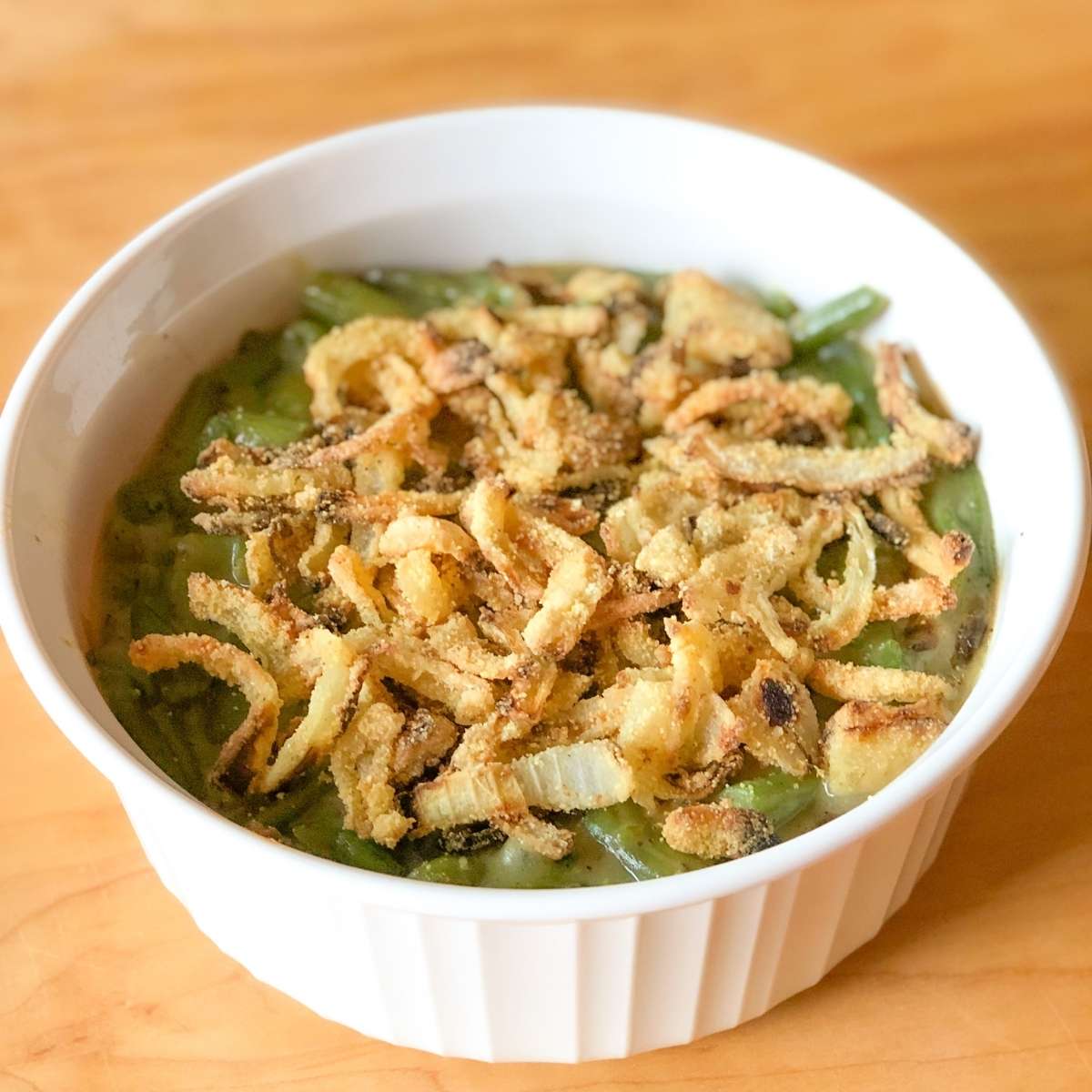 Jump to:
Green bean casserole was always part of our Thanksgiving feast when I was growing up. In fact, it was one of the dishes my mom would have us kids make because it was so easy to put together!
Going just from memory (so don't quote me on this!) it was just two cans of french cut green beans, a can (or two?) of condensed cream of mushroom soup, maybe a little milk added to the mixture, and we topped it off with fried onions from a can. Easy but oh, so good!
Our first year with food allergies, I hosted Thanksgiving and I was set on making the same dishes we always had growing up but with an "allergy free" twist. It had to be safe for everyone but still delicious!
How to make green bean casserole
The green beans
I use frozen, cut green beans instead of canned. I just like the texture better. You can use fresh green beans or canned if you like. It will only affect the texture of the dish. Whatever you use, they get tossed in a 3-quart casserole dish.
The creamy sauce
My original recipe utilized allergy friendly cream of mushroom soup that I would prepare in advance and freeze. The recipe is really delicious but I found that I could take a bit of a shortcut and make a dairy-free cream sauce instead.
To do this, you start with a medium saucepan and melt some dairy free margarine (we like Earth Balance) in the pan over medium heat. If you don't have Earth Balance, you can really use any type of fat, even liquid oil like olive oil will work here. If you use oil, just heat it up in the pan a bit.
Next, you are going to make a roux which is a mixture of fat and flour. Sprinkle the flour over your melted margarine (or heated oil) and whisk it until it is smooth. Then continue to whisk for a minute.
Finally, you whisk in gluten-free broth and dairy free milk making sure to incorporate all of the flour/fat mixture. Continue to cook over medium heat until the mixture is thickened and bubbly. Add the nutmeg, thyme, and pepper to the sauce and then pour it over the green beans and stir to combine.
The topping
You're not done yet! This casserole is traditionally topped with fried onions that add flavor and crunch to the dish.
When I made this dish originally, I couldn't find a wheat-free option so I opted to just top my green bean casserole with corn flakes. I know, I know...not the same! I guess I was going for that crunch.
This revised recipe includes making your own wheat-free "fried" onions that are actually baked. It's a little more work but totally worth it in my opinion. The nice thing is you can make them ahead of time and store them in an airtight container for a few days.
Here's how you do it.
Cut your onions in half and then slice them thinly.
Next, they get coated in a mixture of flour, cornmeal, and salt. Drizzle about two tablespoons of oil over them, toss them to distribute the oil, and then pour them onto a baking sheet.
Bake them in a 425-degree oven for 30 minutes or until they are golden brown and crispy. Be sure to check them every 10 minutes or so and give them a stir. when they are browning, it's time to take them out. I have gone a little too long and gotten some burned pieces. If that happens, you can just pick them out but it's best to avoid it altogether!
That's all there is to it! Add the onions to the casserole at the last 5 minutes of baking.
Serving suggestions
This dish is always on our Thanksgiving menu but it doesn't have to be just for Thanksgiving!
Serve it alongside a roasted chicken or baked chicken breasts and mashed potatoes.
Even though green beans are vegetables, I like to have another vegetable like mixed greens with cranberry vinaigrette to really round out the meal! I guess I just really like vegetables!
Enjoy the green bean casserole!
Related recipes
📖 Recipe
Allergy Friendly Green Bean Casserole
This classic Thanksgiving dish is still delicious with an allergy friendly twist.
Ingredients
For the fried onion topping:
2

large onions

¼

cup

gluten-free all-purpose flour

2

tablespoons

cornmeal

½

teaspoon

salt

2

tablespoons

canola or grapeseed oil
For the casserole
2

12 ounce bags

cut frozen green beans, thawed

¼

cup

dairy-free margarine

such as Earth Balance

¼

cup

gluten-free all-purpose flour

1-½

cups

gluten-free chicken broth

such as Kitchen Basics

½

cup

dairy-free milk

⅛

teaspoon

ground nutmeg

½

teaspoon

dried thyme leaves

½

teaspoon

black pepper
Instructions
For the fried onion topping:
Preheat the oven to 425° F. Cut the onions in half and then into thin slices; place in a medium-sized bowl. In a small bowl, combine ¼ cup flour, cornmeal, and salt. Pour over the onions and toss to coat. Transfer the coated onions to a baking sheet. Drizzle onions with the oil and toss to distribute it throughout the mixture.

Bake at 425° F for 30 minutes or until golden brown, stirring every 10 minutes. Do not overbake!

Remove from the oven and allow to cool. Transfer to an airtight container for future use or set aside until you're ready to top the casserole.
For the casserole
Preheat oven to 350° F. Put the thawed green beans in a 3-quart casserole dish.

In a medium saucepan, melt the margarine over medium-high heat. Sprinkle ¼ cup flour over the margarine and whisk until smooth; cook while stirring constantly for one minute. While whisking, gradually add the broth and milk to the pan making sure to incorporate all of the flour and margarine mixture. Cook over medium heat until thickened and bubbly. Stir in the nutmeg, thyme leaves, and pepper. Pour over the green beans and stir well to combine.

Bake at 350° F for 25-30 minutes or until warm and bubbly. Top the casserole with the prepared onions and bake another 5 minutes. Serve immediately or keep warm until ready to serve.
Notes
Nutrition facts for ½ cup serving: Calories: 185, Total fat: 9 grams, saturated fat: 1.5 grams, trans fats: 0 grams, cholesterol: 0 mg, sodium: 240 mg, total carbohydrates: 21 grams, dietary fiber: 3.5 grams, sugars: 5.2 grams, protein: 3 grams.
Nutrition
Love this recipe?
Please leave a rating ⭐⭐⭐⭐⭐ and share your comments below!
Stay in touch on social media! You can find me @ Instagram, Facebook, and Pinterest. I love getting your feedback so please tag me if you try a recipe!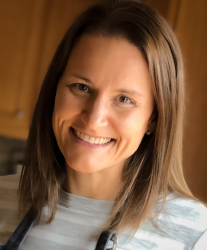 Latest posts by Kristi Winkels, RDN, LD
(see all)