Food is the focal point of Thanksgiving making it a challenging holiday for those with food allergies and intolerances. This is our guide to having a delicious and safe Thanksgiving with food allergies.
Jump to:
Thanksgiving with food allergies can be a challenge, after all, food is the focal point of Thanksgiving and it is probably safe to say that it always will be.
Don't let a holiday centered around food scare you. Even though a traditional Thanksgiving meal is full of common food allergens, you might be surprised to know that it doesn't have to be. With a few substitutions, you can have a feast free of the top 9 allergens.
Following are recipes for traditional Thanksgiving dishes that are free of the top 9 allergens.
Allergy friendly appetizers
For a holiday that involves so much eating, a light appetizer to start should do the trick. (And, if you're hosting, having appetizers away from the kitchen prevents eager guests from sneaking a taste of the main meal before it starts!)
Our traditional appetizer for Thanksgiving dinner is this turkey veggie platter. We serve it with hummus usually but have also made ranch or dill dip using SO Delicious Coconut Milk Yogurt.
Salad
Some might say that there is no room on a crowded Thanksgiving dinner plate for a salad. But I beg to differ! Not only are salads healthy, but they also introduce different textures to your palate and color to your plate.
One of my favorite salads for Thanksgiving is this mixed green salad with cranberry vinaigrette. You can have a lot of the components done ahead of time so it's easy to include in your Thanksgiving feast.
I also love this broccoli crunch salad which is a mix of broccoli florets, tart green apples, sweet dried cranberries, crunchy pomegranate seeds, and sunflower seeds. And it's all tossed in a dairy and egg free poppy seed dressing. It's best after chilling for an hour or more so it's a great fix-and-forget salad!
Roasted Turkey
In my opinion, Thanksgiving wouldn't be the same without a juicy turkey.
Turkey on its own is naturally free of the top 8 allergens but it is important to check the packaging, especially for ingredients containing wheat/gluten.
Occasionally, I come across a turkey that has been injected with a broth mixture that contains gluten. So, be sure to watch for that.
Luckily, it isn't difficult to find a gluten free turkey at your regular grocery store. Just be sure to read the label carefully and, if the label isn't clear, call the company directly to confirm that the turkey is gluten free and free of any other allergens you're avoiding.
Also, if you have a wheat allergy, throw out the gravy packet that is often included with the turkey because it most likely contains wheat.
Finally, there are a number of ways to prepare your turkey. Many recipes call for an herbed butter mixture to be rubbed under the skin of the turkey. I often do this but use dairy free margarine or olive oil mixed with herbs instead. It still turns out delicious without the dairy!
Cranberry Sauce
Many people could live without cranberry sauce on Thanksgiving. I would have agreed until I made this cranberry-apple relish for the first time. Now, our Thanksgiving feast would not be the same without it.
This isn't your ordinary cranberry sauce out of a can, it is much more delicious! I make it a couple of days ahead of Thanksgiving. One Thanksgiving, I forgot to put it out for the meal! It was sad but we had more leftovers for spreading on our leftover turkey sandwiches so it was still a win!
Potatoes
Is it even Thanksgiving without some kind of potato? The answer is clearly "no"! Following are some of our favorite potato dishes.
Mashed Potatoes
Traditional mashed potatoes often contain heavy cream and butter which makes them light, fluffy, and rich all at the same time.
But don't worry if you're avoiding dairy and other common allergens. You can still enjoy mashed potatoes!
If you have a pressure cooker, these mashed potatoes are the way to go. They're so easy to make and are "no drain" meaning the broth used to cook the potatoes is mashed right in. Go to the pressure cooker mashed potatoes recipe.
If you don't have a pressure cooker, no worries! You can still make delicious mashed potatoes! Go to the stovetop mashed potatoes recipe.
Sweet potato casserole
This gluten free sweet potato casserole is very easy to make, can be made ahead of time, and is so tasty. It's a must-have dish on our holiday table.
Vegan Twice Baked Potatoes
If you want to step up your potato game and get a little fancier than mashed potatoes, I highly recommend twice baked potatoes! They're gluten free and free from the most common allergens including dairy, eggs, and soy!
Get the vegan twice baked potato recipe here.
Gluten and Dairy free Cheesy Potatoes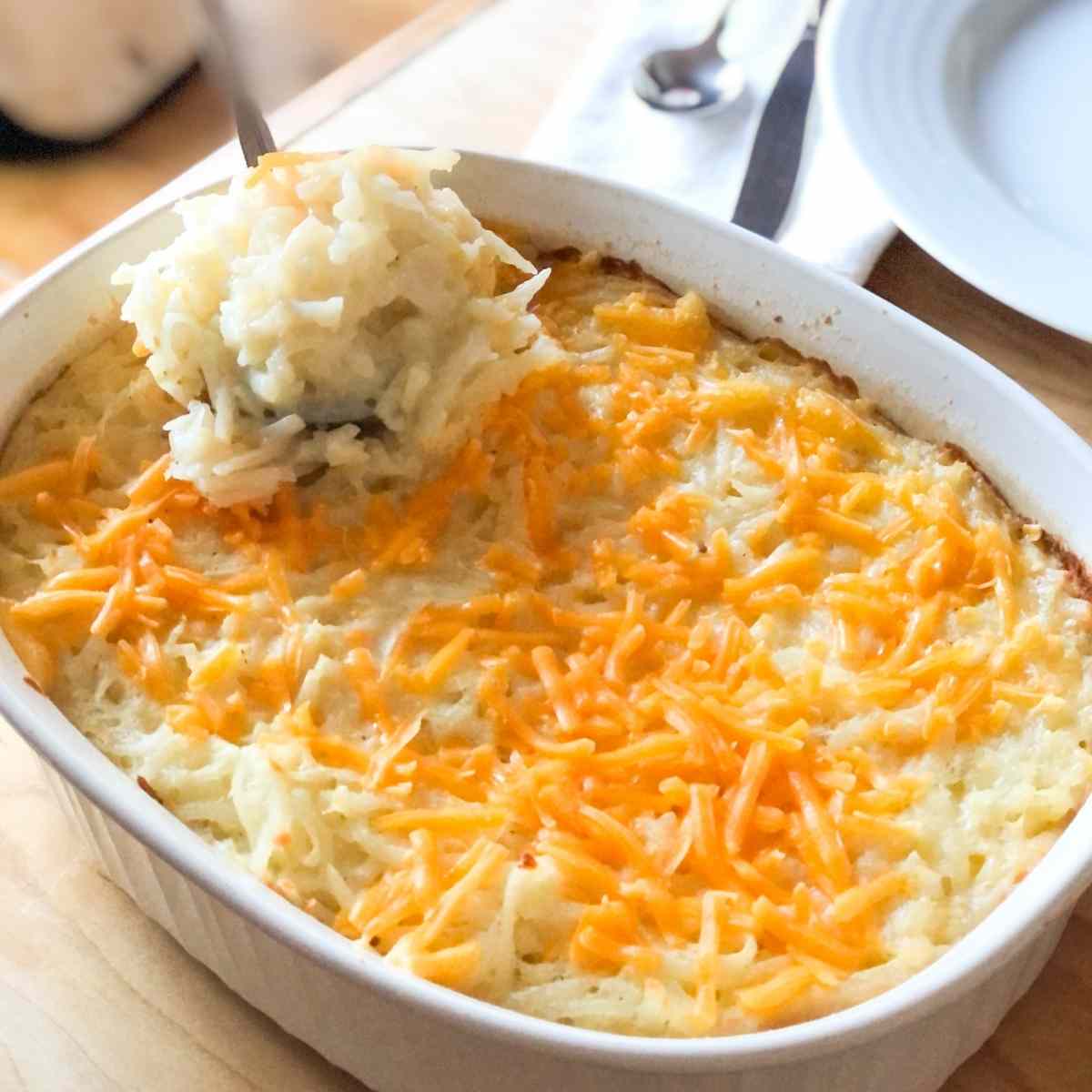 Cheesy potatoes are an ideal dish for Thanksgiving dinner because you can make them ahead of time and put them in the oven just before you're ready to eat.
This is a dairy and gluten free recipe as well as the other top 9 allergens.
Get the recipe for gluten and dairy free cheesy potatoes here.
Gravy
You cannot have mashed potatoes without gravy! Unfortunately, the gravy packet that comes with the turkey will more than likely contain wheat, so you'll need to make your own allergy-free gravy.
Not to worry, though, because making a boat full of delicious gravy is easy and tastes WAY BETTER than the other stuff! Go to the recipe for "Allergy Free" Gravy.
Stuffing
Stuffing is made with dried bread, most often bread made with wheat flour. Even stuffing mixes that have dried bread cubes are made with wheat.
To make a wheat free stuffing, you just need some wheat/gluten free bread that is also free of other allergens you're avoiding.
I was worried that gluten/wheat free stuffing wouldn't be as tasty as traditional stuffing. Luckily, wheat free bread still makes a delicious stuffing! Go to the recipe for Wheat Free Stuffing.
Green Bean Casserole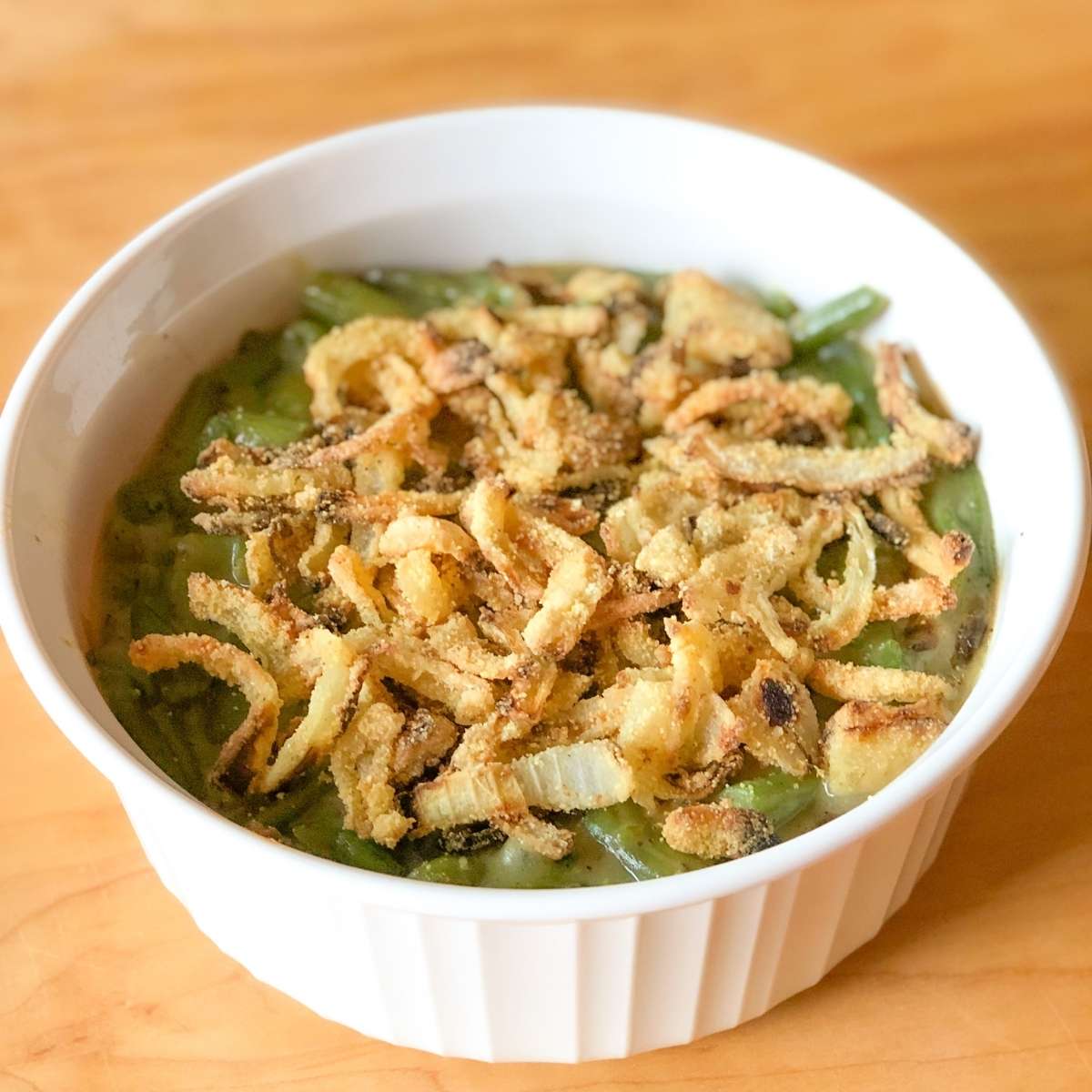 Green bean casserole is another dish that was traditionally part of our Thanksgiving feast. With a few substitutions, the traditional holiday dish can be free of the top 9 allergens but still enjoyed by everyone. Go to the recipe for Green Bean Casserole
Dessert
Dessert is the perfect ending to any great meal! It can also pose the greatest challenge to those who are eating with food allergies. So many favorite and traditional desserts contain common food allergens.
Luckily, there are many "allergy free" dessert options including those that don't require baking from scratch.
You'll find many baking mixes to choose from at the store. Cupcakes decorated with the Thanksgiving theme, sugar cookies in the shape of turkeys, and pies made with "allergy-free" pie crust mixes are all easy options.
Our favorite dessert at Thanksgiving is these pumpkin bars. They remind me of pumpkin pie but without the allergens!
Watch out for cross-contact
I love to host Thanksgiving for many reasons, one of them being that I can control what foods are in the kitchen and prevent cross-contact.
Cross contact is when foods touch and their proteins mix. When a food without an allergen touches a food with an allergen, it becomes unsafe and can cause an allergic reaction. Allergic reactions ruin holiday gatherings for everyone!
The best way to prevent cross-contact is to keep the allergen(s) you or your guest are avoiding out of the kitchen (or home) completely.
That may not be realistic for everyone so the next best option is to keep the foods containing the allergen(s) in a separate area, away from the "safe" foods.
You can also have the person with the food allergy dish up their food first so it has less chance of cross-contact.
Above all, whether you are hosting or having Thanksgiving dinner away from home, good communication about food allergies is key.
Wrap up
Thanksgiving is a food-focused holiday which can make it a difficult one for people with food allergies. As I've outlined in this article, there are so many allergy friendly foods to enjoy! It just takes some planning and preparation to create the menu that works for you and your family!
I hope you can find new traditions with safe foods that everyone enjoys and can focus on the fun times with family and all there is to be thankful for!
Don't forget to follow me on Instagram and tag your allergy friendly Thanksgiving photos with #eatingwithfoodallergies to share the deliciousness!
Have a safe and happy Thanksgiving!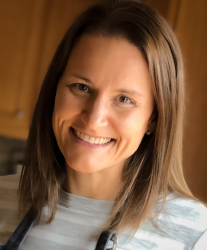 Latest posts by Kristi Winkels, RDN, LD
(see all)