Allergy free mashed potatoes can be made by using a few simple substitutions such as dairy free milk, broth, and safe margarine or flavored oil. Some meals are just not the same without mashed potatoes and food allergies don't have to keep you from enjoying them!
Jump to:
My grandma was an amazing cook and she put a lot of love into everything she made. Remember that Friends episode when Monica made lumpy potatoes for Ross, whipped potatoes with peas and onions for Phoebe, and tater tots for Joey? That is just the sort of thing my grandma would do for her family. Except, we wouldn't have to ask her to do it that way. She would have already noted who likes what and planned to make all of it!
When I think of holidays spent at my grandma's house, I can still picture the large stockpot of boiling potatoes. It wasn't a shiny new stockpot but was kind of a dulled silver color and had dents in it. It was used.
Grandma would lift that stockpot from the stove to the sink to drain the water. Then to the butcher block in the middle of the kitchen where she would get out her old potato masher with the wooden handle and whip those spuds into smooth, airy, delightful, deliciousness.
Incorporating the heavy whipping cream and butter into the mix made the mashed potatoes rich and creamy. And, of course, grandma's love was in there, too. We all loved them the same way - just the way she made them!
Allergy free ingredients
When my son was diagnosed with multiple food allergies, including dairy, my grandma seemed in awe of cooking without the ingredients we all grew to love. No butter? We can get along without it, I'd tell her.
Making dairy free mashed potatoes was the biggest challenge. The other most common allergens are fairly easy to avoid with this dish. And really, it just takes a few substitutions to do it.
Potatoes
When I started to work on making "safe" mashed potatoes that were still light and fluffy, I started looking into the potato itself. Many mashed potato recipes don't specify the type of potato while others are very particular. In my search, I noticed two clear winners in the race for the perfect potato for mashing: Yukon Gold and russets.
These potatoes are known to be a bit starchy and not "waxy" like reds and whites which can get kind of pasty when mashed. I like to use Yukon Golds because they do have a bit of a buttery flavor compared to russets.
Butter
We've established that we're not doing butter in this recipe so what is another alternative? My go-to butter substitute is Earth Balance Buttery Spread. It comes in a dairy free variety and, if you're allergic to dairy AND soy, there is a dairy free, soy free option as well.
Earth Balance is pretty easy to find at the store these days. However, if you can't find dairy/soy free margarine at your grocery store, you can use some other type of fat such as olive oil. You could also try using a flavored grapeseed or olive oil to put a different spin on these spuds.
Milk
When I made mashed potatoes before my dairy free days, I always used skim milk. I guess it's the nutrition nut in me or something. It just seemed to me I could make pretty good potatoes without all of that extra fat.
So, making the switch from skim milk to a dairy free variety such as plain soy milk or other plain milk variety didn't make too much of a difference for me. We don't avoid soy at our house so I do tend to use soy milk because it's a little thicker and creamier. If I was avoiding soy, I would probably use Ripple milk made from pea protein because it is also thicker. My sister-in-law makes these potatoes when she has us over at Christmas time and she uses rice milk which works well, too.
Whatever milk alternative you use, just make sure it is the plain variety and not vanilla or sweetened!
Chicken broth
I like to add some chicken broth to my potatoes for extra moisture and flavor. If you are following a gluten free diet or are allergic to wheat, be sure to choose a chicken broth that is gluten free. I like ready-made brands Kitchen Basics or Pacific. I also like broth base granules by Orrington Farms. It can be hard to find at the grocery store but you can buy it on Amazon.
How to make it
The method for making allergy free mashed potatoes is not much different than making allergen-filled mashed potatoes. With that said, taking the right steps in preparation can help ensure lighter, fluffier potatoes.
Peel and cut the potatoes
For Thanksgiving, I always peel my potatoes because I want the traditional mashed potatoes, not rustic mashed taters with skin in it. With that said, there is nothing wrong with rustic. You do you!
Cut the potatoes into about 1-inch cubes. Don't worry if it's not precise! Even quartering the potatoes is fine. This makes the cooked potatoes easier to mash and cuts the cooking time down.
Start with cold water
Put your potatoes in a large pot and cover them with cold water. This helps to cook the potatoes evenly so they are all done at the same time. If you're preparing this dish for a big feast, you might want to get the peeling and cutting out of the way early. You can go ahead and do that! Just cover them with water and keep them in the refrigerator until you're ready to start cooking.
Cook those taters
Turn your burner on medium-high heat until the water starts boiling, then reduce the heat to low and let it simmer for 20-25 minutes. This will really vary depending on the size you cut your potatoes into. The key is keeping an eye on them and testing for doneness after about 20 minutes. If you can stick a knife into the potato and it breaks apart, it's ready to be mashed!
Drain the taters
It probably goes without saying but you have to drain the water from the pot before you start mashing. I know, that is pretty obvious. What might not be as obvious is that you want to drain them well. One trick I have learned along the way is to put the pot right back on the burner on low for a minute to let the remaining water evaporate out of the pot.
Warm up the margarine, dairy free milk, and broth
Adding the margarine, milk, and broth to the potatoes cold will cool down the potatoes. And who wants cold potatoes? Not me!
When the potatoes are about done cooking, I put the milk, broth, and margarine in my glass pyrex measuring cup and heat in the microwave for a couple of minutes. That way, I am adding hot ingredients and keeping the potatoes hot, too!
Get Mashing
One Thanksgiving, I was striving for the perfect, no lump mashed potato and decided I must have a potato ricer. If you have ever hosted Thanksgiving, you know that everything that takes any effort needs to happen all at the same time. The turkey comes out to rest and then gets carved. The potatoes need mashing. The gravy needs cooking. It's all a bit much! Add a crowd of people to the kitchen because - well, that's where the action and the hostess are - and it gets a little dicey.
I remember my sweet grandma standing by me as I pulled out my brand new potato ricer. Grandma didn't have a potato ricer and didn't really see the need for it. I started ricing and tried to explain why I thought it was necessary, all the while potato was squirting through the holes and going God-knows-where in my kitchen. I remember having a good laugh with her about trying a new method of Thanksgiving of all days. But, finally, the potatoes were done!
Long story short? You can use a potato ricer but you don't have to. I like to use my good old trusty potato masher like this one:
Some people like to use their stand mixer and works well, too! Just don't over mash because that makes for some gluey, non-fluffy potatoes.
As you mash, gradually add in the hot liquid from the glass measuring cup. Add some liquid, mash a little, then add more liquid, and then mash some more. The goal is to have minimal lumps but not to whip up too much or the potatoes will become that gluey texture that we want to avoid.
Season to taste
When the potatoes are mashed and the right consistency, season them. You can get creative with seasoning but I usually don't get too crazy. It's good 'ol salt and pepper to taste. Sometimes I will add some minced garlic to the mix or garlic powder but my family doesn't usually approve of this. In this case, keeping it simple is usually best!
Related recipes
📖 Recipe
Allergy Free Mashed Potatoes
These mashed potatoes are free of dairy, soy, egg, wheat/gluten, peanuts, tree nuts, fish, and shellfish.
Ingredients
6

medium Yukon Gold potatoes, peeled and cubed into 1 inch cubes

½

cup

gluten free chicken broth

¾

cup

"safe" milk

rice, pea, hemp, oat, or other alternative

2

tablespoons

olive oil or "safe" margarine

(like Earth Balance Buttery Spread)

Salt and pepper to taste
Instructions
Place the potatoes in a large stock pot and cover with water. Bring to a boil. Reduce heat, cover and simmer for 20-25 minutes or until potatoes are tender.

Drain the potatoes and add the broth, rice milk, oil or margarine and salt and pepper. Mash until light and fluffy. For lump free potatoes, put them in a food mill or ricer before adding the other ingredients.
Notes
Nutrition Facts: Serving size: ½ cup, calories: 85,  total fat: 2 grams, saturated fat: 0 g, cholesterol: 0 mg, sodium: 65 mg, total carbs: 14, fiber: 1 g, sugar: 1 g, protein: 2 g
Nutrition
Love this recipe?
Please leave a rating ⭐⭐⭐⭐⭐ and share your comments below!
Stay in touch on social media! You can find me @ Instagram, Facebook, and Pinterest. I love getting your feedback so please tag me if you try a recipe!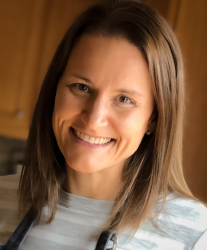 Latest posts by Kristi Winkels, RDN, LD
(see all)