In the US, the most common food allergies are dairy, eggs, soy, peanuts, tree nuts, wheat, sesame, fish, and shellfish. In this post, we'll take a look at the most common allergens, why they're important when it comes to food labels, and tips for managing them.
Jump to:
According to Food Allergy Research and education (FARE), an estimated 32 million people in the US have food allergies. This includes about 1 in 10 adults and 1 in 12 children.
Food allergy symptoms can range from mild (hives or tingling in the mouth) to anaphylaxis which is life-threatening. But the impact of food allergies goes far beyond dealing with these symptoms.
To avoid symptoms, people with food allergies have to strictly avoid the foods that they're allergic to. This brings up challenges every single day. From grocery shopping and preparing food to dining out and traveling. Anywhere there is food is a potential pitfall for people with food allergies.
In this post, we'll focus on the most common food allergens in the United States. We will also take a look at common allergens in other countries around the world.
What Are Food Allergies?
A food allergy occurs when the immune system overreacts to a certain protein in a food (an allergen). Allergic reactions usually happen within minutes to up to a couple of hours. It's important to know that even a tiny amount of food can cause an allergic reaction.
Some immune system responses can cause delayed reactions. Following are two of these conditions.
Food protein Induced Enterocolitis Syndrome (FPIES)
FPIES is a type of food allergy that causes more of a delayed reaction but can still be life-threatening. A person with FPIES who is exposed to a food allergen can experience vomiting and diarrhea which can lead to severe dehydration and even shock.
Eosinophilic Esophagitis (EoE)
Another allergic condition that causes a more delayed reaction is Eosinophilic Esophagitis (EoE). In EoE, there is a buildup of cells called eosinophils in the lining of the esophagus. These can cause inflammation and make it difficult for food to pass through it. This can lead to symptoms like trouble swallowing, chest pain, and feeling like food gets stuck.
It is crucial for individuals with these conditions to strictly avoid even trace amounts of the allergen that triggers the reaction.
Food allergies vs food intolerances
When it comes to adverse reactions to certain foods, it is important to understand the difference between food allergies and food intolerances.
Food allergies occur when the immune system overreacts to proteins in foods, causing symptoms like hives and even life-threatening reactions. The only treatment is to avoid trigger foods. Even a tiny amount of an allergen can lead to a serious reaction.
Food intolerances, on the other hand, involve trouble digesting certain foods, leading to symptoms like bloating, gas, and diarrhea. Intolerances are not an immune system response and are not life-threatening like allergies can be.
Unlike food allergies, people with food intolerances can sometimes eat small amounts of the food they don't tolerate to without having symptoms.
It's important to see a health professional to diagnose these conditions and create a treatment plan for you.
Top 9 common food allergens
Even though a person can be allergic to any food, there are nine allergens that are the most common in the U.S. About 90% of food allergies are to these "Top 9" allergens.
To read more about each of the top 9 allergens including label reading tips and substitutes to use in cooking, baking, and more, check out the following posts about each allergen: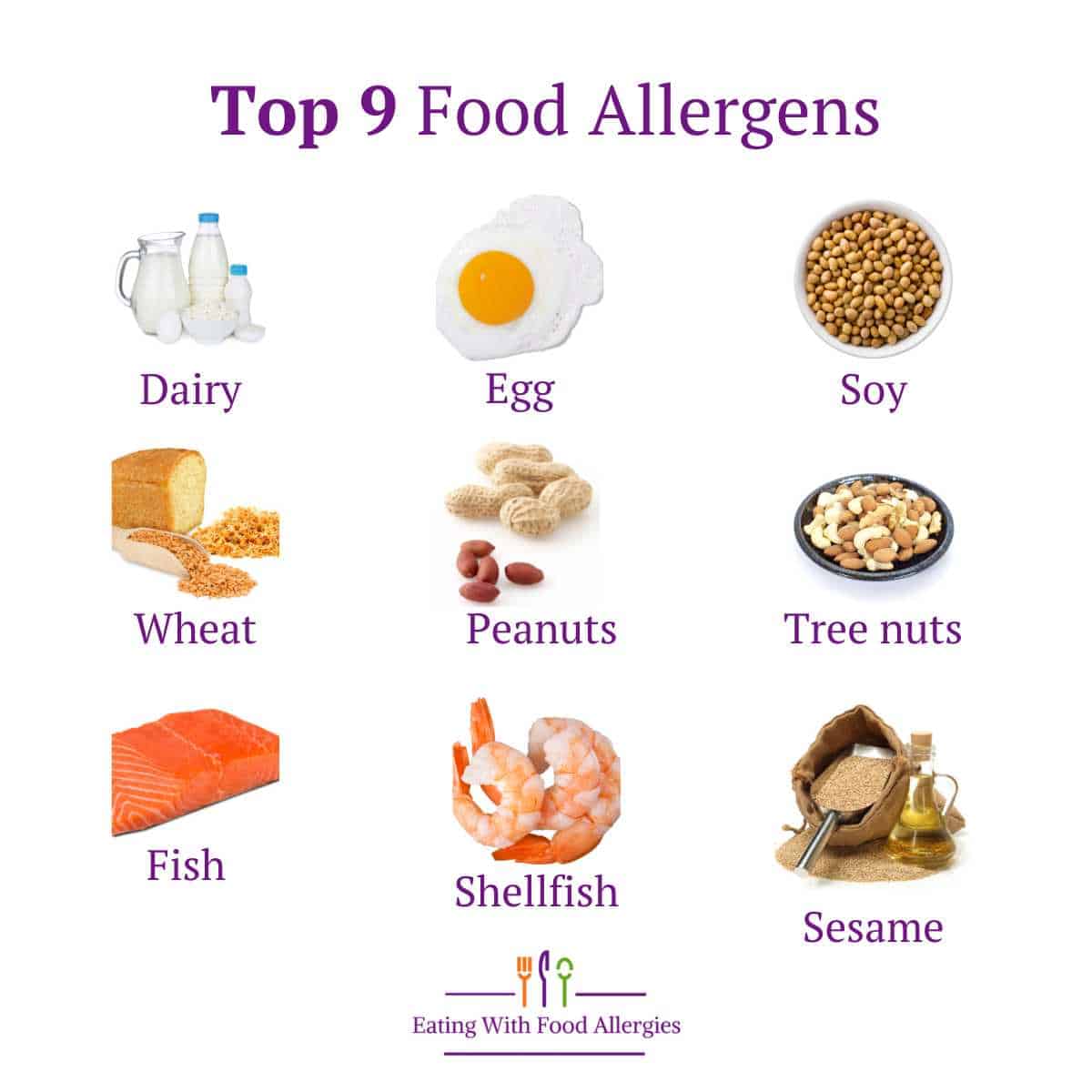 Common allergens throughout the world vary by region. You can see all of the common allergens for each region on this interesting chart from the University of Nebraska-Lincoln.
For example, in Canada, the most common allergens are known as "priority allergens" and include:
Eggs
Milk
Mustard
Peanuts
Crustacean and molluscan shellfish
Fish
Sesame seeds
Soy
Sulfites
Tree Nuts (almonds, Brazil nuts, cashews, hazelnuts, macadamia nuts, pecans, pine nuts, pistachios and walnuts)
Wheat and triticale
The European Union recognizes 14 common allergens including:
Milk
Eggs
Soy
Wheat
Peanuts
Tree nuts
Fish
Crustacean shellfish
Sesame
Celery/celeriac
Mustard
Lupin
Mollusks
Sulfur dioxide
The European Food Safety Authority (EFSA) and the European Commission enforce the food label laws for these allergens.
Corn Allergy
Corn allergy is not a common food allergy, so, unfortunately, there isn't a lot of helpful information available to manage it.
The tricky part about managing an allergy to corn is that it is used in so foods and products and it's not always clear what ingredients are derived from corn when reading food labels.
Read more in this post about corn allergy.
Navigating Food Labels
Knowing how to read food labels is one of the most important skills for managing food allergies.
In this section, we will explore allergen labeling laws in the United States and tips for reading food labels to enable you to make safer and more informed choices in managing your food allergies.
Food allergen labeling laws
The Food Allergen Labeling Consumer Protection Act of 2004 (FALCPA) requires foods regulated by the U.S. Food and Drug Administration to clearly state if a product contains any of the most common allergens. This includes flavorings, colorings, and other additives.
Food companies can do this in a couple of ways. First, the label can include the allergen within the ingredient list like this:
Ingredients: Enriched flour (wheat flour, malted barley, niacin, reduced iron, thiamin mononitrate, riboflavin, folic acid), sugar, partially hydrogenated soybean oil, and/or cottonseed oil, high fructose corn syrup, whey (milk), eggs, vanilla, natural and artificial flavoring) salt, leavening (sodium acid pyrophosphate, monocalcium phosphate), lecithin (soy), mono-and diglycerides (emulsifier).
The other way is to list the allergens at the end of the ingredient list like this:
Contains Wheat, Milk, Egg, and Soy
Ingredient lists should list specific types of tree nuts (i.e. almonds, cashews, etc.), fish (i.e. flounder, cod, etc.), and crustacean shellfish (i.e. shrimp, crab, etc.)
These labeling requirements apply to packaged foods, including conventional foods, dietary supplements, infant formula, and medical foods.
Some Foods Are Exempt from FALCPA including:
Raw agricultural commodities (such as fresh fruits and vegetables)
Highly refined oils derived from the top food allergens
Any ingredient derived from highly refined oil
Note that expeller-pressed and cold-pressed oils are not exempt as they could still contain allergen proteins.
Food companies can request an exemption from FALCPA if they prove that the ingredient in question does not contain large enough proteins than can cause a reaction. The FDA makes these public on their website.
Food labeling for cross-contact
Cross-contact can happen at any stage of a food's life cycle, from production to preparation, cooking, serving, and even during packing and storage.
Any time two foods can possibly come into contact with each other, cross-contact can happen.
Precautionary allergy labeling (PAL), also known as "advisory statements", warns you about potential cross-contact in manufacturing.
These statements are not required by law and are written in different ways on labels. Some examples include:
"May contain traces of (allergen)"
"Made in a facility that also processes (allergen)".
"Made in a facility that uses (allergen)"
"Made on shared equipment with (allergen)"
"Not suitable for people with a (allergen) allergy"
It's important to know that different wording of PAL does not mean there is a higher or lower risk of cross-contact. They all mean the same thing.
Read more about cross-contact and how to prevent it in this post.
Read Labels Every Time!
It might seem like a lot of trouble to read food labels every single time but it is so important! Here's why:
Ingredients can change without warning. Don't assume that because you buy a product every week that it's going to be safe forever.
Ingredients and manufacturing practices can be different from region to region. In other words, if I buy a product in Minnesota it may be produced in a facility that is free from our allergens. But if I buy the same product in California, it may be produced in a different plant where there is potential cross-contact.
Packaging of "safe" and "unsafe" foods is often very similar. I learned this the hard way when I mistakenly bought a low carb tortilla instead of a gluten-free one. The package looked almost identical! Reading the label takes a minute and can prevent spending time dealing with a reaction in the long run.
Again, I know reading food labels every time is tedious but I can't say enough how important it is! If you're a parent of a child with food allergies, encourage them to read food labels, too.
Cooking with food allergies
As outlined above, one of the most important aspects of managing food allergies is avoiding the allergens. And this is done through careful label reading and being aware of places where cross-contact can occur.
But avoiding allergens is just one part of living well with food allergies. Being able to prepare nutritious foods that you enjoy is equally important! That's exactly why I created this website!
If you're just starting out you'll want to check out the following resources:
The allergy free foods post links you to substitute ideas for each of the most common allergens. With substitute ideas, you can begin to alter your favorite recipes to be "allergy free"!
If you'd rather not have to experiment but prefer to make tried and true recipes, then be sure to check out the recipe index. There you'll find recipes free from the top 9 allergens.
Finally, check out my tips for meal planning with food allergies so you can save time, money, and stress!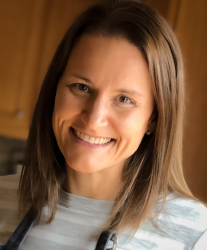 Latest posts by Kristi Winkels, RDN, LD
(see all)