Egg allergy, one of the most common food allergens, can be challenging to manage. This is a guide for how to eat well with an egg allergy including label reading tips, substitutes, and more.
Jump to:
If your family enjoys eggs for breakfast, an egg allergy can obviously change your typical menu.
What you might not think of is that the sandwiches, desserts, and side dishes that you enjoy may also be on the chopping block. Yes, having an egg allergy not only means eliminating eggs as the main dish but also in foods.
Initially, when I told people about my son's egg allergy the common reaction was "no big deal - so he doesn't eat eggs". However, when I explained that he couldn't have eggs in foods, well, let's just say messing with breakfast is one thing but messing with dessert (and bread!) is a whole new ball game.
The following are some helpful resources for eating without eggs.
Ingredients to Avoid
Watch for these egg-based ingredients on food labels:
albumin
globulin
lysozyme
livetin
silici albuminate
Simplesse
vitellin
meringue
Ingredients containing the word "egg" such as egg white, egg white solid, egg yolk, etc.
Ingredients that begin with "ovo" (which is "egg" in latin)
Foods Commonly Containing Egg
Baked goods: Cookies, cakes, muffins, breads, pancakes, waffles, french toast, crackers
Beverages: coffee drinks with foam, wine, root beer, beer, egg nog
Desserts: custards, puddings, ice cream, cream pies, frosting, sherbet
Battered foods such as fish and chicken nuggets
Meatballs, meatloaf
Pasta
Sauces and dressings: Salad dressings like hollandaise, bearnaise, mayonnaise, caesar dressing, cream sauces
Soups: Cream soups, noodle soups, some broth, egg-drop soup
Marshmallows (not common), marshmallow cream, cream fillings in candies and desserts
Are egg substitutes (like Egg Beaters) safe?
When people hear the term "egg substitute", they often think of the carton of egg whites that are meant to lower the intake of cholesterol and saturated fat.
When we first started managing an egg allergy, people often assumed that these egg substitutes were also a good alternative for someone with an egg allergy. This is not the case!
A person with an egg allergy may be more allergic to the egg white vs the egg yolk. However, it isn't possible to completely remove the egg white protein from the egg yolk and vice versa. Therefore, people with an egg allergy must avoid the entire egg making egg substitutes unsafe options.
Are baked eggs safe?
Many of the foods listed in the previous section have eggs baked into them such as bread, muffins, cakes, and cookies. Research has shown that many children with an egg allergy do tolerate baked egg. And those who are able to tolerate baked egg are more likely to outgrow their egg allergy altogether.
If your child has an egg allergy, please don't try this without checking in with an allergist first! An allergist gathers information such as history and lab results to determine the best plan for your child.
An in-clinic baked egg oral food challenge may be recommended by your allergist. To do this, you are given a specific recipe to prepare that contains a specific about of egg, usually in a muffin. While at the clinic, your child will have a small bite of the muffin, wait, monitor, and then have more of the muffin. This continues until a reaction occurs. If it doesn't, the challenge is passed!
An oral food challenge (OFC) is the gold standard for diagnosing food allergies. Again, they should be done under the supervision of an allergist, not at home.
Egg free substitutes and recipes
Learn about other common food allergens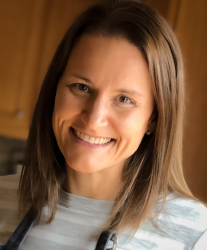 Latest posts by Kristi Winkels, RDN, LD
(see all)