Cross contact is an important risk to be aware of when you have food allergies or Celiac disease. In this guide, we'll dive into what cross-contact is, where it can happen, and how to prevent it so you stay healthy and safe.
Jump to:
As a food allergy mom, I find cross-contact to be one of the most frustrating things that we have to deal with when managing food allergies. Foods that should be "safe" aren't because they have come into contact with "unsafe" foods.
It ruins buffets and dining out. It ruins parties. And it can even ruin a perfectly good jar of Sunbutter (speaking from experience).
If you have food allergies or are preparing food for someone with food allergies, then you need to know about cross-contact, where it happens, and how to prevent it. And that's what we'll cover in this post!
What is cross contact?
Cross-contact and cross-contamination are terms that are often used interchangeably but they are not the same thing. Let's start by differentiating between the two.
Cross-contact happens when an allergen from one food item comes into contact with another food item, allowing for the transfer of protein molecules between the two foods.
This mixing of proteins can lead to an allergic reaction in someone with a food allergy, even if they were not directly exposed to the allergen.
Cross-contamination happens when harmful bacteria are transferred from one surface or food to another. It can happen when food is prepared, cooked, or stored improperly and can lead to food-borne illness.
For example, raw meats can have harmful bacteria that can make you sick if you eat them. If you put a piece of raw meat on a cutting board and then use the same cutting board to chop up raw veggies for your salad, you have introduced potentially harmful bacteria to your salad. This is cross-contamination.
Cooking that meat to a certain temperature kills the bacteria making it safe to eat. But cooking foods does not remove allergens. This is a key difference between cross-contamination and cross-contact.
Direct and indirect cross-contact
Cross-contact can occur directly or indirectly.
Direct cross-contact is the most obvious. It occurs when an allergen-containing food item physically touches another food item, such as using the same knife to cut both a peanut butter sandwich and a jelly sandwich.
Indirect cross-contact is a bit more sneaky. It occurs when an allergen-containing food's particles are transferred to another food item, such as cooking wheat pasta and then using the same pot to cook gluten free noodles.
Later in this post, we will look at more examples of how cross-contact can occur and tips for avoiding it.
When does cross-contact happen?
Cross-contact can happen at any stage of a food's "life cycle", from production to preparation, cooking, serving, and even during packing and storage.
Basically, any time two foods can come into contact with each other is a time when cross-contact can happen.
Here are some examples of cross-contact at different stages:
Food production and manufacturing:
Processing multiple allergens on shared equipment or in the same facility
Using the same equipment to process both allergen-containing and allergen-free foods
Accidentally adding allergens to ingredients while handling or transporting them.
Storage and transportation:
Storing allergen-containing foods next to allergen-free foods in the refrigerator or pantry
Transporting allergen-containing and allergen-free foods in the same container or vehicle
Using the same containers or bags to store and transport different foods
Preparation:
Using the same utensils, cutting boards, or surfaces to prepare allergen-containing and allergen-free foods
Not washing hands or changing gloves before preparing allergen-free foods after handling allergen-containing foods
Cross-contaminating ingredients, such as using a spoon that was previously used to stir an allergen-containing dish to stir an allergen-free dish
While cooking:
Cooking allergen-free foods in pans or on grills that were previously used to cook allergen-containing foods
Using the same oil to fry allergen-containing and allergen-free foods
Grilling or roasting allergen-containing foods on skewers or racks that are later used for allergen-free foods
While serving:
Placing allergen-containing foods on the same plate as allergen-free foods
Using the same serving utensils or containers for allergen-containing and allergen-free foods
Using the same area or surface to place allergen-containing and allergen-free foods during buffet-style service
Cross contact in food production
In food production, foods are harvested, transported, used as ingredients, and then made into a final product within a production facility. The more products and ingredients in a facility, the more risk of cross-contact.
For example, think about a company that makes three different cereals: one that's corn-based, another from oats, and another from wheat.
First, the wheat cereal is produced and packaged on a production line. Then, the corn-based cereal is packaged on the same line without being cleaned and sanitized first. The corn cereal now contains traces of wheat.
For someone with a wheat allergy, even a small amount of wheat can trigger a severe allergic reaction. Similarly, individuals with Celiac disease can become sick even from tiny amounts of gluten.
Understanding food labeling and cross-contact
The Food Allergen Labeling and Consumer Protection Act (FALCPA) is a law in the US that requires packaged foods to clearly label foods that contain any of the top 9 major food allergens. This includes even trace amounts or as part of flavorings or food additives.
This law has made it so much easier for those of us managing food allergies to identify foods that contain common allergens.
Even though FALCPA requires clear labeling of food allergens on ingredient lists, sometimes the label doesn't tell the whole story.
Precautionary allergy labeling (PAL)
Foods that are manufactured near major allergens may be at risk for cross-contact but may not be labeled as such. That's where precautionary allergy labeling (PAL) comes in.
Precautionary allergy labeling (PAL) includes statements such as:
"May contain traces of (allergen)"
"Made in a facility that also processes (allergen)".
"Made in a facility that uses (allergen)"
"Made on shared equipment with (allergen)"
"Not suitable for people with a (allergen) allergy"
It's important to know that these statements are completely voluntary. It's also important to know that different wording of PAL does not mean there is a higher or lower risk of cross-contact. They all mean the same thing.
Good manufacturing practices (GMP)
According to the FDA's guidance on food allergen labeling, PAL advisory statements "can be used to address unavoidable 'cross-contact,' only if manufacturers have incorporated good manufacturing processes in their facility and have taken every precaution to avoid cross-contact".
That means if a manufacturer has chosen to include an advisory statement, they have done what they can to prevent cross-contact but the food still is at risk of containing the allergen.
Good Manufacturing Practices (GMPs) include:
Cleaning and sanitizing of all equipment, utensils, and surfaces that come into contact with food products containing allergens.
Keeping ingredients with allergens separate and labeling them clearly.
Storing raw materials, finished products, and ingredients to prevent cross-contact.
Training employees on allergen awareness, handling, and prevention measures.
Regular testing and verification of processes and products to ensure allergen control.
By following GMPs, food manufacturers can lower the risk of cross-contact and make sure that their products are safe for people with food allergies.
Should I avoid foods with PAL?
In general, allergists recommend avoiding foods with precautionary allergy labeling (PAL). It's always a good idea to ask your allergist if you should be avoiding foods with these warnings as they know you and your allergy history best.
Cross-contact in preparing, cooking, and serving
Cross-contact can also happen anywhere food is prepared, cooked, stored, and served including restaurants and at home.
For example, if a kitchen uses a shared surface or utensil to prepare both an allergen-free dish and a dish containing the allergen, there is a risk of cross-contact.
Or, if a cook uses the same oil to fry different types of food, there is a risk of cross-contact if one of the foods contains an allergen.
Cross-contact can also occur during plating and serving if utensils or plates are not properly cleaned between uses.
How to prevent cross-contact
In this section, we will explore strategies for preventing cross-contact throughout the food lifecycle, from purchasing safe food to preparing at home and dining out.
Purchasing safe food
While you can't control the production and packaging of food, you can take steps to be sure what you are buying at the store is safe.
Careful label reading and paying attention to precautionary allergy labeling are the best ways to prevent bringing foods that are at risk for cross-contact into your kitchen.
If you have allergies that are not part of the top 9, unfortunately, you have extra steps to take. If ingredient lists do not clearly state your allergen on them, then you can contact the manufacturer directly to find out more about the ingredients.
You can do this in two ways:
Look for contact information on the packaging
Go to the company's website and find contact info there.
Often, companies have an allergen statement in their FAQ section. These are easiest to find by just searching on the company's website for "allergen" or the allergy you're wondering about.
Preventing cross contact at home
You have the most control when preparing food at home but it can take some time to change food prep habits and have systems in place to prevent cross-contact. In this section, we will look at all the ways you can prevent cross-contact at home.
Food storage
One of the biggest offenders of cross-contact in kitchens is shared containers of food. This is especially challenging for people avoiding gluten/wheat.
Think about how you normally would make a peanut butter (or sunflower butter) and jelly sandwich. You get out your bread, then you take your knife to the jar of peanut butter, spread it on the bread, and then dip the knife into the jelly jar, then spread it on the sandwich.
Oops....that jelly is now the victim of cross-contact. Someone who is on a strict gluten free or wheat free diet is now at risk of being exposed to that allergen.
If you're a family that has one person who is allergic to a food but the rest of you eat it, you will want to have strategies in place to avoid this.
At our house, it was just a matter of retraining our brains to not "double dip" in jars. It's also helpful to use spoons and use a separate spoon for each jar.
Another shared container that might be contaminated with wheat is sugar containers when baking with wheat flour. Many people measure out flour first and then use the same measuring cups to measure out sugar. This introduces wheat into the sugar and anything you bake with it will potentially contain wheat (even if you're using gluten free flour!)
These are just a few examples of cross-contact in shared containers. Take some time to think about where allergens might come into contact with safe food and create systems to prevent it.
Food preparation
Preventing cross-contact while preparing and cooking food can take some extra steps but it's fairly easy to do. The following are the most basic steps to remember when preparing food.
Wash all utensils with soap and water before and after touching food allergen(s). This includes pots, pans, knives, stirring spoons, cutting boards, etc. It is not enough to just wipe off a utensil with a paper towel. Soap and water are needed to remove the allergen completely.
Wash all surfaces where foods containing food allergen(s) were prepared with soap and water. This one goes right along with the utensils. Think about cutting boards, countertops, pots, pans, oven racks, etc.
Wash hands often. You really can't go wrong with good handwashing habits!
Cross-contact when dining out
Dining out is one of the most challenging parts of eating with food allergies because we don't have control over what is going on in the kitchen.
My son who is allergic to wheat, barley, dairy, eggs, and peanuts loves a Mexican restaurant where almost everything is safe. The only thing he can't have there are flour tortillas, cheese, and sour cream. It's a place where he can get a healthy, well-balanced meal and he really enjoys it!
But just because most of the ingredients are safe doesn't mean he can always get a safe meal there. As workers put together each order, shredded cheese creeps into other containers making those safe ingredients unsafe.
So what can you do?
Communicate clearly about your allergens. This can be hard but the more you do it, the easier it will be. Many restaurant staff members really care and want to make sure you have a safe meal.
Ask workers if they can change their gloves. Don't worry if it feels high maintenance. Your safety is important and you're worth the trouble!
Ask if there are certain ingredients available from a fresh container that hasn't been contaminated. Sometimes restaurants will have portioned-out ingredients for takeout orders or for people with food allergies. You'll never know if you don't ask! And asking might help plant the seed that doing that would be helpful for future diners with allergies.
Go to the dining out with food allergies post for more tips.
Cross-contact during gatherings
Whether it's a family gathering, a company party, or a gathering with friends there is one thing that is almost certain: there will be food!
Now, there are lots of things to consider when it comes to gatherings. We'll just focus on preventing cross-contact during a buffet-style meal.
In this type of meal, each person goes through the line and dishes up their own food. The risk of cross-contact can be high, even when being very aware.
For example, when serving some type of meat on a bun such as pulled pork or a sloppy joe, it is very difficult not to touch the bun with the tongs or spoon. That utensil then goes back into the meat causing cross-contact.
Tips for hosting or attending buffet-style get-together
You can do some things to reduce the risk whether you're hosting or attending a buffet-style gathering:
Allow those with food allergies to dish up first. When we get together with my family, my kids always go through the line first. We encourage them to take a generous portion so they don't have to go back through the line after everyone else has dished up.
Set aside some of the dishes that might come into contact with allergens (such as meat that will go on a bun). Keep that separate from other foods.
Set up the serving area to keep "safe" foods separate from foods containing allergens. For example, if someone has a shellfish allergy, move the shrimp cocktail to a separate table or area on the buffet line. If you are serving tacos and someone has a dairy allergy, move the cheese and sour cream to a separate area.
Have separate utensils for everything!
Teach little ones to use utensils or ask for help dishing up rather than using their fingers.
Even with all of the strategies in place, cross-contact happens. The important thing is that you don't risk eating the food that has come into contact with your allergen(s). 
For this reason, try to have a backup plan. Pack a meal in case there isn't safe food available. This isn't ideal but it's better than watching everyone else eat while you're starving!
Conclusion
If you have food allergies, it's crucial to be aware of the risks of cross-contact and take steps to prevent it.
In this post, we've covered the basics of cross-contact, what it is, and how it can happen at different stages of a food's life cycle. We've also explored ways to prevent cross-contact, from reading food labels to taking precautions in the home kitchen and away from home. 
By following these tips and staying vigilant, we can reduce the risk of experiencing a potentially life-threatening allergic reaction.
For more food allergy management tips including label reading for common allergens, visit the common allergens post.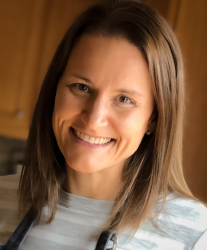 Latest posts by Kristi Winkels, RDN, LD
(see all)