Having dietary restrictions shouldn't keep you from having your favorite comfort foods and this gluten free turkey gravy is proof! Whipping up a batch of this gluten and dairy-free goodness is a breeze, and its mouthwatering flavor is so on point that you won't even miss the gluten or dairy!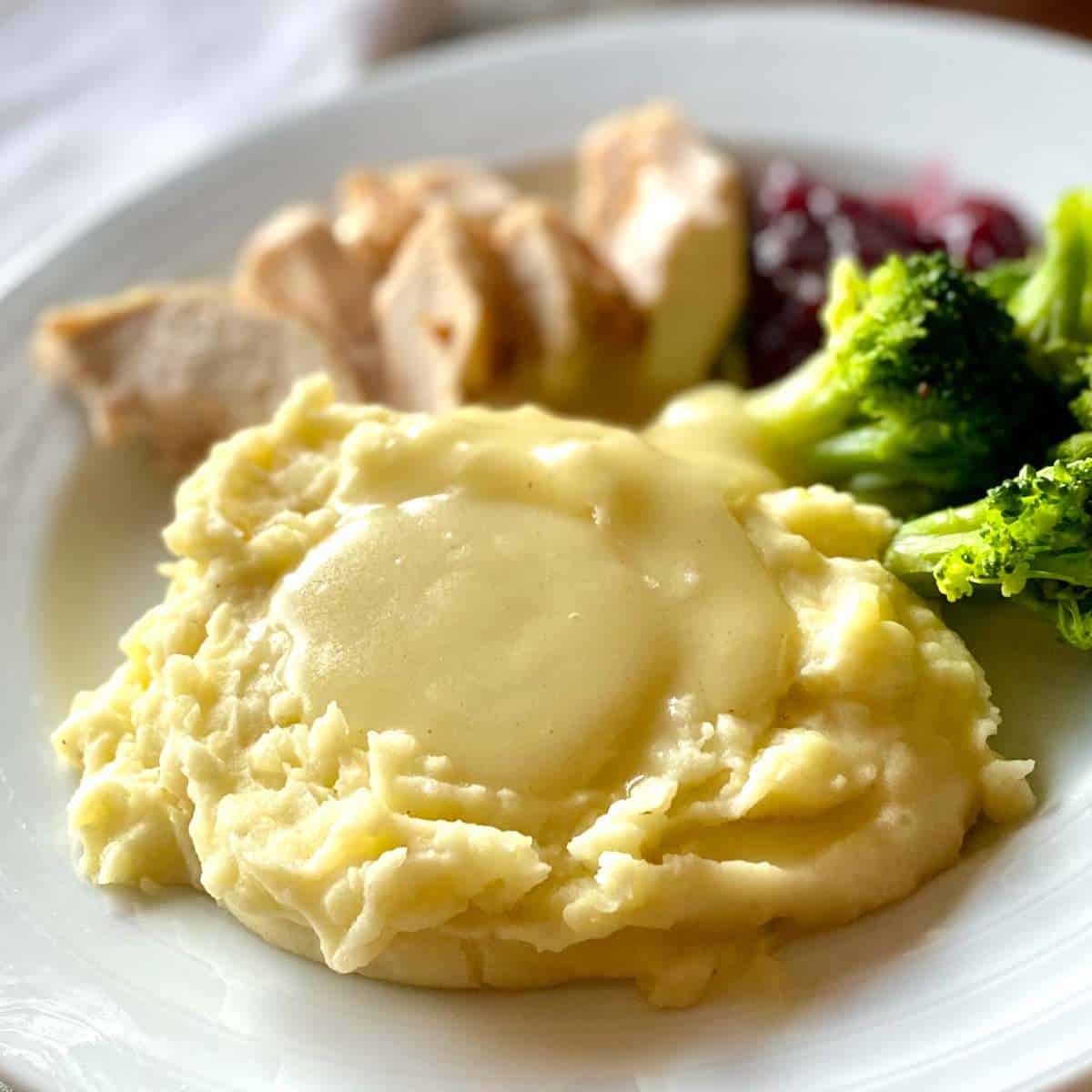 Jump to:
When my family first started eating with food allergies, I was surprised to learn how many foods were traditionally made with wheat flour and butter, including gravy.
Now, I know that making gravy without gluten and common allergens is easy! Not only that, but some of our favorite recipes like pork chops with vegetable gravy, gluten and dairy free turkey stroganoff, and our beloved tater tot hot dish incorporate this delicious sauce.
Why you'll love this recipe
Smooth and rich gravy goodness: This gravy is made with a roux - a mixture of fat and flour - that thickens the gravy while giving it a rich flavor and no lumps.
Allergy-friendly deliciousness: The roux in this gravy is made with gluten free flour and dairy free margarine or other fat (oil, turkey drippings, etc). It's a flexible recipe that can be altered to your specific dietary needs.
Easy to make: Once you get the technique down, I think you'll find that whipping up a pan of gravy is pretty quick and easy to do!
Versatility for the win: This recipe is for turkey gravy but it can be easily adapted to complement whatever meal you're making just by swapping out the broth flavor that you use.
Ingredients and Equipment
Gluten-free all purpose flour - I use Bob's Red Mill all-purpose gluten-free flour for pretty much everything and this is no exception. Rice flour alone also works well.
Fat - I usually use dairy free margarine (pictured) but you can use any type of oil. Another delicious option is to use the fat from the roasted turkey drippings.
Gluten free broth - You can use bouillion granules to make broth, buy a carton of ready-made broth, or use the pan drippings from your turkey (or a combination of those). Just make sure you have 2 cups.
Salt and pepper - added to your taste.
Other seasonings (optional) - I add rubbed sage and ground thyme to turkey gravy when I'm making it for Thanksgiving. The flavors just work so well with the whole spread!
You will also need a saucepan and a whisk to make this gravy.
How to make it
Making gluten and dairy free gravy is easy and just takes four steps.
First, add the margarine or other fat to a medium saucepan. Heat it over medium heat until melted/warmed up.
Next, sprinkle the gluten free flour over the melted fat and use a whisk to combine it making sure to get all of the flour incorporated. Cook for about a minute.
Next, gradually add in the broth, whisking constantly making sure all of the flour mixture is incorporated and smooth.
Once all of the broth is incorporated continue to stir until the mixture is bubbly. Add salt and pepper to taste.
Now, it's time to transfer it to a gravy boat and enjoy it over your gravy-worthy dishes!
Recipe Tips
Using Turkey Drippings
When I first started cooking Thanksgiving dinners, I made turkey gravy with gluten free turkey broth in the box (like this one from Kitchen Basics). It works well and is very easy!
But then I discovered how delicious gravy can be when made with turkey drippings. It's a little more work but I think it's worth it, at least once a year when I'm making a whole turkey!
I roast my turkey in a bag which makes the process pretty easy. When the turkey is done, I carefully slide it from the bag into a roasting pan and let it rest. Then, I drain the bag contents through a fine mesh strainer into a bowl.
Once the drippings are in a bowl, you can skim the fat off the top and use it as the fat in the roux (instead of dairy free margarine). Then use the remaining liquid as the broth.
Experiment with seasonings
As I mentioned earlier, I like to add rubbed sage and ground thyme to turkey gravy. I measure it with my heart (and tastebuds). If you want a little more concrete guidance, I would add about ½ teaspoon of each.
Vary the broth flavor
Even though this recipe is for turkey gravy, you can easily swap out the turkey broth for other broth flavors to complement whatever dish you are making.
Gravy for pot roast: Use beef broth.
Gravy for roasted chicken or other chicken dishes: Use chicken broth.
Vegan gravy: use vegetable broth and a plant-based fat like Earth Balance dairy free margarine or olive oil.
Substitute for cream soup
As I mentioned earlier, when you know how to make gravy without gluten and common allergens, you can also make a perfect substitute for cream soups.
Cream soups are a staple ingredient in the beloved hot dish (or casseroles if you're not from the Midwest) and other mixed dishes.
Cream of mushroom soup is especially common. To substitute, saute some mushrooms in a pan, chop them up, make this gravy, and add the mushrooms back in. Voila! Cream of mushroom soup substitute!
If the recipe calls for condensed cream soup and some liquid is added to the mixture, then the consistency of this gravy will work well. On the other hand, if a thicker sauce is needed, add less broth.
FAQs
Can I double this recipe?
Yes, and I usually do when I am making Thanksgiving dinner for a crowd (for my Thanksgiving, that is usually 12-15 people).
How long can I keep leftovers?
You can store leftover gravy in the refrigerator for 3-4 days. You can reheat it in the microwave or on the stovetop. When reheating, stir it often to heat it evenly and get it back to a smooth consistency.

You might find that you need some additional liquid to get it to the right consistency, too.
Can I freeze gravy?
Yes, you can! If you aren't going to eat the gravy within 3-4 days, you can store it in the freezer for 4-6 months. When you're ready to reheat it, allow it to thaw in the refrigerator for 12-24 hours (depending on how much leftover you have). Then reheat it on the stovetop or in the microwave, stirring often for even consistency.
Allergens in this recipe
This turkey gravy recipe can be made without the top 9 allergens as long as you use ingredients that are not at risk for cross-contact with these allergens.
As listed in the ingredients, I often use Earth Balance dairy free margarine. The variety pictured does contain soy, however, Earth Balance also makes a dairy and soy free variety (with the red label).
📖 Recipe
Gluten Free Turkey Gravy (Dairy Free)
Ingredients
¼

cup

dairy free margarine, cooking oil, or other fat

¼

cup

gluten free all purpose flour

2

cups

gluten free turkey broth

plus extra to get to desired consistency
Instructions
In a medium saucepan over medium heat, melt/warm ¼ cup dairy free margarine, cooking oil, or fat from turkey drippings (or a combination of these).

Sprinkle the flour over the fat. Whisk together and cook until the mixture is smooth and yellow in color, about 1 minute. 

Add the broth in gradually, whisking it into the flour mixture being sure to incorporate any that may stick to the sides or bottom. Continue adding broth, and whisking it into the flour mixture until all the broth is mixed in.

When the gravy is thickened and bubbly, transfer to a gravy boat and serve. Alternatively, keep it on a warming burner until ready to serve.
Notes
This recipe makes 2 cups of gravy. If you are feeding a crowd, I recommend doubling it.
You may use any type of gluten free flour blend or rice flour alone.
For the fat, you can use cooking oil, dairy free margarine, or the fat skimmed off of turkey pan drippings. You can also use a combination of these as long as you have ¼ cup of fat.
For the broth, you can use ready-to-use broth from a box or can, bouillion granules, or the liquid remaining after roasting a turkey.
To make beef gravy, use beef broth; chicken gravy, use chicken broth; vegan gravy, use vegetable broth.
Nutrition
Serving:
0.25
cup
Calories:
80
kcal
Carbohydrates:
6
g
Protein:
1
g
Fat:
6
g
Saturated Fat:
1.5
g
Cholesterol:
0.6
mg
Sodium:
170
mg
Potassium:
18
mg
Calcium:
3.2
mg
Love this recipe?
Please leave a rating ⭐⭐⭐⭐⭐ and share your comments below!
Stay in touch on social media! You can find me @ Instagram, Facebook, and Pinterest. I love getting your feedback so please tag me if you try a recipe!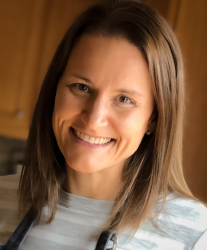 Latest posts by Kristi Winkels, RDN, LD
(see all)