These gluten free turkey meatballs are so quick and easy to make using a pressure cooker that you'll want them in your regular dinner rotation. Plus they're dairy, egg, soy, and gluten free!
Jump to:
I don't know about you but, for me, weeknight dinners are smooshed between work and evening activities. There's not a lot of time to make anything too elaborate. These meatballs are surprisingly quick to put together and they cook quickly in my trusty Instant Pot.
Egg and gluten free meatballs without other common allergens can be difficult to find. Ingredients like eggs and wheat help to hold meatballs together. But with some allergy friendly ingredients, these meatballs keep their shape and are still delicious!
How to make gluten free meatballs that don't fall apart
Meatballs usually have eggs and wheat breadcrumbs to act as binders that hold the meat together. The secret to making meatballs that don't fall apart AND allergy friendly is to find other types of binders. For this recipe, I use gluten free breadcrumbs which work well to hold them together without needing any additional binder (like an egg).
I used the Good & Gather brand gluten free breadcrumbs from Target. Another brand that is very similar is Michelle Farms. If you can't find gluten free breadcrumbs, you can use gluten free oats instead.
Why turkey meatballs?
You can use many different kinds of ground meats for meatballs. I choose ground turkey a lot in my cooking because it's lower in saturated fat than beef and pork. Saturated fat isn't much of a concern in terms of allergies but it's good for an overall healthy diet.
If you're not too sure about using turkey or just really love the flavor of beef, try using 1 pound of lean ground beef and 1 pound of ground turkey. This way, you'll get the flavor of the beef but still, keep the saturated fat lower.
How to shape the meatballs
Meatballs will cook more evenly if they are the same size. I use an ice cream scoop that holds 3 tablespoons to form them. These end up being about 2-ounce meatballs after cooking which are a pretty good size.
When you're forming the meatballs, you don't need to pack the scoop tightly with the turkey mixture. If the meatball is packed too tightly and dense, your meatballs might get a more chewy texture.
Pack the meat tightly enough to stick together and you'll be good to go!
Gluten free ingredient notes
As with any kind of allergy friendly cooking and baking, the ingredients used in this recipe are dependent on what allergens you are avoiding.
Worcestershire sauce
This recipe is free of soy, eggs, dairy, wheat/gluten, peanuts, tree nuts, sesame, and shellfish. It does contain Worcestershire sauce which usually does contain fish (anchovies).
For those avoiding fish, you can buy vegan (fish-free) Worcestershire sauce like this one from Whole Foods. Another option would be to just omit the Worcestershire sauce. It will affect the flavor somewhat but these will still be delicious!
Barbecue sauce
These meatballs are tossed in gluten free barbecue sauce when they're done cooking. This recipe includes homemade barbecue sauce that is free of the most common allergens but you can save a little time and use bottled barbecue sauce instead if you would like.
I personally buy bottled barbecue sauce quite often for the convenience factor but I prefer to make my own. The best part of making your own is you can make it work for whatever allergens you're avoiding.
Many barbecue sauces contain gluten, soy, sesame, and ingredients derived from fish (like Worcestershire sauce). Always read food labels carefully!
Broiling the meatballs
After coating the gluten free turkey meatballs in sauce, I recommend putting them under the broiler for a few minutes. This helps to carmelize the sugars and makes the sauce stick to the meatballs better.
To do this, just put some foil on a baking sheet, spray it with cooking spray, and arrange the cooked meatballs in a single layer.
Set the oven to broil on high and place the baking sheet on the highest oven rack. Broil for 2 minutes, then remove them from the oven, toss them around, and place them in the oven for another 2 minutes. I need to set a timer for this because I get easily distracted in the kitchen and will inevitably forget about them leaving them to get *ahem* a little dark. 🙂
Remove them from the oven and enjoy!
Can I make the meatballs in a slow cooker?
Yes, you can! I love using my pressure cooker because it's so fast but a slow cooker works, too.
To do this, just place the formed meatballs in the slow cooker and gently toss them in the sauce. Then cook on low for 3-4 hours.
I would still recommend finishing them off under the broiler but you can skip that step and still have delicious meatballs!
Can I freeze these meatballs?
Yes! These are great to freeze and that is one of the reasons I make a larger batch.
To freeze, place wax paper in a freezer-safe container and line the meatballs up so they are not touching. Use another piece of wax paper to add a layer on top. After they're frozen (it usually takes a couple of hours), I like to transfer them to a gallon-size freezer bag for more compact storage.
To thaw them, put them in a skillet with about ½ cup of water and cook over medium-low heat covered for 10-15 minutes. You might want to add a little more sauce to them after they are warm and put them under the broiler for a couple of minutes before serving.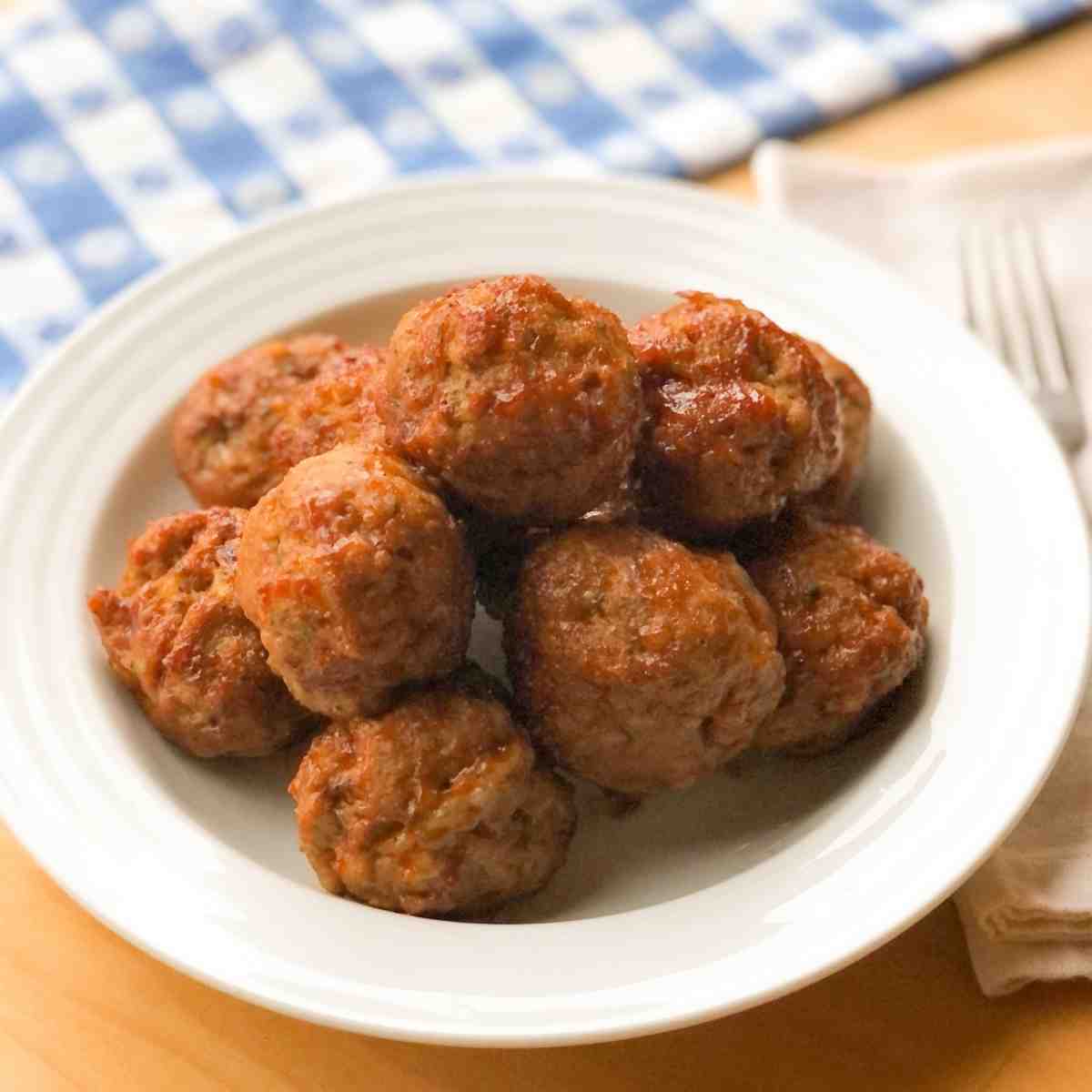 Serving suggestions
Here are just a few ways that you can incorporate these meatballs into a well-balanced, delicious meal.
Make baked potato wedges and add a side of steamed vegetables.

Make a baked potato or try these vegan twice-baked potatoes and have a salad on the side.

Make the meatballs with a teriyaki sauce instead of barbecue, stir fry some veggies, and serve with a side of brown rice.

Make a meatball sandwich on a gluten free roll and serve it with raw veggie sticks on the side.
Let me know what other sides you like to have with meatballs in the comments below!
More gluten free recipes
📖 Recipe
Gluten Free Turkey Meatballs
These egg free, soy free, dairy free, and gluten free turkey meatballs are easy to make and cook quickly in a pressure cooker!
Ingredients
2

teaspoons

salt

1

teaspoon

paprika

1

teaspoon

chili powder

1

teaspoon

black pepper

½

teaspoon

garlic powder

2

pounds

ground turkey

1

medium onion

minced

1

cup

gluten free breadcrumbs

2

teaspoons

Worchestershire sauce

optional

1-½

cups

water

for cooking in the pressure cooker
For the barbecue sauce
1 8

ounce

can of tomato sauce

2

tablespoons

tomato paste

2

tablespoons

apple cider vinegar

3

tablespoons

brown sugar

½

tablespoon

prepared mustard

1

teaspoon

Worcestershire sauce

optional

1

teaspoon

paprika

¼

teaspoon

garlic powder

¼

teaspoon

onion powder

¼

teaspoon

pepper

¼

teaspoon

salt
Instructions
Pressure Cooker Instructions
In a small bowl, combine the salt, paprika, chili powder, black pepper, and garlic powder. Add the mixture to the ground turkey, minced onion, breadcrumbs, and Worcestershire sauce. Mix well until all of the ingredients are combined (I use a stand mixer or my hands).

Measure out 3 tablespoons of meat and form it into a ball. Repeat until all of the meat is formed.

Place 1-½ cups water in the bottom of the pressure cooker. Spray the trivet with cooking spray and place in the pressure cooker. Carefully place the meatballs on the trivet in layers. Place the cover on the pressure cooker and set the pressure valve to "sealing". Select the manual setting and set for high pressure for 7 minutes. Allow pressure to release naturally for 10 minutes, then release the pressure. While

(Optional) If making homemade sauce, prepare it while the meatballs are cooking. Start by combining all of the ingredients in a small saucepan and cook over medium heat until it bubbles. Turn down the heat to low and simmer for 5 minutes. Set aside. Skip this step if you prefer to use prepared barbecue sauce.

Transfer the meatballs to a foil-lined baking sheet. Pour the barbecue sauce over them and toss them gently to coat. Place under the broiler (on high setting) for 2 minutes, then turn and broil another 2 minutes. Remove from the oven and serve or freeze for later.
Slow Cooker Instructions
Prepare the meatballs as instructed in steps 1 and 2 above. Toss them gently in the barbecue sauce of your choice (recipe above or use a "safe" prepared sauce). Place in a slow cooker and cook on low for 3-4 hours. Remove from the slow cooker and serve or go to step 5 above.
Nutrition
Serving:
2
meatballs
Calories:
224
kcal
Carbohydrates:
11
g
Protein:
24
g
Fat:
10
g
Saturated Fat:
2.5
g
Cholesterol:
86
mg
Sodium:
625
mg
Fiber:
1
g
Sugar:
4
g
Love this recipe?
Please leave a rating ⭐⭐⭐⭐⭐ and share your comments below!
Stay in touch on social media! You can find me @ Instagram, Facebook, and Pinterest. I love getting your feedback so please tag me if you try a recipe!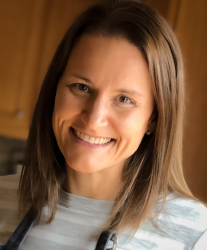 Latest posts by Kristi Winkels, RDN, LD
(see all)