These dairy free chicken pot pies might not look like traditional pot pies but they deliver the same homey, comfort food vibe without the top 8 allergens.
Jump to:
When I think of chicken pot pies, I think of the TV dinner kind that come individually portioned. We didn't really have them often when I was growing up so they were truly a treat!
Of course, TV dinners usually have a number of common allergens in them and chicken pot pies are no exception.
This recipe for dairy free chicken pot pies is allergy friendly and actually a little lighter than the full pie. That's because instead of using a full pie crust to enclose the stew filling, the filling is topped with a pie crust round.
Dairy free ingredients
I use several dairy free and allergy friendly substitutes to make the pie crust rounds and non-dairy cream sauce for the stew filling.
For the stew filling
Like many casseroles, chicken pot pie recipes often contain condensed soup. I have yet to find a dairy free and gluten free canned condensed soup.
To make a creamy sauce non-dairy, I start by making a roux. Ingredients needed for this are:
Fat
I use Earth Balance Buttery Spread for this. We use the dairy free variety but there is also a dairy free and soy free option as well.
If you can't find margarine that works for you, you can also use the same amount of any type of fat such as olive oil, grapeseed oil, avocado oil, etc.
Gluten free flour
I use an all-purpose gluten free flour such as Bob's Red Mill or I make my own. The starch in the flour helps thicken the sauce. I also use it for the pie crust rounds.
Broth and dairy free milk alternative
Once the margarine is melted and the flour is incorporated into it, you're ready to whisk in some liquid. Choose a broth that is gluten free whether it is in a ready-to-use carton or bouillon granules that you add to hot water. Either one works well!
For the milk, you can use any dairy free milk substitute that you like. I often use soy milk but have also used rice milk for making gravies and sauces and both work well.
For the pie crust rounds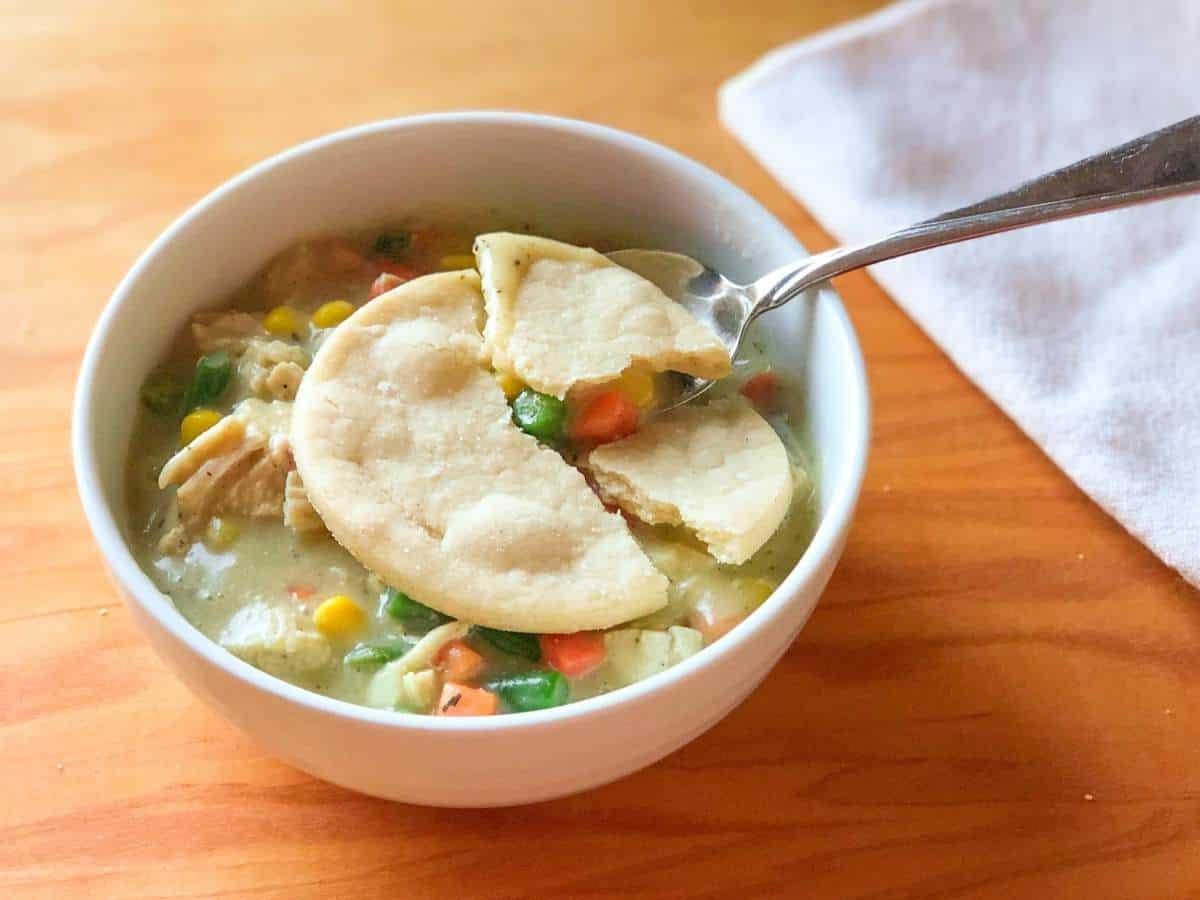 You can simplify this recipe by buying pre-made pie crust dough at your specialty store.
Wholly gluten free pie crusts are free of the top 8 allergens and can be found at specialty stores. They come in a pie shape already so, for this recipe, you would just roll it out flat and cut your rounds out using a cookie cutter.
Another option is to buy an allergy friendly pie crust mix. With this option, you will end up with enough mix to make this recipe at least two times (depending on how many rounds you like with your bowl of filling).
This recipe does include a recipe for the pie crust rounds so you can make them from scratch. To do this (and for a pie crust mix), you will need fat to cut into the mix.
Again, I use Earth Balance Buttery Spread for this. I also use Spectrum palm oil based shortening. This can be hard to find at the regular grocery store but you can order it on Amazon or find it in specialty stores.
Recipe tips
The pie crust
I used a 3.5 inch round cookie cutter and was able to make 5 of them with the recipe.
My kids and husband wanted to eat extra pie crust before, during, and after the meal.? If you think your crew might also be fighting over the last round of pie crust, go ahead and double the pie crust portion of the recipe.
The stew filling
As mentioned in the ingredients section, I make the sauce with a roux. This mixture of flour and liquid (in this case milk and broth) gets thick. If you like a thinner sauce, you can always add extra broth or even water.
When I add the vegetables to the sauce, I don't always thaw them first. This makes the sauce super thick because it cools it down. If you do that, don't worry. It will heat back up and thin out a little. Again, you can always add a little liquid to thin the sauce.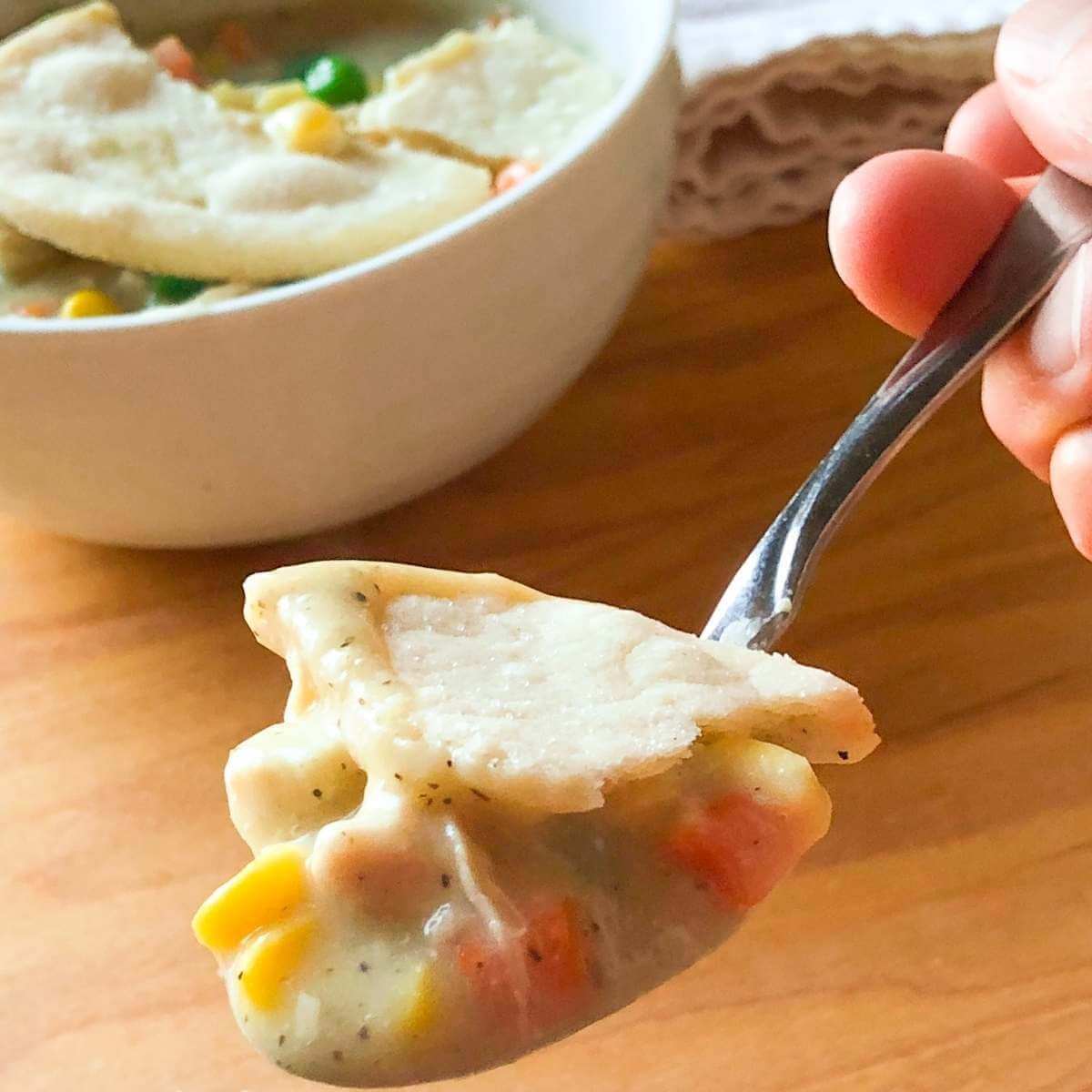 Even though it's a little more time and effort, this dish is comfort food at it's finest!  And with less pie "crust", it's a little lighter than the traditional pot pie.
Are you looking for an even lighter dish? Skip the pie crust toppers - these "pies" are still delicious without them!
More main dishes
📖 Recipe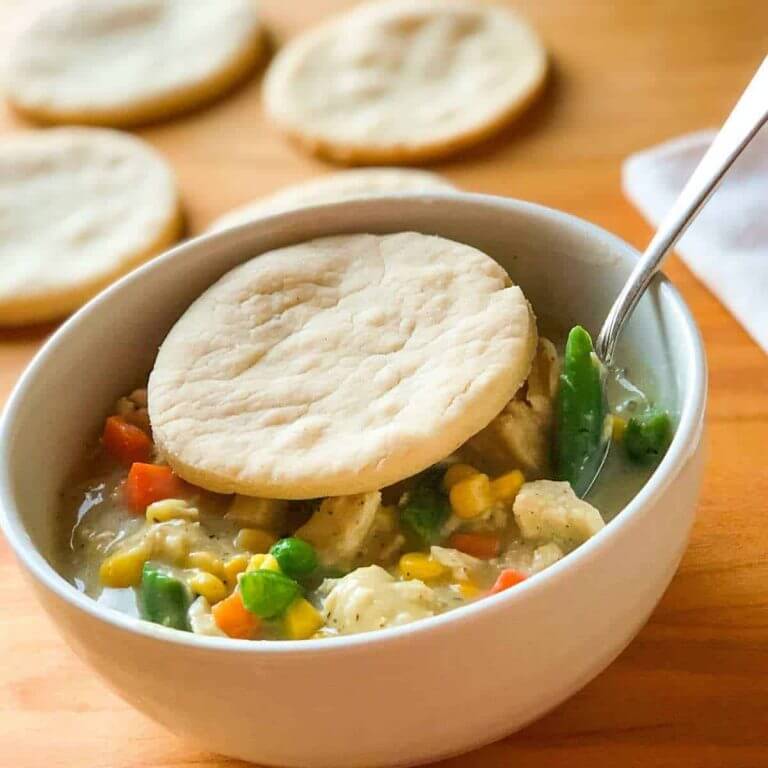 Dairy Free Chicken Pot Pies
Delicious comfort food that is free of the top 8 allergens including dairy, egg, soy, and wheat/gluten
Ingredients  
For pie crust rounds
¾

cup

all-purpose gluten-free flour

½

tablespoon

sugar

¼

teaspoon

salt

2

tablespoons

dairy free margarine (cold)

such as Earth Balance Buttery Spread

1 ½

tablespoons

palm shortening

such as Spectrum

3

tablespoons

cold water

½

teaspoon

vinegar

"safe" non-stick cooking spray
For the stew
¼

cup

all-purpose gluten free flour

1

teaspoon

rubbed sage

½

teaspoon

thyme leaves

¼

teaspoon

black pepper

¼

teaspoon

salt

¼

cup

"safe" margarine

such as Earth Balance

1 ½

cups

gluten free chicken broth

1

cup

dairy free milk substitute

such as rice milk

2

cups

cooked chicken

cut into bite-sized pieces

2

cups

frozen mixed vegetables

thawed
Instructions 
For the pie crust toppers
Preheat the oven to 425° F and spray a cookie sheet with cooking spray.

In a mixing bowl, combine the flour, sugar, and salt. Add the margarine, and shortening and mix until the mixture forms coarse crumbs. Add the water and vinegar and mix until the dough forms a ball. If the dough is still crumbly, add a teaspoon of water at a time until it sticks together but is not sticky.

Roll the dough out on a floured surface to ¼ inch thickness. With a round cookie cutter or using a bowl or large cup as a guide, cut 4 (3 to 4 inch) circles out of the dough. Place the dough circles on a baking sheet coated with cooking spray. Lightly coat the rounds with cooking spray and sprinkle with salt. Pierce the rounds with a fork. Bake at 425 degrees F for 8-10 minutes or until the edges are firm. Remove from the cookie sheet and set aside.
For the stew
In a small bowl, combine the flour, sage, thyme leaves, salt, and pepper. Set aside. In a skillet, melt the margarine over medium heat. When melted, sprinkle the flour mixture over it and whisk it together until the mixture is smooth. Cook for about one minute continuing to stir. Add the milk and chicken broth while whisking constantly, making sure to get all of the flour and margarine mixture evenly distributed. Cook, stirring frequently, until the mixture bubbles and becomes thick.

Add the chicken and vegetables to the mixture. Reduce the heat to medium-low and cook until the mixture is bubbling. If the sauce is too thick, add ¼ cup water to thin it.

To serve, ladle 1 ¼ cups of the chicken mixture into bowls. Top each serving with 1 pie crust round.
Notes
Nutrition Facts: Serving size: 1 ¼ cups of chicken + 1 pie crust round, calories: 475, total fat: 25 grams, saturated fat: 7.5 grams, cholesterol: 73 mg, sodium: 597 mg, total carbs: 39, fiber: 6 grams, sugar: 9 grams, protein: 28 grams
Nutrition
Love this recipe?
Please leave a rating ⭐⭐⭐⭐⭐ and share your comments below!
Stay in touch on social media! You can find me @ Instagram, Facebook, and Pinterest. I love getting your feedback so please tag me if you try a recipe!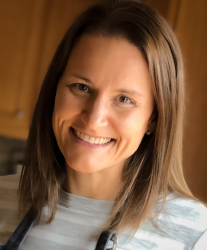 Latest posts by Kristi Winkels, RDN, LD
(see all)