This gluten and dairy free chicken and dumplings stew is a one-pot-wonder that is so delicious and easy to make. You'll want to add this one to your Fall and Winter dinner rotation!
Jump to:
Do you know what I love? Meals that can be made in one pot (aka one-pot wonders) and can simmer until it's dinner time.
The first time I made chicken and dumplings, I was not cooking with any sort of dietary restrictions. I'm pretty sure I used Bisquick to make the dumplings.
When I started having to cook without ingredients like wheat flour, milk, and butter, dumplings weren't even close to my cooking wheelhouse.
When I finally decided to get adventurous and give gluten and dairy free dumplings a try, I was pleasantly surprised that you can make them without a mix and without a lot of extra effort!
How to make dumplings from scratch
Yes, baking mixes exist to make our lives easier but making dumplings from scratch is really pretty easy. And, when you do this, you can control the ingredients which is always nice for those of us with food allergies and dietary restrictions.
You only need a few ingredients to make the dumplings.
Gluten free flour - These days, I like to use Bob's Red Mill gluten free 1-to-1 baking flour in everything I bake. You can also make your own flour blend using various gluten free flours such as rice flour, potato starch, and tapioca starch.
Baking powder - This leavening agent is a mix of cream of tartar and sodium bicarbonate (baking soda). To be shelf-stable, starch is often added, usually corn starch but sometimes potato or wheat starch.
Be sure the baking powder you choose is safe for you. If you don't have safe baking powder, you can make it by mixing 2 parts cream of tartar and 1 part baking soda.
Milk - I have used both oat and soy milk for this recipe and both work well. I mix lemon juice in with the milk which thickens it and adds some acidity. Choose whatever dairy free milk works you like but I would recommend an unsweetened, plain variety.
Oil - I use extra virgin olive oil because it's a healthy fat and I like the flavor. You can use any kind of oil that you like!
Herbs- I season the dumplings with dried thyme leaves. I love the flavor of thyme in the chicken stew so it seemed like it should go in the dumplings, too! I have also used basil and dill which also work well.
Whatever herbs you use, be sure to choose a brand that has safe manufacturing practices. I once bought a container of an herb at the store without looking at the label. When I got home, I noticed an advisory statement ("May contain traces of wheat or dairy products") and was so bummed out! Luckily, I hadn't used it yet. It was a good reminder for me to remember to read labels carefully every time!
Making the gluten and dairy free dumplings
Once you get all of your ingredients together, you mix the wet ingredients in a mixing bowl and the dry ingredients in a separate mixing bowl. The wet ingredients are then added to the dry and they're mixed just until they come together. Mixing too much can cause the dumplings to be tough.
The dough is very crumbly but has enough moisture to be pressed into a ball. I use a cookie scoop that holds 1 tablespoon to make mine. If you like a larger dumpling, you can certainly use a larger scoop! I scoop the dough into the cookie scoop and then use my hands to press the dough together. Then the dough is dropped into the stew to cook.
Next, the stew is cooked over medium-low heat, covered, for 10-15 minutes or until a toothpick inserted into the center of a dumpling comes out clean.
Tips for making the chicken stew
Following are a few tips and suggestions for choosing ingredients for the stew.
For the chicken
If you have leftover chicken, you can use that in this recipe. Another time-saving option is to use a rotisserie chicken or to cook chicken in your pressure cooker.
Another method is to poach some chicken breasts before you start cooking the stew. Follow these steps to do this:
Place boneless, skinless chicken breasts in a stock pot (the same one you will use to make the stew).
Cover with water.
Cook over medium-high heat until the water starts to boil.
Reduce the heat to low. Cover the pot and simmer for 8-12 minutes or until the chicken is no longer pink and a thermometer inserted into the thickest part of the chicken registers at 170 F
For the vegetables
I start with carrots, celery, onions, and garlic for this stew and then add a bag of frozen mixed vegetables (more carrots, peas, corn, and green beans) when I add the chicken. Feel free to add any vegetables that you like! I think mushrooms would be good but, unfortunately, one of my kids hates them. The more vegetables the merrier, I always say!
If you are allergic to peas or corn, you can definitely omit the mixed vegetables and add just green beans or another type of frozen vegetable. This recipe is flexible!
Serving suggestions
I love this stew because it is a one-pot-wonder meaning all of the food groups are represented in one dish! For me, there's never enough vegetables in a meal so I might also have a salad on the side. 🙂
More soup and stew recipes
📖 Recipe
Gluten and Dairy Free Chicken and Dumplings Stew
This gluten free dairy free chicken and dumplings stew is a one-pot-wonder that is so delicious and easy to make. You'll want to add this one to your winter dinner rotation!
Ingredients
For the stew
¼

cup

gluten free all-purpose flour

such as Bob's Red Mill Gluten Free Flour

½

teaspoon

dried oregano leaves

½

teaspoon

dried thyme leaves

½

teaspoon

freshly ground pepper

1

tablespoon

extra virgin olive oil

1

cup

carrots, diced

2

stalks

celery, diced

1

medium

onion, chopped

1

clove

garlic, minced

6

cups

low-sodium chicken broth

12

ounces

cooked chicken, chopped

About 3 cups

1

bay

leaf

1

12 ounce bag

frozen mixed vegetables
For the dumplings
1 ⅓

cups

gluten free all purpose flour

such as Bob's Red Mill Gluten Free All Purpose Flour

2

teaspoons

baking powder

½

teaspoon

dried thyme leaves

¼

teaspoon

salt

½

cup

dairy free milk

such as oat, rice, or soy

1

teaspoon

lemon juice

¼

cup

extra virgin olive oil
Instructions
For the stew
Combine the flour, oregano, thyme, and pepper in a small bowl; set aside. Heat the olive oil in a large stockpot over medium-high heat. Add the carrots, celery, and onion to the pot and cook until the carrots are tender and onion is translucent. Add the garlic and cook for another minutes. Next, add the flour and herb mixture and stir until all of the vegetables are coated. Continue to cook, while stirring, for 1 minute more. Add the broth and stir while scraping the bottom of the pot to incorporate all of the flour and bits stuck to the bottom. Bring the stew to a boil. Add the chicken, bay leaf, and mixed vegetables and return to a boil. Reduce the heat to low and simmer.
For the dumplings
In a medium mixing bowl, combine the flour, baking powder, thyme, and salt. In a separate bowl, whisk together the milk, lemon juice, and oil. Add the milk mixture to the flour mixture and mix just until combined. Using a cookie scoop, scoop out the dough and press into a ball (I use a cookie scoop that holds 1 tablespoon). Drop into the simmering soup. Repeat until all of the dough has been formed into balls.

Cover the pot and simmer for 10-15 minutes or until a toothpick inserted into the center of a dumpling comes out clean. Serve immediately.

Serving size is 1 ½ cups with 2 dumplings.
Notes
Nutrition Facts:
Serving size: 1 ½ cups of stew with 2 dumplings, calories: 418, total fat: 16 grams, saturated fat: 3 grams, trans fat: 0.1 grams, cholesterol: 48 mg, sodium: 438 mg, total carbs: 43 grams, fiber: 6 grams, sugar: 6 grams, protein: 28 grams
Nutrition
Love this recipe?
Please leave a rating ⭐⭐⭐⭐⭐ and share your comments below!
Stay in touch on social media! You can find me @ Instagram, Facebook, and Pinterest. I love getting your feedback so please tag me if you try a recipe!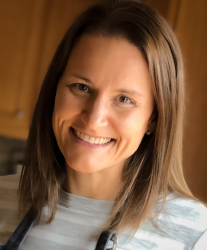 Latest posts by Kristi Winkels, RDN, LD
(see all)