Chicken tortilla soup can be easily made without the most common allergens if you make sure ingredients don't contain hidden allergens. This soup is quick and easy to prepare so it is a staple in our regular meal rotation.
Jump to:
Chicken tortilla soup is one of my favorite soups. I love the combination of flavors and also the toppings that go so well with it (hello, diced avocados!)
I also love how easy it is to make and that is allergy-friendly without any substitutes. Sure, many chicken tortilla soups are topped with cheese and sour cream (no-no's for those of us avoiding dairy) but this soup is still delicious without them.
Ingredient notes
Chicken
I like to cut corners wherever I can to make meals quick and easy. Protein, like chicken, tends to be the most time consuming portion of a meal. Here are some convenient options for the chicken in this soup.
Canned chicken: This is my least favorite option because I don't really like the taste or texture of canned chicken. With that said, you can save a lot of time (and space in your refrigerator/freezer) with the canned variety. Use a ten-ounce can if going this route.
Rotisserie chicken: Another very convenient option (all you have to do is cut up the chicken into bite-sized pieces) that tastes better than canned. Just be sure to get a rotisserie chicken that doesn't have allergens you're avoiding. The most common allergens I see in rotisserie chickens are wheat/gluten and soy. Just be sure to read those labels carefully!
Leftover chicken: A meal planning tip I tell people often is, when cooking meat, cook extra to use for another dish. I will often grill four pounds of chicken breasts at a time and use them for a couple of different dinners that week and then freeze enough for another meal. It's so great to have this kind of stuff in the freezer for those nights that you don't know what to make, haven't thawed anything out, or don't have much time!
Use leftover chicken taco filling: Slow cooker chicken tacos are the simplest thing to make and the leftovers are perfect for this soup!
To make it, combine 1 pound of chicken breasts, 2 tablespoons taco seasoning, and one 16 ounce jar of salsa in a slow cooker. Cook it on low for 8 hours or until chicken pulls apart.
When using these leftovers, you can skip the cumin and chili powder as the chicken is already seasoned!
Black beans
Canned: The easiest option for black beans is canned. I always have several cans of black beans in my pantry for tacos, soups, and to put on salads. To reduce the sodium, I drain them in a colander and rinse them well.
Instant pot: Sometimes, I am out of canned beans (gasp!) In that case, I turn to my trusty Instant Pot. Did you know you can make black beans in an Instant Pot in less than an hour? It's true!
To make them:
Rinse 1 cup of beans
Add them along with 3 cups of water to the Instant Pot
Pressure cook on high for 30 minutes
Let the pressure release naturally (takes about 20 minutes)
Voila! Black beans cooked perfectly - even better than canned! Add 1 ½ cups to the soup (or more if you'd like) and freeze the leftovers for another batch of soup.
Chicken broth
Some broth contains wheat/gluten so it's important to read labels carefully if you have a wheat allergy or intolerance. You can use any of the following options:
Bouillon granules - I use this most often because it takes less room in my pantry and I can mix up as much as I need. Orrington Farms makes a variety of bouillon granule options - all of them are gluten free.
Chicken stock in a carton - Using stock is more convenient (no mixing like the granules). Kitchen Basics and Swanson are two brands that are allergy-friendly and gluten free.
Homemade stock - Making your own stock is obviously not a quick process but it makes for a really great soup! When I buy a rotisserie chicken, I usually make stock with the leftover chicken bones. I use my Instant Pot but you can also do this on the stove top.
Serving suggestions
There's so many good things to put on chicken tortilla soup! Here are our favorites:
Diced avocado
Cilantro
Dairy free cheese
Dairy free sour cream
Tortilla strips - To make them, cut corn tortillas into thin strips (I use a pizza cutter). Toss them in a tablespoon or two of extra virgin olive oil, a teaspoon of lime juice, and 1 teaspoon of salt. Bake in a 375 degree F oven for 15 minutes, stirring every 5 minutes. YUMMY!
More allergy friendly soup recipes
📖 Recipe
Chicken Tortilla Soup
Chicken tortilla soup is a quick and easy meal to make on a busy night. It is free of dairy, egg, soy, wheat/gluten, peanut, tree nut, fish, and shellfish.
Ingredients
1

tablespoon

extra virgin olive oil

1

medium

onion, chopped

1

clove

garlic, minced

2

cups

chicken, cooked and chopped into bite-sized pieces

6

cups

low sodium, gluten free chicken broth

1

15 ounce

can black beans, drained and rinsed

1 ½

cups

frozen corn

1

10 ounce

can petite cut tomatoes

2

teaspoons

cumin

2

teaspoons

chili powder

salt and pepper

to taste
Instructions
In a large stockpot, heat the olive oil over medium-high heat. Add the onion and cook until translucent. Add the garlic and cook for another minute. Add the cooked chicken and taco seasoning. Stir and cook for another minute. Next, add the broth, black beans, corn, tomatoes, cumin, and chili powder. Bring to a boil. Reduce heat and simmer for 15-20 minutes.

Top with any of the following (optional): diced avocado, fresh cilantro, diced fresh tomatoes, dairy free cheese, dairy free sour cream, tortilla chips, or tortilla chip strips (see recipe notes above).
Notes
Nutrition Facts for a 1 ½ cup serving: Calories: 244, total fat: 6 grams, saturated fat: 1.4 g, cholesterol: 52 mg, sodium: 268 mg, total carbs: 22, fiber: 6 g, sugar: 4 g, protein: 27 g
Nutrition
Love this recipe?
Please leave a rating ⭐⭐⭐⭐⭐ and share your comments below!
Stay in touch on social media! You can find me @ Instagram, Facebook, and Pinterest. I love getting your feedback so please tag me if you try a recipe!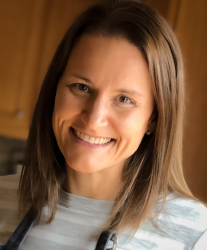 Latest posts by Kristi Winkels, RDN, LD
(see all)