This gluten free beef stew is an adaptation of the classic dish that can be made in a pressure cooker or slow cooker. Either way, it's free of the most common allergens (including wheat/gluten, dairy, eggs, and soy) and delicious!
Jump to:
I love soups and stews in the fall and winter months. They're hot, filling, and have a comforting quality. Plus, they make great leftovers for lunches throughout the week!
This recipe was adapted from a family favorite to omit the gluten and dairy ingredients. It was originally a slow cooker recipe that made a great "fix-and-forget" meal.
But once I got my Instant Pot pressure cooker, I had to try to adapt it yet again. I discovered that I could come home after work and have this dish on the table in an hour but it still tastes like it's been slow-cooked all day long. What could be better than that?
Gluten free/allergy friendly ingredients
I needed to use a few allergy-friendly substitutes in this dish but they are easy to find at the regular grocery store. That makes this an excellent dish to prepare if you're looking to make a meal for a loved one with gluten intolerance or a food allergy!
Gluten free flour
I use Bob's Red Mill Gluten Free All-Purpose Flour in everything these days and this is no exception. In this case, the flour is used to coat the beef and acts as a thickening agent for the broth. You could use plain rice flour or any gluten-free flour blend for this dish.
Worcestershire sauce
Worchestershire sauce is commonly used in recipes like beef stew to add a depth of flavor and to tenderize meat. The main ingredient is vinegar but people with an allergy to fish need to be aware that this sauce also contains anchovies. You can buy vegan Worcestershire sauce on Amazon, but these substitutes often have other top allergens such as soy and wheat.
If you can't find a safe Worcestershire sauce, don't worry! You can substitute balsamic vinegar which still has acidity and great flavor. You can also just omit it altogether and this dish will still taste pretty good!
Beef broth
Some broth varieties contain wheat/gluten so be sure the brand you use is gluten free if you are avoiding wheat/gluten.
We like Orrington Farms beef broth granules because it's gluten-free and we can usually get it at our regular grocery store. You can also find it on Amazon.
Beef stew meat
For the beef, I buy stew meat that is already cubed and ready to go. Stew meat is usually from the beef shoulder, otherwise known as "chuck". A top or bottom round roast cubed into 1-inch pieces would also work well in this stew.
The remaining ingredients are beef, fresh vegetables, herbs, and spices. Always be sure to read labels on herbs and spices to be sure there aren't any cross-contact issues.
Slow cooker or pressure cooker
This recipe can be made in a slow cooker or a pressure cooker. I make it both ways and really just decide based on timing.
If I want a meal that is ready when I walk in the door or that my family can eat at different times, I use the slow cooker. This is also the method that requires the least amount of effort because I just throw everything in the slow cooker and go.
If I didn't plan ahead and get everything into the slow cooker in the morning but really want beef stew, I use the pressure cooker.
When I go with the pressure cooker method, it takes a bit more prep effort because I like to sear the meat before pressure cooking the stew. This adds extra flavor by caramelizing the outside of the meat and adds depth of flavor to the stew. I do this in the pressure cooker pot using the "saute" function.
Honestly, if I had to use a separate pan to do it, I would skip that step (as I do when slow cooking).
Either way, it's delicious!
Tips for the pressure cooker method
When I make this in my Instant Pot, I like to sear the meat first. It takes a little more time but, as I mentioned earlier, it does add some depth to the flavor.
First, the meat is tossed in seasoned flour which helps thicken the stew. Then the meat is seared. To do this, add about a tablespoon of olive oil to the pot and then add half of the flour-coated meat. Cook for a minute or two and then stir around until all sides of the meat have been browned. Add a little more olive oil, add the remaining meat, and repeat this process.
You'll notice that the pot gets very messy as the flour and meat stick to the bottom. Don't worry though because you'll deglaze the pan with the broth and all of those little bits will become part of the gravy sauce. Trust me, it will all work out and be delicious!
If you don't have a pressure cooker, it can be a little intimidating at first. I have actually heard stories of people getting one as a gift and not opening it for a year. Is this you??
I'm here to encourage you to take it out of the box! This recipe is a great starter recipe because you can use both the sauté function and the pressure cooking function!
I have the 6-quart Instant Pot and I really love it. Give it a whirl and let me know how it goes in the comments! 🙂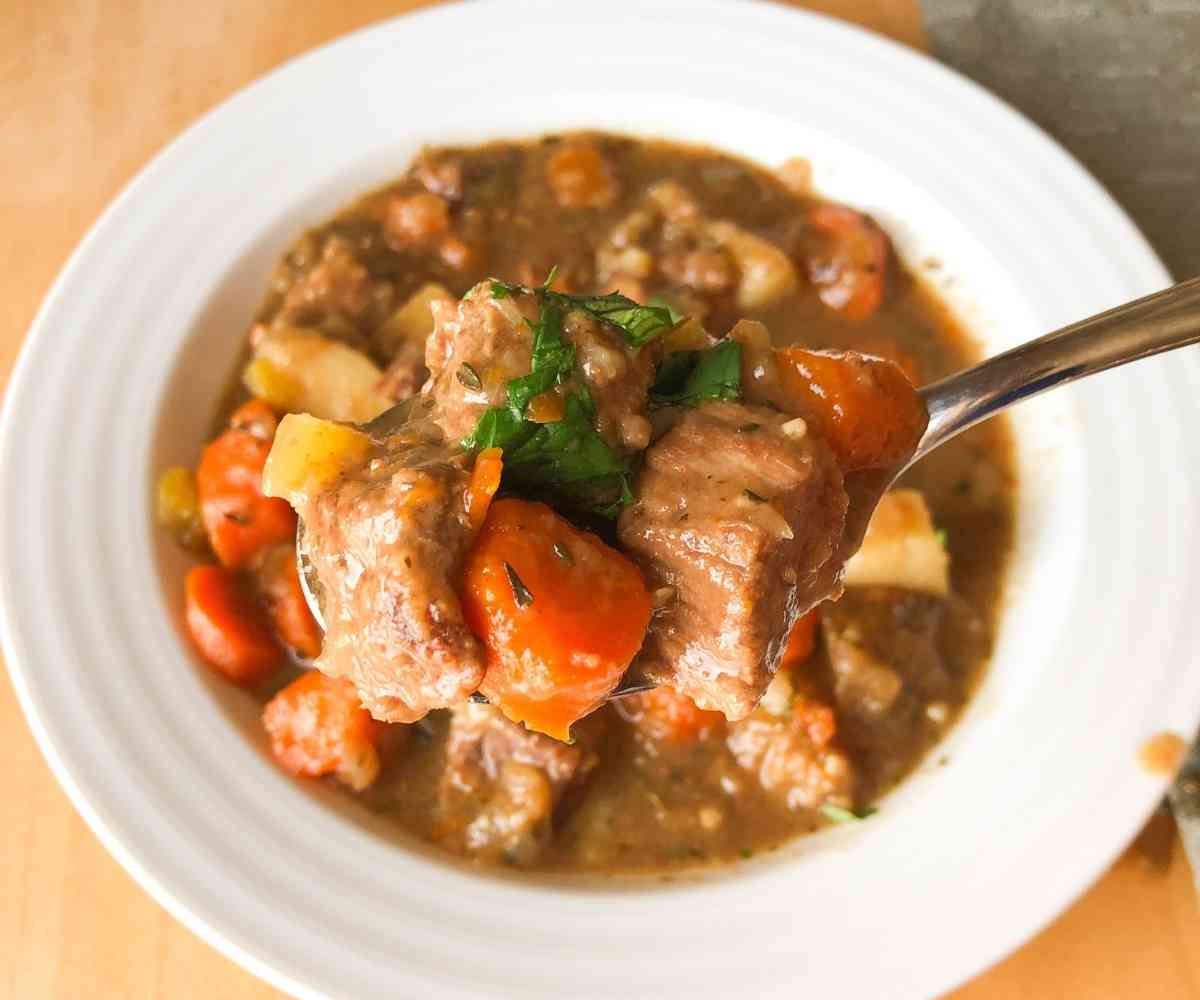 Can I freeze beef stew?
Yes, this is a great dish to freeze! I usually freeze leftovers in small containers so they are individually portioned. This makes it easier to thaw and reheat. It's also a great way to have lunches and dinners-for-one available!
I love these Bentgo containers that you can get at Amazon. They come in a bunch of different sizes depending on how much you want to freeze at a time.
More soup and stew recipes
📖 Recipe
Gluten Free Beef Stew
This gluten free beef stew is an adaptation of the classic dish that can be made in a pressure cooker or slow cooker. For the slow cooker, cook time is 4-6 hours on high or 8-10 hours on low. For the pressure cooker, factor in 10 minutes for it to come to pressure, 35 minutes of cook time, and 10 minutes to naturally release the pressure.
Equipment
Pressure Cooker

Slow Cooker
Ingredients
¼

cup

gluten free all-purpose flour

¼

teaspoon

salt

¼

teaspoon

paprika

¼

teaspoon

pepper

1 ½

pounds

beef stew meat cut into 1 inch cubes

From chuck roast or round roast

1 ½

cups

gluten free beef broth

1

teaspoon

Worchestershire sauce

Or balsamic vinegar if allergic to fish

1

clove

garlic, minced

1

bay leaf

4

large

carrots, sliced into ½ inch thick slices

3

medium

potatoes, cubed

2

onions, diced

1

stalk

celery, chopped

1

teaspoon

dried thyme

½

teaspoon

dried basil

1

teaspoon

dried parsley

1

teaspoon

dried rosemary
Instructions
For the slow cooker
In a small bowl, combine the flour, salt, paprika, and pepper. Put the meat in the slow cooker and add the flour mixture. Toss to coat evenly. Add the remaining ingredients and mix well.

Cover and cook on high for 4-6 hours or low for 10-12 hours.
For the pressure cooker
In a small bowl, combine the flour, salt, paprika, and pepper. Add the meat to a mixing bowl and toss with the flour mixture until coated evenly.

Set the pressure cooker to the saute setting and add a tablespoon of olive oil. When the pot is hot, add half of the meat and brown on all sides. Remove from the pot, add another tablespoon of oil, and brown the remaining meat. Again, remove the meat from the pot. Add the broth to the pot and scrape the bits of flour and meat from the bottom of the pan. Turn the pressure cooker off. Add the meat, Worcestershire sauce (if using), garlic, bay leaf, carrots, potatoes, onions, celery, thyme, basil, parsley, and rosemary to the pot and stir well.

Select the manual setting on the pressure cooker and set to cook for 35 minutes. When done cooking, allow pressure to release naturally for 10 minutes. Remove the bay leaf and serve.
Nutrition
Serving:
1.5
cups
Calories:
475
kcal
Carbohydrates:
30
g
Protein:
40
g
Fat:
21
g
Saturated Fat:
8
g
Cholesterol:
108
mg
Fiber:
4.5
g
Sugar:
9.5
g
Love this recipe?
Please leave a rating ⭐⭐⭐⭐⭐ and share your comments below!
Stay in touch on social media! You can find me @ Instagram, Facebook, and Pinterest. I love getting your feedback so please tag me if you try a recipe!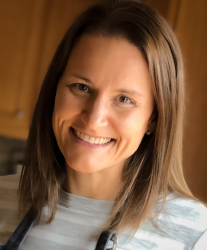 Latest posts by Kristi Winkels, RDN, LD
(see all)