According to Food Allergy Research and Education, over 170 different foods have been known to cause allergic reactions. This is an overview of common food allergies and how to manage them.
Jump to:
The top food allergens in the US
The most common food allergies are dairy, egg, wheat, soy, peanuts, tree nuts, fish, shellfish, and sesame.
Even though allergic reactions can be caused by virtually any food, 90% are caused by these allergens. These are also known as "The Top 9".
These top 9 allergens are important in the United States specifically because labeling laws require them to be clearly identified on food labels.
Please note: Sesame is the 9th allergen to be included in US labeling laws. This changed with the FASTER Act signed into law on April 23, 2021. Food labels are not required to clearly identify sesame until January 2023.
Choose an allergen below to learn more
Other food allergens
Even though the above allergens are considered the most common in the U.S., you can be allergic to other foods.
It can be difficult to manage allergens outside of the "top 9". This is because they don't have to be clearly identified on food labels.
Becoming familiar with other names for the allergen and common food sources is an important part of managing these allergens.
A corn allergy is not very common but can be very difficult to manage because corn is in many foods. Go to the corn allergy guide for tips on managing this allergy.
Food label reading tips
One of the most important things you can do to avoid common food allergies is careful food label reading. The Food Allergen Labeling Consumer Protection Act of 2004 (otherwise known as FALCPA) requires that foods regulated by the U.S. Food and Drug Administration clearly indicate if a product contains any of the most common allergens.
Food manufacturers can do this in a couple of ways. First, the label can include the allergen right next to the ingredient that contains that allergen:
Ingredients: Enriched flour (wheat flour, malted barley, niacin, reduced iron, thiamin mononitrate, riboflavin, folic acid), sugar, partially hydrogenated soybean oil, and/or cottonseed oil, high fructose corn syrup, whey (milk), eggs, vanilla, natural and artificial flavoring) salt, leavening (sodium acid pyrophosphate, monocalcium phosphate), lecithin (soy), mono-and diglycerides (emulsifier).
The other way is to list the allergens at the end of the ingredient list like this...
Contains Wheat, Milk, Egg, and Soy
Also, ingredient lists should list specific types of tree nuts (i.e. almonds, cashews, etc.), fish (i.e. flounder, cod, etc.) and crustacean shellfish (i.e. shrimp, crab, etc.)
What about those "May Contain..." statements?
These "advisory statements" are not required by the FDA, however, they're worth giving your attention. When they are present there is a good chance that common food allergies are present.
In December 2010, the National Institute of Allergy and Infectious Diseases put out a summary of the expert panel's Guidelines for the Diagnosis and Management of Food Allergy in the United States.
In the guidelines, the expert panel recommends avoiding foods containing advisory statements.
Some Foods Are Exempt from FALCPA including:
Raw agricultural commodities (such as fresh fruits and vegetables)
Highly refined oils derived from the top food allergens
Any ingredient derived from highly refined oil
Note that expeller-pressed and cold-pressed oils are not exempt as they could still contain allergen proteins.
Read Labels Every Time!
It might seem like an inconvenience to read labels every single time but it is very important in avoiding common food allergies. That's because ingredients can change and packaging can stay the same.
Also, the appearance of "safe" foods and that of allergenic foods can be very similar.
The packages above look very similar but one is gluten free and the other is "low carb". Careful label reading is the key to avoiding accidental exposure to allergens. And if there isn't a label, the food should be avoided.
Avoiding Cross Contact
⁠
Cross-contact happens when an allergen comes into contact with another food and the proteins mix causing the previously "safe" food to be unsafe. ☠⁠
Unlike cross-contamination (when food containing bacteria touches another food which can lead to food poisoning), cooking foods does not remove allergens. Go to the cross-contact page to read more.
Contacting food companies about risk of cross-contact
Even though FALCPA requires that the most common food allergens are clearly identified on food labels, sometimes the label doesn't tell the whole story.
Cross-contact during the production of foods is one reason to contact the manufacturer. Many foods come in different varieties (plain, cheesy, buttered, nutty, etc.). You might purchase the plain one thinking they are safe because the label doesn't list any of your allergens. However, they might be made on the same line as the variety containing the allergens you're avoiding.
Some companies do this and have very strict rules about cleaning the line between different products and even testing the line to be sure it doesn't contain allergens. Others may not take such care.
Companies are not required to make "advisory statements" such as "may contain traces of...", if a food is manufactured near common food allergens. Therefore, you will need to determine what degree of risk you are comfortable with when purchasing foods.
Finding your comfort zone
As you gather information and gain experience managing the food allergies that you are dealing with, you will gradually become more and more comfortable (really!)
One way to do this is to get some support. You can find support groups online and local groups in your area. The main thing is that you have others with similar challenges that you can bounce questions off of and share your experiences with as well.
Even if you don't have one of the most common food allergies (maybe you're allergic to corn or sesame), you can find others who are dealing with the same thing. Support is a key piece in the food allergy puzzle. Find a support group in your area!
Your comfort zone will probably change as time goes on. It will dictate many things in your everyday life including whether you will:
Contact food manufacturers about cross-contact risk
Have foods containing your food allergens in your home or choose to completely ban them from your home
Go to a family gathering where foods containing your allergens will be (this may sound extreme but some food allergies are just that serious).
Above all, always remember to trust your instincts. Don't let anybody make you feel as though you are making a big deal out of nothing. Food allergies can be very serious and you know what you need to do to keep yourself or your child healthy. Find your comfort zone and trust it!
Get cooking
When you have food allergies, you are most likely going to need to cook more often, after all, when you cook you control what's in the food!) Even if you are a cook, it can take some time to get used to using allergy friendly substitutes in your favorite recipes to make them "safe". Following are some resources to get you started: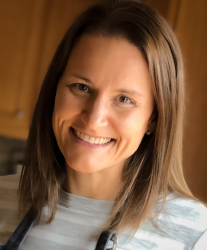 Latest posts by Kristi Winkels, RDN, LD
(see all)