Whether you're fighting a cold or just want a bowl of classic comfort food, this gluten free chicken soup is just what you're looking for! It's free of the top 9 allergens, is easy to make, and is nutritious, too!
Jump to:
Have you ever heard that chicken noodle soup can fight the common cold? Well, it may not be just an old wives' tale!
According to WebMD, research shows it helps clear nasal congestion, and thins mucous (ew), and may have a mild anti-inflammatory effect that can help ease symptoms.
Whether it's the vitamin and mineral-packed vegetables, the hydrating broth, the protein-filled chicken, or simply the placebo effect, it seems to do a body good.
Ingredients
Chicken noodle soup that you buy in a can or order at a restaurant is most likely not free of the most common allergens. But, with just a couple of allergy-friendly substitutes, you can make your own delicious, allergy free chicken noodle soup!
Chicken broth
Broth often contains wheat starch and gluten making it a no-no if you have a wheat allergy or intolerance. Be sure to look for a gluten-free broth or bouillon.
For ready-made broth in cartons, I like Pacific and Kitchen Basics because they seem to be available in most grocery stores in my area.
I use bouillon granules even more than ready-made broth often because I can make the amount I want rather than having to use up an entire carton. The brand I use the most is Orrington Farms which comes in a variety of gluten-free flavors.
If you are really ambitious, you can make your own chicken broth. I make it in the Instant Pot with a leftover rotisserie chicken. It's actually a really easy process and I usually get about two-6 cup containers of broth from one batch that I freeze for soup-making. I'm always happy when I have homemade broth in the freezer because it makes the soup taste even better!
Noodles
Gluten-free noodles are much easier to find at grocery stores than they used to be. And you can choose from a variety of ingredients (rice, quinoa, legumes, corn) and shapes (spiral, elbow, penne, shells, etc.).
I alternate between brown rice pasta and quinoa/brown rice pasta based on what is available at the store. The brands I most frequently use Trader Joe's, Live GFree from Aldi, and Tinkyada. They all seem to have similar textures and don't get mushy.
With gluten-free pasta, you want to make sure not to overcook it because it will start to break down and lose its shape. For this reason, I make the pasta separately and add it to the soup when I'm ready to serve it.
Vegetables
I like a lot of vegetables in my soups! First, I start with carrots, celery, onion, and garlic and then add some mixed vegetables at the end so they don't get too mushy. Mixed vegetables with a combo of corn, peas, carrots, and green beans are my favorite but you can use whatever works for you.
For example, if you are allergic to corn, you can skip the mixed vegetables and just add extra carrots, some green beans, and peas separately.
Chicken
Unless you are allergic to poultry, the plain chicken should not have any allergens in it. Sometimes, however, chicken that has been seasoned or marinated might contain wheat.
I usually use fresh chicken breasts but will sometimes use leftovers from a rotisserie chicken. This works well but not all rotisserie chickens are safe so always be sure to read the label to make sure it will work for you!
If you're allergic to poultry, you can still make this soup! Just omit the chicken, and use vegetable broth. If you want to add some protein, you can add some type of legume such as cannellini beans.
Recipe Tips
For the chicken
This is a great recipe to make with leftover chicken! I will often grill a family-sized package of chicken breasts all at once, cube it, and freeze it to use in soups, casseroles, and even to put on my salads for lunch.
If you don't have leftover chicken, you can place frozen (or fresh) chicken breasts in a stockpot, cover with water, bring the water to a boil, and then reduce the heat and simmer until they are cooked through. It usually takes about 15 minutes depending on the size of your chicken breasts. Once they're cooked, remove them from the pot and allow to cool before chopping up and adding to the soup.
Prefer a brothy soup?
The pasta in this soup does tend to soak up the broth making it more stew-like. If you prefer a more brothy soup, try adding the cooked pasta to individual servings rather than to the whole pot of soup.
Even though the extra step of cooking the pasta separately is not convenient, I have found that adding uncooked pasta to the soup leaves very little broth. Even when I add extra broth, somehow that pasta just soaks it all up. It also tends to break down the longer it is in the hot broth.
One of my sons actually really likes how the pasta breaks down and makes the soup thicker. So, I guess it just boils down to personal preference!
More soups and stews
📖 Recipe
Gluten Free Chicken Soup
The ultimate in comfort food, this gluten free chicken soup is free of the top 9 allergens so everyone can enjoy it!
Ingredients
1

tablespoon

extra virgin olive oil

1

cup

carrots

chopped

2

stalks of celery

chopped

1

medium onion

chopped

1

clove

garlic

minced

½

teaspoon

dried oregano leaves

½

teaspoon

dried thyme leaves

½

teaspoon

freshly ground pepper

6

cups

low-sodium, gluten free chicken broth

12

ounces

cooked chicken, chopped

about 3 cups

1

bay leaf

2

cups

frozen mixed vegetables

4

ounces

gluten free pasta, cooked
Instructions
In a large stockpot, heat the olive oil over medium-high heat. Add the carrots, celery, and onion and cook until carrots are tender and onion is translucent. Add the garlic, thyme, pepper, and oregano and cook for another minute. Add the broth, chicken, and bay leaf and bring to a boil. Reduce the heat to low and simmer for 20-30 minutes. Add the mixed vegetables and cook until heated through.

Add the pasta to the soup and serve immediately. Alternatively, you can add a scoop of pasta to each individual serving of soup to prevent pasta from becoming mushy.
Notes
Nutrition Facts: Serving size: 1 cup, calories: 163, total fat: 2 grams, saturated fat: 0.5 grams, cholesterol: 44 mg, sodium: 122 mg, total carbs: 20 grams, fiber: 3 grams, sugar: 4 grams, protein: 17 grams
Nutrition
Love this recipe?
Please leave a rating ⭐⭐⭐⭐⭐ and share your comments below!
Stay in touch on social media! You can find me @ Instagram, Facebook, and Pinterest. I love getting your feedback so please tag me if you try a recipe!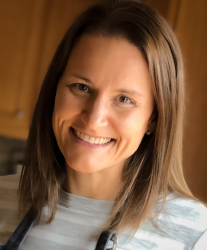 Latest posts by Kristi Winkels, RDN, LD
(see all)