If you're avoiding wheat, gluten, or eggs, you might think that pasta is off the table. Luckily, there has been an increase in gluten free vegan pasta options available that also happen to be free of the other common allergens.
Jump to:
Wheat pasta is a carbohydrate-rich food that provides energy, B vitamins, iron, and fiber, to name a few. If you're like many of the people avoiding grains due to allergies and intolerances, pasta might be on the top of the list of "most missed foods".
Luckily, there are many options that are not only gluten free but also vegan which makes them free of dairy and eggs, two common allergens.
5 types of gluten free vegan pasta
Many of the gluten free vegan pasta options are made from legumes (chickpeas, lentils, soybeans, black beans) but others are made from other whole grains (corn, rice, quinoa).
Chickpea pasta
Made with chickpea flour, this is probably the most popular of the legume pasta options. Some available brands include Banza, Chickapea, Tolerant, Lensi, Explore Cuisine, Full Circle Market, and Barilla.
One half cup of cooked chickpea pasta has approximately:
18 grams of carbohydrates
3 grams of fiber
6 grams of protein
With the high amount of fiber and protein per serving, chickpea pasta is very filling and satisfying!
It's also what I would describe as "sturdy" meaning it holds up to some stirring. This makes it a great option for dishes like pasta salad.
Lentil pasta
Lentil pasta is made with flour from red, yellow, or green lentils. These pastas are often mixed with gluten free grain flour like brown rice or quinoa.
Some of the brands available include Full Circle Market, Lensi, Barilla, Explore Cuisine, and Tolerant.
One half cup of cooked red or green lentil pasta has approximately:
18 grams of carbohydrates
3 grams of fiber
7 grams of protein
As you might have noticed, lentil pasta is very similar to chickpea pasta, nutritionally speaking, which makes sense because they're both legumes.
Black bean and soybean pasta
I found a few varieties of black bean pasta but noticed only one brand is from black beans. The others are made from black soy beans. That is important to know if you have a soy allergy.
Bellabondonza is the brand made from black beans. One half cup of cooked pasta has:
8.5 grams of carbohydrates
6 grams of fiber
12.5 grams of protein
Soybean pasta is available in black soybean and edamame varieties. Brands include Explore Cuisine, Bellabondonza, and The Only Bean.
One half cup cooked of either of these varieties has:
10 grams of carbohydrates
5 grams of fiber
12.5 grams protein
Nutritionally, black bean and soybean pastas are very similar to each other. When compared to lentil and chickpea pasta, they're lower in carbohydrates, higher in fiber, and higher in protein.
Cauliflower pasta
First, it was cauliflower rice, then pizza crust, and now pasta!
Cauliflower pasta is a newcomer to the market. The brands I came across seemed to be mixed with a legume as well so the nutrient content is very similar to those types of pasta.
One brand, Veggie-Craft, is a combination of lentil flour, pea flour, and cauliflower flour and for a one-half cup cooked serving, it provides:
17 grams of carbohydrate
2 grams of fiber
6.5 grams of protein
I have also seen some cauliflower pasta that contains eggs so always check labels for your allergens!
Brown rice, quinoa, and corn
Brown rice, quinoa, and corn pasta varieties have been around for years. Some are made with brown rice or corn alone while others are blends of some or all of these grains.
You'll find many brands available including Tinkyada, Barilla, Jovial, Lundberg Family Farms, Ancient Harvest, and Le Veneziane as well as many store labels including Good & Gather at Target, Trader Joe's, and Life GFree at Aldi.
One-half cup serving of cooked brown rice, brown rice, and quinoa, or corn pasta has approximately:
22 grams of carbohydrates
0.5 grams of fiber
2 grams of protein
These types of pasta can get mushy if overcooked. Cooking for the shorter duration suggested on the package and then testing a piece to see if it's done can help prevent that.
These types of pasta are widely available at most grocery stores and are generally less expensive than legume pastas.
How to choose the best gluten free pasta
When choosing gluten free, allergy friendly pasta, there are a few things to consider:
1. Ingredients you must avoid
If gluten is the only thing you're avoiding, then all of the pasta varieties listed above are good options for you. Of course, always check ingredient lists to be sure the product is safe and always consider the potential for cross-contact in production.
Many pasta varieties are made with eggs so, again, always check labels to make sure.
2. Taste and texture preferences
When you have several gluten free vegan pasta options, you can choose based on your taste and texture preferences. This is important because food is meant to be enjoyed!
At our house, brown rice-based pasta has been a staple for many years. This has a lot to do with the fact that it has been available the longest and is widely available. But, even with the increase of legume pasta, my kids tend to prefer the grain-based pasta texture.
The flavor of the pasta can also enhance a dish. For example, I think the flavor of corn pasta complements this turkey stroganoff well. This is why I have a variety of pasta options in my pantry.
3. Nutrition
Of course, nutrition benefits are an important factor when choosing a pasta.
Pasta made with gluten free grains like rice, quinoa, is a good source of complex carbohydrates and fiber that provide lasting energy. Gluten free grains also have a wide variety of vitamins and minerals including B vitamins, iron, manganese, and magnesium.
With that said, it is hard to ignore the nutrient density of legume-based pasta. These types of pasta are lower in carbohydrates which is a benefit if you're counting carbohydrates to manage your blood sugar. They're also high in fiber which helps regulate blood sugar, fills you up, and promotes a healthy digestive system. And if all that wasn't enough, you get some plant-based protein to boot!
As a dietitian, I'm often recommending beans/legumes for all of the reasons I mentioned above. Many people dislike beans because they're turned off by the texture. Having them in pasta form has helped people get past that texture issue and eat them more regularly.
4. Tolerance
You might not be allergic to legumes but sometimes they do cause some digestive issues. If legumes tend to be difficult to digest for you, then you might opt for the gluten free grain-based pasta options instead.
5. Cost
If you're following a gluten free diet, you've no-doubt noticed that gluten free products are generally more expensive and gluten free pasta is no different.
I compared the cost per ounce of the different varieties of gluten free pasta to regular pasta. Whole wheat pasta is by far the least expensive (about 9 cents per ounce). Here is how gluten free varieties compared:
| | |
| --- | --- |
| Pasta type | Cost per ounce (½ cup cooked) |
| Chickpea | $0.37 |
| Lentil | $0.30-0.63 |
| Black bean | $0.85 |
| Soybean | $0.87 |
| Brown rice, quinoa, corn (individual or blends) | $0.14 - 0.39 |
| Whole wheat pasta | $.09 |
Gluten free vegan pasta is more expensive overall than whole wheat pasta
The gluten free whole grain varieties (brown rice, quinoa, and corn) were the least expensive gluten free options. The lowest cost brands were the generic store brands (Good & Gather, Live GFree, etc).
Chances are as legume-based pasta gains popularity, it will also be available in generic brands which may lead to a lower cost.
The bottom line
If you're craving pasta but have to avoid gluten and common allergens like wheat and eggs, you've got a lot options. And the list seems to only be growing!
Whether gluten free grain-based pasta or legume-based pasta, you're getting a source of complex carbohydrates with more fiber than non-whole grain wheat pasta. And choosing the legume based pastas is going to get you even more fiber and plant-based protein. Just be prepared to pay a little more for those varieties.
Do you need help managing your restricted diet due to food allergies or Celiac disease? Read more about my services and how I can help.
Allergy friendly pasta recipes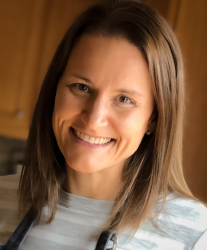 Latest posts by Kristi Winkels, RDN, LD
(see all)