If you're avoiding gluten due to a wheat allergy, Celiac disease, or gluten intolerance, finding gluten free fiber sources is an important part of having a balanced diet. Fiber not only makes you feel satisfied with meals but also promotes a healthy digestive system!
What is fiber?
Fiber is a type of carbohydrate found in plant foods that can't be digested or absorbed by the body. There are two types of fiber: soluble and insoluble.
Insoluble fiber
Have you ever heard that fiber "keeps you regular"? Well, that's thanks to insoluble fiber! Insoluble fiber stays intact as it travels through the gastrointestinal tract, pulls water in, and adds bulk to the stool allowing it to move through the GI tract quicker. This promotes regular bowel movements and can help prevent diverticular disease (small pouches forming in the large intestine that can become infected).
Insoluble fiber also helps you feel satisfied after a meal and plays a role in regulating blood sugar.
Soluble fiber
Soluble fiber acts kind of like a sponge in the GI tract, soaking up water as it moves through. It helps lower cholesterol by attaching to the particles and carrying them out of the body in the stool.
Like insoluble fiber, soluble fiber adds bulk to the stool which helps prevent constipation but it also can absorb excess water making it helpful in preventing diarrhea.
Finally, soluble fiber also helps you feel fuller after a meal and, because it isn't well absorbed, it has less of an effect on blood sugar rising which helps regulate blood sugar.
Gluten free fiber sources
Foods containing fiber usually have both insoluble and soluble fiber in varying amounts. Good sources of dietary fiber include fruits, vegetables, nuts, seeds, legumes, and whole grains.
Fruits and vegetables
Fruits and vegetables are important sources of fiber even though they don't all have a large amount per serving. That's just one of the reasons why it's important to have several servings of fruit and vegetables every day!
Including at least a fruit or vegetable at each meal helps meet that goal but don't forget that snacks are a great time to eat these nutrient-packed foods, too!
Another idea is to try roasting a large batch of vegetables such as broccoli, carrots, cauliflower, and Brussel sprouts and keeping them in the refrigerator to eat throughout the week.
Or have a platter of veggies prepped and ready to go for an easy snack and perfect side to your lunchtime sandwich.
Keep frozen fruits on hand to add to smoothies or to put on yogurt (dairy free if you're avoiding dairy). 
Add dried fruit to your bowl of oatmeal or mix into a trail mix with whole grain cereal and pumpkin seeds for a nutritious snack.
Fiber in fruit:
Avocado, one half, 9 grams
Raspberries, 1 cup, 8 grams
Dried prunes (10), 6 grams
Blueberries, 1 cup, 4 grams
Pear, medium, 4 grams
Apple with skin, medium, 3.7 grams
Banana, medium, 3 grams
Orange, medium, 3 grams
Dried mango, 1 ounce, 3 grams
Dried peaches, ¼ cup, 3 grams
Pineapple, 1 cup, 2.5 grams
Raisins, 2 ounces, 2 grams
Fiber in vegetables:
Acorn squash, 1 cup, 9 grams
Artichoke, medium, 6.2 grams
Brussels sprouts, 1 cup, 6 grams
Baked potato with skin, medium, 5 grams
Sweet potato, medium, 5 grams
Green peas, ½ cup, 4 grams
Canned pumpkin, ½ cup, 3 grams
Spaghetti squash, 1 cup, 3 grams
Kale, 1 cup, 3 grams
Cooked broccoli or cauliflower, ½ cup, 2.5 grams
Green beans, ½ cup, 2 grams
Zucchini, 1 cup, 2 grams
Legumes (also known as pulses)
Beans, peas, and lentils are fiber-rich foods that also provide plant-based protein and phytonutrients.
Because legumes are starchy, they are often used in many gluten free products. Flour, pasta, and snack foods are just ways legumes have been incorporated into foods.
Unfortunately, legumes sometimes have a reputation of causing excessive gas. If you are prone to this, try rinsing the beans before consuming them.
Lentils, garbanzo beans, and mung beans are among the easier-to-digest legumes so they are good ones to try. Also, having a smaller portion can help. As you will see in the list below, even a small portion of legumes packs a hefty fiber punch!
Try adding legumes to soups and casserole dishes. Make bean dip like hummus to have with whole grain gluten free crackers or veggie sticks. And try adding black beans to taco meats and other Mexican fare. You can also find a lot of gluten free pasta options that are made with legumes!
Fiber in legumes
Navy beans, ½ cup, 9.5 grams
Lentils, ½ cup, 8 grams
Kidney beans, ½ cup, 8 grams
Black beans, ½ cup, 7.5 grams
Mung beans, ½ cup, 7.5 grams
Pinto beans, ½ cup, 7.5 grams
Lima beans, ½ cup 7 grams
Edamame (soy), 1 cup, 6 grams
Garbanzo beans, ½  cup, 6 grams
Nuts and seeds
If you're not allergic to peanuts and tree nuts, they are another option for boosting your fiber intake. If you do have a nut allergy, there might be some seeds that are safe for you that are also excellent sources of fiber.
Fiber in nuts, and seeds
Almonds, 1 ounce, 4 grams
Pistachios, 1 ounce, 3 grams
Peanuts, walnuts, or Brazil nuts, 1 ounce, 2 grams
Cashews, 1 ounce, 1 gram
Chia seeds, 2 tablespoons, 10 grams
Flax seeds, 2 tablespoons, 8 grams
Sesame seeds, ¼ cup, 4 grams
Sunflower or pumpkin seeds, ¼ cup, 3 grams
Sunflower butter, 2 tablespoons, 2 grams
Whole grains
A whole grain includes three parts: the endosperm, bran, and germ.
The bran is several layers on the outside of the grain. It contains fiber, B vitamins, fiber, and antioxidants.
The germ is the embryo of the seed where a new plant can sprout from and it also contains some fiber, B vitamins, protein, and healthy fats.
The endosperm is the largest part of the grain and is what remains when a grain is processed or "refined". It contains starchy carbohydrates, some vitamins and minerals, and some protein.
When a grain isn't a whole grain, the germ and the bran have been removed and the endosperm remains. Sometimes grains are then "enriched" with vitamins and minerals that were lost in the process.
In addition to providing fiber, whole grains are a source of carbohydrates in the diet which provides energy.
I often meet people who aren't eating many grains once they begin following a gluten free diet because so many of the grains we eat are from wheat. But there are many gluten free whole grains that provide gluten free fiber!
Fiber in whole grains
The following gluten free whole grains are found in different forms including the grain itself, flour, pasta, cereals, tortillas, and bread.
Amaranth, 1 cup cooked, 5 grams
Buckwheat, 1 cup cooked, 5 grams
Popcorn, 3 cups, 4 grams
Millet, 1 cup cooked, 2 grams
Oats, 1 cup cooked, 4 grams
Quinoa, 1 cup cooked, 5 grams
Brown rice, 1 cup cooked, 4 grams
Sorghum, 1 cup cooked, 5 grams
Teff, ¾ cup cooked, 4 grams
Wild rice, 1 cup cooked, 3 grams
Need help?
Are you struggling to eat a balanced gluten free diet? You're not alone! Many of my clients struggle to get adequate fiber and this can lead to low energy, problems with digestion, and more.
Read more about my services and schedule a discovery call!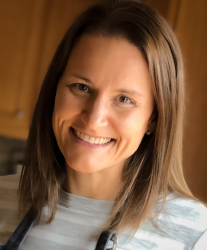 Latest posts by Kristi Winkels, RDN, LD
(see all)