If you like pumpkin spice everything, then you'll love these wheat free pumpkin muffins! Not only are they wheat and gluten free but also free of eggs, dairy, soy, peanuts, and tree nuts.
Jump to:
I start craving these gluten free pumpkin muffins when pumpkin-flavored coffee drinks appear on menus at the coffee shop. In fact, during the fall and winter months, I have a hard time passing by the cans of pumpkin puree at the grocery store without picking up a can (or two!)
Allergy friendly ingredients
Muffins normally are made with flour, eggs, milk, and sometimes other dairy products like sour cream. To make these without wheat/gluten and the other top 8 allergens I used a few allergy friendly substitutes.

Flour
I used an all-purpose gluten free flour for this recipe. I used to mix my own and would add xanthan gum to it but have found that most all-purpose gluten free flour blends already have xanthan gum in them.
What's xanthan gum you ask? It's an ingredient often added to gluten free flour blends to help act as a binder. If you prefer to experiment with different gluten free flours and mix your own, you might want to add xanthan gum. I have found that ½ teaspoon or so in most baked goods is all that is needed.
When measuring out the flour for this pumpkin muffin recipe or any other muffin or cake, you want it to be as light as possible. Spooning the flour into your measuring spoon will help to prevent it from becoming too compact in the measuring cup. If the flour is too compact, you end up with too much flour and the muffins will be dry.
Egg Substitute
For many of the quick breads, cakes, and cookies that I make, I use flax "eggs". Ground flax seems to be fairly easy to find at the grocery store. Flax is a source of omega-3 fatty acids and fiber making it a nutritious addition to these muffins.
Milk
This recipe calls for 3 tablespoons of "safe" milk. You can use any dairy free milk that works for you. If you're not allergic to dairy, you can use regular milk if you'd like.
Leavener
One ingredient you might not expect in a muffin that I am using with these is vinegar. Why? Baking soda needs to be mixed with an acid to activate it and help the muffins to rise. Vinegar is an acid that is not only allergy-friendly but most people have some in their kitchen (no need for another specialty ingredient.)
If you leave out the vinegar in this recipe, your gluten free muffins will not rise as much and will be a little gummy. So don't leave out the vinegar! I use distilled vinegar but you could use apple cider vinegar or really any kind you have on hand.
Nutrition notes
Did you know pumpkin is an excellent source of beta carotene, a powerful antioxidant? Beta carotene is converted by our bodies to vitamin A which is an important nutrient for eye health and good vision, healthy skin, and helps support the immune system.
Most people don't grab a muffin thinking they're eating healthy food but, in my opinion, being able to sneak in some beneficial nutrients is a bonus. And, don't worry, even your toughest little critics won't know the difference!
More gluten/wheat free recipes
📖 Recipe
Wheat Free Pumpkin Muffins
These muffins are free of dairy, eggs, soy, wheat/gluten, peanuts, and tree nuts.
Ingredients
2

tablespoons

flax seed meal

6

tablespoons

warm water

1 (15)

oz

can pumpkin puree

1

cup

granulated sugar

3

tablespoons

"safe" milk

such as rice milk

1

teaspoon

vanilla extract

1

tablespoon

distilled vinegar

2 ½

cups

gluten-free all-purpose flour

½

teaspoon

salt

1

teaspoon

baking soda

1

teaspoon

ground cinnamon

¼

teaspoon

ground nutmeg

⅛

teaspoon

ground cloves
Instructions
Preheat oven to 350 degrees F. Spray muffin tin with cooking spray.

In a small bowl, combine the flax seed meal and warm water. Let sit for 3-5 minutes until the mixture is thickened.

 In a mixing bowl, combine the pumpkin puree, sugar, milk, vanilla, vinegar, and flaxseed meal/water mixture. In a separate bowl, combine the flour, salt, baking soda, cinnamon, nutmeg, and cloves. Add dry mixture to the pumpkin mixture and stir until dry mixture is moistened.

Spoon batter into muffin tin filling each muffin cup about ¾ full. Bake for 20-25 minutes or until a toothpick inserted in the middle of one of the muffins comes out clean.
Notes
Nutrition facts for 1 muffin: Total calories: 160, Total fat: 1 gram, saturated fat: 0 grams, cholesterol: 0 mg, sodium: 132 mg, total carbohydrates: 36, dietary fiber: 2 grams, sugars: 14 grams, protein: 2 grams
Nutrition
Love this recipe?
Please leave a rating ⭐⭐⭐⭐⭐ and share your comments below!
Stay in touch on social media! You can find me @ Instagram, Facebook, and Pinterest. I love getting your feedback so please tag me if you try a recipe!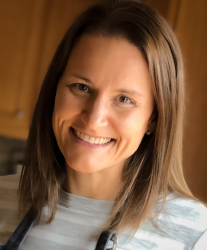 Latest posts by Kristi Winkels, RDN, LD
(see all)