These oatmeal applesauce cookies are soft, gooey, and free of dairy, egg, wheat, soy, peanuts, and tree nuts! Make a double batch and freeze some for later!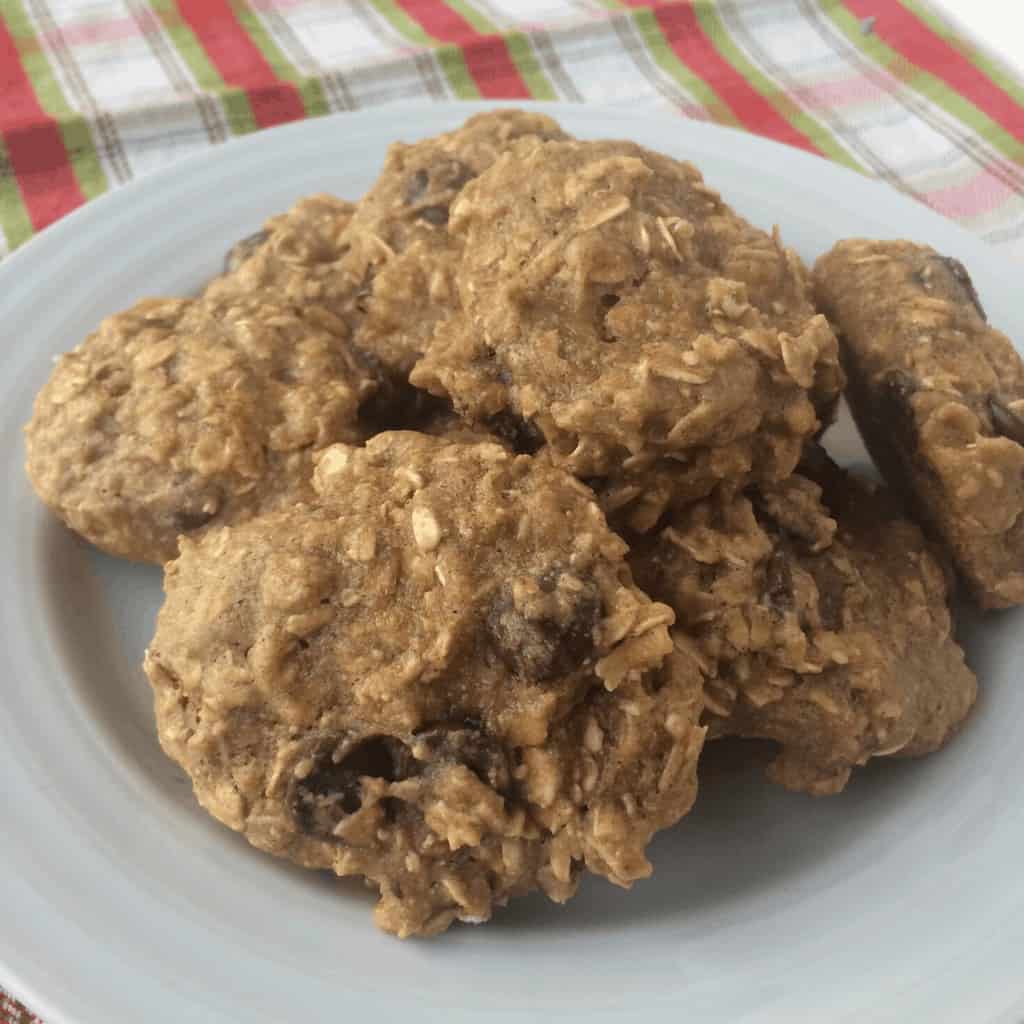 Jump to:
When I was a kid, I loved coming home from school, walking in the door and smelling freshly baked cookies. My kids love this, too! These oatmeal applesauce cookies are one of their favorites.
My favorite oatmeal cookie recipe used to be the Vanishing Oatmeal Cookie recipe from the Quaker oats canister. They are so good! But they're also made with a lot of the allergens we avoid (specifically dairy, eggs, and wheat).
Allergy friendly ingredients
When I began working on this recipe, I really wanted a cookie recipe with minimal specialty ingredients so anybody could make them with ingredients from the regular grocery store.
Fat
Usually, cookies call for butter or margarine. At the time I originally made these, it wasn't easy to find dairy free margarine (not to mention dairy AND soy free). I tried to use a smaller amount of canola oil and that worked well!
Egg substitute
My go-to egg substitute is a flax "egg". A flax egg is 1 tablespoon of ground flaxseed mixed with 3 tablespoons of warm water. You mix it together and let it sit a few minutes until it is thickened. This works very well as an egg replacer in many recipes! Flaxseed meal is usually found in the baking aisle at the grocery store near the flour and sugar.
Gluten free flour
For the flour, I use a pre-mixed gluten-free all-purpose flour from Bob's Red Mill. This mix contains a blend of rice flour, sorghum flour, tapioca starch, and potato starch. It also contains xanthan gum that works as a binder. If you like to mix your own flour combinations, I do recommend adding about ½ teaspoon of xanthan gum to this recipe.
Gluten-free oats
If you have a severe wheat allergy or have Celiac disease, it is important to find oats that are gluten-free. Oats do not contain wheat or gluten but are very susceptible to cross-contact with wheat, barley, and rye. Dust from these grains travels easily leading to cross-contact if processes aren't in place to prevent it. Whether certified gluten free or regular oats, both are good sources of fiber adding some nutrition value to these cookies (we'll take what we can get! :))
Chocolate chips
I don't always add chocolate chips to these cookies but, if I don't, my kids will inevitably ask "where are the chocolate chips?"
I use Enjoy Life Chocolate Chips. Enjoy Life makes a variety of chocolate chips but I tend to use the mini variety. You can choose your favorite for this recipe!
Recipe notes
If you have made cookies before, this recipe is pretty straightforward. Typically, a cookie recipe starts with softened butter which is then mixed with the sugar until creamy.
This recipe starts with canola oil (obviously, does not need to be softened). To get the same creamy texture, mix the flax "egg" and the oil together first, then add the other wet ingredients.
I use a small cookie scoop which holds about 1 tablespoon of dough per cookie. The cookies are very cakey rather than chewy. I like to underbake them so they are extra gooey! 🙂
Enjoy!
More allergy friendly cookies
📖 Recipe
Oatmeal Applesauce Cookies
Free of dairy, egg, wheat, soy, peanut, tree nut, fish, shellfish.
Ingredients
1

tablespoon

ground flaxseed

3

tablespoons

warm water

⅔

cup

firmly packed brown sugar

¼

cup

canola oil

½

cup

unsweetened applesauce

¼

teaspoon

baking soda

½

teaspoon

ground cinnamon

1-¼

cup

gluten free all purpose flour

1-¼

cup

gluten free oats

½

cup

"safe" chocolate chips

optional

⅓

cup

sunflower seeds

optional
Instructions
Preheat the oven to 375 degrees.

To make a flax "egg", combine the flax seed meal and warm water in a small bowl and set aside for 3-5 minutes. In a mixing bowl, beat the "flax egg", and oil together until creamy. Next, add the brown sugar, applesauce, baking soda and cinnamon and mix to combine well. Add the flour gradually while mixing until it is fully incorporated into the dough. Mix in the oats. Finally, add the chocolate chips, and sunflower seeds, if using, and mix well.

Drop dough by rounded tablespoonfuls onto an ungreased cookie sheet. Bake at 375° F for 8-10 minutes. Transfer to a cooling rack or paper towel to cool. 
Notes
Nutrition Facts (including chocolate chips and sunflower seeds)
Serving size: 1 cookie, Calories: 115, total fat: 5 grams, saturated fat: 1.3 g, cholesterol: 0 g, sodium: 4.4 mg, total carbs: 18, fiber: 1 g, sugar: 9 g, Protein: 1 g
Nutrition
Love this recipe?
Please leave a rating ⭐⭐⭐⭐⭐ and share your comments below!
Stay in touch on social media! You can find me @ Instagram, Facebook, and Pinterest. I love getting your feedback so please tag me if you try a recipe!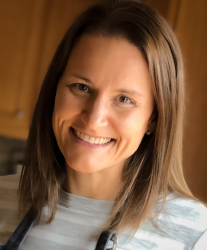 Latest posts by Kristi Winkels, RDN, LD
(see all)