Egg substitutes are essential for cooking and baking when you're managing an egg allergy. This guide for egg substitutes will give you ideas for altering your own recipes to make them egg-free!
Jump to:
If you have an egg allergy, you may not be able to enjoy omelets for breakfast, egg salad sandwiches for lunch, and frittata for dinner. After all, it's difficult to replace eggs in an egg dish.
With that said, you can replace eggs in so many foods! Loaves of bread, desserts, other baked goods, breaded foods, and many other foods containing eggs can be made egg-free (and still be delicious!)
Eggs provide air and leavening in cakes, supply liquid in cookie dough and cake or muffin batters, and add structure to bread and cakes. The following are egg substitutes that can provide the same functions but without the allergen.
Powdered egg replacers
The following egg replacers are meant to replace an egg or two in baked goods. They are not suitable for replacing a stand-alone egg or egg dish.
These types of egg substitutes usually contain a combination of starches, leavening agents, and binders that help to hold baked goods together. They work well in cookies, cakes, and bread. Several different brands are available online and in grocery stores.
Ingredients include: potato starch, tapioca starch flour, leavening (calcium lactate [not derived from dairy], calcium carbonate, cream of tartar), Sodium Carboxymethylcellulose, methylcellulose.
To replace 1 egg: Mix 1- ½ teaspoons Ener-G Egg Replacer plus 2 tablespoons warm water together and add to the recipe.
If you are making a cookie or bread that does not have yeast, the recipe should be baked soon after adding the egg replacer as it may not work as effectively for leavening if it sits for too long.
It works well in our pancake recipe to make light, fluffy pancakes. I also use it in my wheat/gluten free sugar cookie recipe.
Ingredients include: Potato Starch, Tapioca Flour, Baking Soda, and Psyllium Husk Fiber
To replace a whole egg, mix 1 tablespoon of egg replacer with 2 tablespoons of water and let it sit for a minute until it is thickened.
To replace an egg white, mix 1-½ teaspoons of egg replacer with 1 tablespoon of water.
In my experience, this egg replacement gets much thicker than the Ener-G Foods brand but both of these work well to leaven and bind baked goods.
Ingredients include: chia seeds and garbanzo beans (that's it!)
To replace a whole egg, mix 2 tablespoons of water with 1 tablespoons of Neat Egg powder.
This works best for recipes that use eggs as a binder. It does get thick and gummy so you might have to add a little extra water to get the right consistency for your recipe.
Flax "Eggs"
To make a flax "egg", mix 1 tablespoon flaxseed meal (ground flaxseed) with 3 tablespoons warm water and let it sit for about 10 minutes. When it becomes gelled together, it's ready to add it to your recipe.
I use flax "eggs" in the majority of my baking recipes. The downside is that it leaves visible brown flecks in light colored foods such as sugar cookies. In bars, brown cookies, and many cakes, it works well and you can't see it.
Flax seed is a wonderful source of omega-3 fatty acids - essential fatty acids that are especially known for being beneficial for heart health. Because these fatty acids break down when exposed to oxygen and light, you'll get the most benefit from buying whole flax seed and grinding it with a small food processor or coffee grinder before use. If you prefer not to mess with this process and would rather buy ground flax, be sure to keep it in the refrigerator or freezer in an opaque bag.
Aquafaba
Aquafaba is the brine or juice leftover from cooking legumes/beans. So, when you open up a can of garbanzo beans and drain off that liquid in the can? You're throwing away an excellent egg substitute.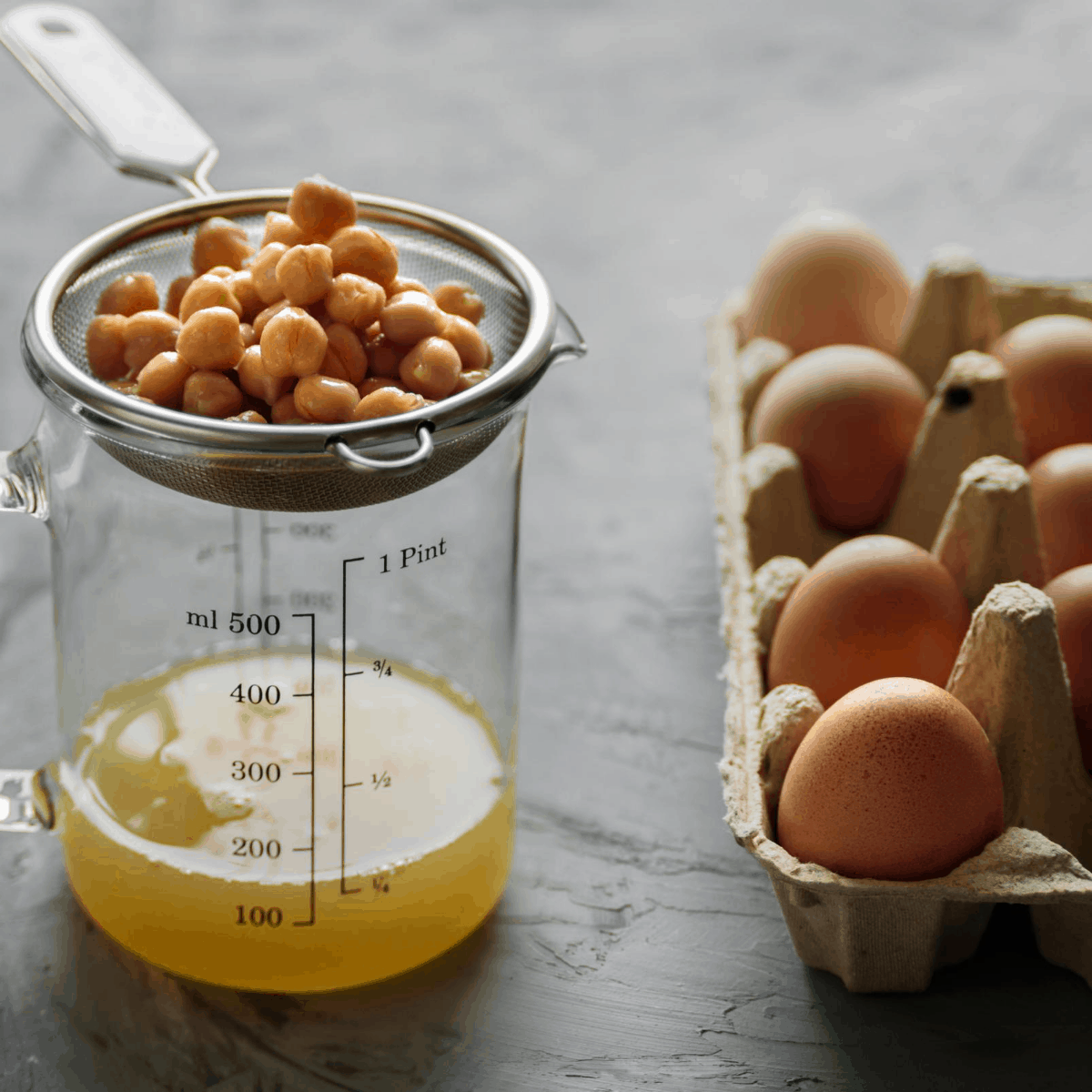 When I first read about aquafaba, the article discussed making meringue with aquafaba. Meringue! That was a hard one for me to believe because meringue is basically just egg whites with lots of air whipped into them.
I had to try it myself! Sure enough, if you pour that bean brine into a mixing bowl and mix it for 10 minutes or so, it becomes light and fluffy and can be used in all sorts of recipes.
I also use aquafaba in these gluten free dairy free cupcakes (also egg free!) They have a really nice texture thanks to the binding qualities of aquafaba.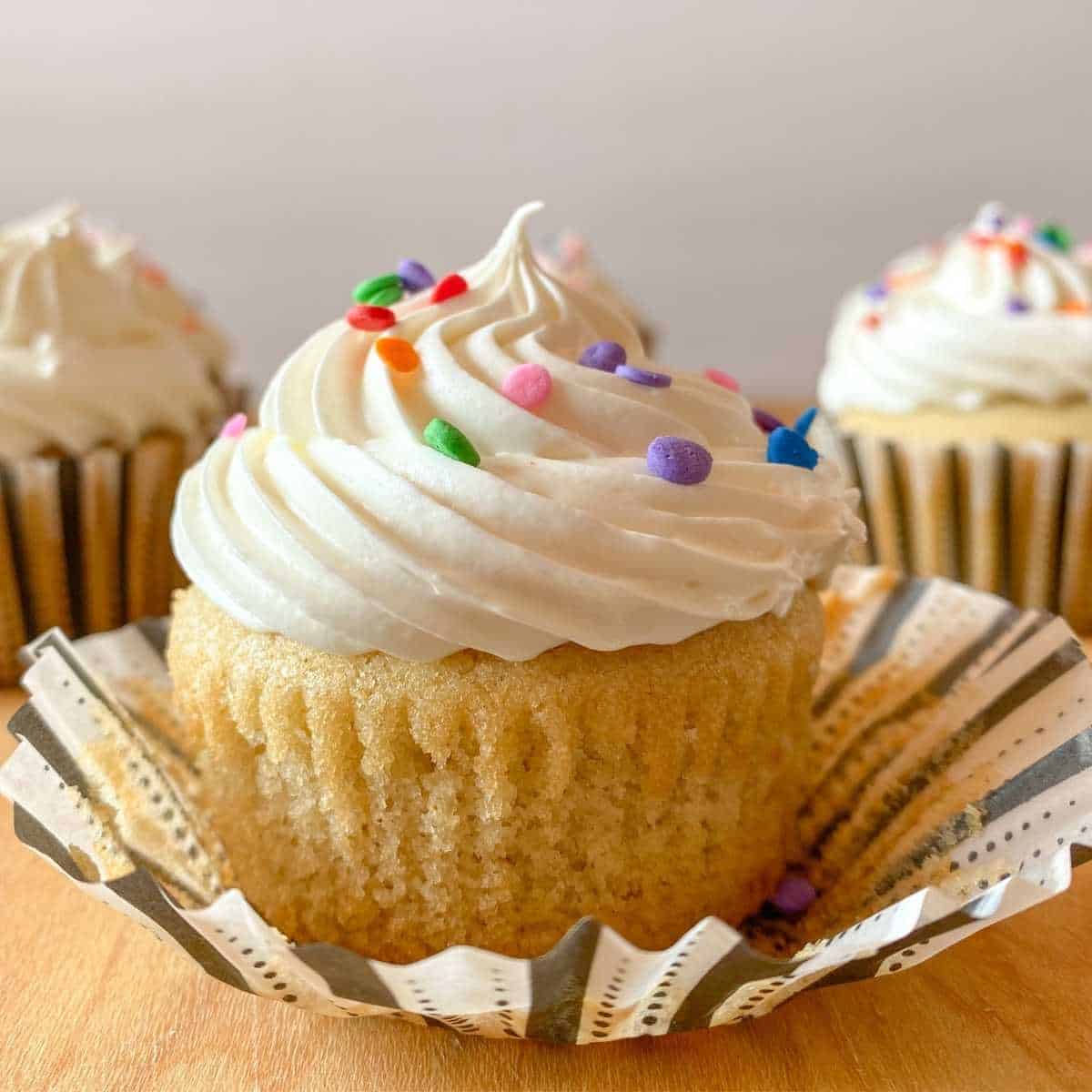 Other Egg Replacers for Baking
Baking Powder, Water and Oil
Mix 1-½ tablespoons of oil with 1-½ tablespoons of warm water and 1 teaspoon baking powder. Whisk these ingredients until foamy (it won't foam as much as Ener-G's egg replacer). If you can't get to the specialty food store for egg replacer, this is a great option. After all, most people have baking powder, oil and water on hand.
Unflavored Gelatin
To replace one egg, mix 1 teaspoon unflavored gelatin with 1 tablespoon warm water. You'll find the unflavored gelatin, such as Knox, right next to the other flavored gelatin, like Jello.
Vegan eggs for eating
This is an egg replacer that you eat like an actual egg.
The ingredients include: Organic Soymilk Powder (Organic Soybeans), Modified Cellulose, Gellan Gum, Cellulose, Calcium Lactate (Plant Source), Carrageenan, Natural Flavors (contains Black Salt [Black Salt, Herbs]), Nutritional Yeast, Black Salt, Beta Carotene for Color.
This egg replacement does contain soy but is free of the other most common allergens and is gluten free.
Nutrition facts compared to a whole egg:
Vegan egg: Calories: 35, fat 1 gram, saturated fat 0 grams, cholesterol 0 mg, sodium 150 mg, total carbohydrates: 5 grams, fiber: 1 gram, sugars: 1 gram, protein: 3 grams
Whole egg: Calories 80, total fat: 5 grams, saturated fat: 1.6 grams, cholesterol: 187 mg, sodium: 62 mg, total carbohydrate 0.6 grams, fiber: 0 grams, sugars 0.6 grams, protein: 6 grams
So, they do offer at least some protein but not as much as a regular egg. As of this writing, I have not tried these myself. Reviewers say that, with some seasoning, they taste like a regular egg but many were unhappy with the cost.
Pasta
Many types of pasta contain eggs so it's always good to read labels carefully. Luckily, there are many varieties that are egg free as well as gluten free. Read more about pasta here.
Mayonnaise
When I first wrote this guide, it was hard to find a mayonnaise substitute. Now, there are a couple of standouts that I see at my regular grocery store (no trip to the specialty store needed!)
Follow Your Heart Soy Free Veganaise - This one is free of the top 8 allergens including wheat/gluten, dairy, egg, and soy. Made with safflower oil and also contains pea protein.
Hellman's Vegan Mayo - This one contains soybean oil so may not be safe for those with a severe soy allergy. This is the brand I am able to find the most at the regular grocery store.
Best Foods Vegan Mayo - Also contains soybean oil.
Marshmallow Cream
You may not use marshmallow cream on a regular basis but, once in a while, a recipe might call for it. Since marshmallows generally do not contain egg you might assume that marshmallow cream is also "safe". This is not true! Marshmallow cream is actually marshmallows whipped together with egg whites and some other ingredients.
To substitute, I have used marshmallows. In this Dairy Free Fudge recipe, I substituted 1-¾ cups mini marshmallows for a 7 oz jar of marshmallow cream which works beautifully. This may not be a fix for all recipes calling for marshmallow cream but, for some, it will work!
Egg-less Holidays
OK, just one holiday...Easter! If you celebrate Easter, eggs are probably a big part of the tradition. When I was a kid the Easter season didn't go by without decorating Easter eggs. When my son was old enough to get into that sort of thing, I wished he could take part in the tradition but there was no way I would be letting him even touch an egg! So, we started our own tradition - decorating plastic eggs!
I found a kit at our local craft store that had plastic eggs and those sticky foamy things along with some little jewels and glitter to glue on. When they were all decorated, we filled them with his favorite "safe" treats. We had fun decorating them and it is something that I will probably do every year with the kids just to keep the tradition I grew up with alive (sort of!)
Go to the Easter page for more ideas!
A few of our favorite egg free recipes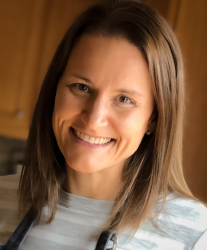 Latest posts by Kristi Winkels, RDN, LD
(see all)