Food is often at the center of holidays and Easter is no exception.  Having an allergy free Easter doesn't just mean altering the Easter menu.  If you're allergic to eggs, it might mean coming up with some fun, new traditions to replace decorating eggs.
With dairy, soy and nut allergies, the Easter bunny will have to read labels carefully and be sure to bring "safe" treats, too. The idea of our first Easter with food allergies seemed bleak.  No decorating Easter eggs?  No milk chocolate bunnies?
So, like many holidays, we have started some new traditions.  Here are a few ideas that you might want to try, too!
Easter Egg Crafts
Growing up, I always loved decorating hard boiled eggs.  I remember my mom dissolving the dye tablets in coffee mugs on our kitchen table.  My sister, brother and I went to work coloring on them with crayons and then dipping them in the dye.  When we were all done, we would deliver them to our grandmas and grandpas and neighbors.
As a mom, I love passing along traditions from my childhood.  But with two boys with egg allergies, dying eggs just wasn't going to work for us.  The following crafts are a few of our favorite ways to get ready for an allergy free Easter.
Embroidery Floss Easter Eggs
I came across these pretty eggs from Crafts-For-All-Seasons.com while searching for egg free crafts on Pinterest.  My kids and I had fun making them (even if the process was a little messy!)  When they were done drying, I used fish line to hang them from the light fixture above our dining room table. They made our Easter centerpiece so pretty!  After Easter, I wrapped them up and stored them away to use again. So, in that way, they're better than decorating eggs because they will last for years to come!
Decorate Plastic Eggs
This is a very simple craft that is perfect for little hands.  In fact, the basket pictured was done when my oldest son was about 2 years old.  Just get some Spring or Easter themed stickers and let the kids get to work decorating plastic eggs. Then, fill them with allergy free treats for Easter!
Decorate Wooden and Ceramic Eggs
When I asked people to share their favorite Easter traditions on Facebook, a common answer was decorating some type of craft egg.  Whether it be wooden, foam, or ceramic (affiliate links) , there are many alternatives to decorating real eggs.  The eggs pictured here are from Landee See, Landee Do.  You'll find several different ways to decorate an egg here.  So pretty!
One idea I found on Pinterest that I loved was a family that decorates eggs every year and writes the date on them.  Each year, their growing egg collection is displayed in a bowl.  I love that idea!
Fun Allergy Free Foods for Easter
Easter Themed Cereal Bars
Cereal bars are an easy allergy free Easter treat to make and the kids will love helping!  My kids love to make bunnies, eggs and birds' nests out of them. Go to the Allergy Free Cereal Bar recipe to find out how to make them.
---
Jello Eggs
These Jello rainbow eggs were tedious to make but turned out really cool!
I followed this recipe at Kraft.com but used 5 different flavors of Jello.  To make the rainbow, I used a syringe to measure out 2 teaspoons of each Jello flavor into molds (I bought the molds through the Kraft website but have also seen them at the grocery store around Easter). Each layer has to firm up in the refrigerator for a bit before you can add the next color.
I poured the leftover of each color into a 9x9 inch baking dish.  This way, I could check the layer to see if was set up enough to put the next color into the eggs (it's tricky to check in the egg mold).  When I was done, I cut the jello into squares (but using cookie cutters would have been fun, too!)
Gluten Free Sugar Cookie Cut Outs
Another activity we like to do at our house for many holidays is cutting out and decorating sugar cookies.  They're a great addition to an allergy free Easter. Get creative with different colors frosting, sprinkles and other special touches.  They are as much fun to make as they are to eat! Get the recipe here!
Allergy Free Easter Baskets
Even though all of the activities listed above are fun, my kids look forward to a visit from the Easter Bunny more than anything.   Although most of the chocolate bunnies and eggs aren't free of the top 8 allergens, there are a lot of candies that you can find that are safe.
Following are a few ideas for "allergy free" Easter baskets:
Please remember that ingredients and manufacturing practices change.  ALWAYS read labels for yourself and double check with the company if you aren't completely confident that the treat is safe.
One brand that I particularly like is Spangler. The company provides very thorough allergen information on their website and their products are widely available at stores.
Dum-Dums, Safe-T-Pops, Smarties and Circus Peanuts are free of dairy, egg, wheat, peanuts, tree nuts, fish and shellfish. They are also soy free but may contain small amounts of soy oil so may not be safe if you have a soy allergy.
Other candies that we use at our house include: Skittles, Gummi Life Savers, Mike and Ikes and Starbursts (to name a few). Starburst jelly beans are also a favorite.
Another great option that is becoming easier to find at the regular grocery store is Enjoy Life Boom Choco Boom bars.  They come in a few varieties and are always a treat!
Make Your Own Allergy Free Chocolate Candies
It can be a challenge to find chocolate candy that is free of the top 8 allergens so why not make your own? Your local craft store will likely have seasonal candy molds. Once you find the perfect mold, making the candy is easy!  Go to the Allergy Free Chocolate Candy recipe to find out how!
Non-Food Treats
Don't forget about non-food items as treats!  Filling plastic eggs with tiny toys, trinkets and even change can be a great alternative to sweet treats.  Here are some ideas:
Buy a small Lego set and divide the pieces into plastic eggs.  Mark the plastic egg with a name or a number so the "hunters" know which pieces will complete the set.
My kids always get excited about cash (is that normal?)  Fill eggs with small change or even a dollar or two.
A container or Silly Putty (or two) will add some excitement to the hunt (my kids love that stuff!)
Make the hunt into a scavenger hunt! Instead of hiding treats inside plastic eggs, hide a clue to lead your little hunters to the next egg.  At the end of their hunt, you could hide a larger item.  When I was a kid, we would often get a shiny new kite to fly.
Bottles of bubbles are a fun alternative to candy and the kids will have fun with them for months to come (if they last that long!)
Check out Oriental Trading Company for lots of little toys and trinkets.
Have a safe and happy Easter!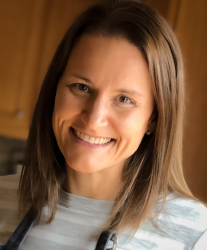 Latest posts by Kristi Winkels, RDN, LD
(see all)