Dairy foods are a staple in many people's diets, but they're not the only option. There are lots of dairy free foods that are still tasty and help create a balanced diet. Whether you have a dairy allergy, are lactose intolerant, or are following a vegan diet, this guide will help you figure out what to eat on a dairy free diet.
Jump to:
Why follow a dairy free diet?
You might be following a dairy free diet for a variety of reasons including lactose intolerance, dairy allergy, or another health concern. How strictly you need to follow a dairy-free diet depends on why you're avoiding dairy.
If you're lactose intolerant, you might be able to have a bit of dairy without too much trouble. But if you have a dairy allergy, even a tiny bit can cause a severe reaction.
This guide is geared toward those with a dairy allergy who need to strictly avoid dairy. For you, it's especially important to be familiar with foods and ingredients that contain dairy.
For more on avoiding dairy including label reading tips and nutrition considerations, read this guide all about dairy allergy.
No matter the reason for following a dairy free diet, you'll need some dairy free foods to balance your diet and make it enjoyable!
Dairy free milk substitutes
Milk is not only a beverage but also an important ingredient in a lot of favorite foods and recipes. Luckily, there are numerous dairy-free milk alternatives available that are just as tasty and nutritious.
Soy, rice, oat, coconut, hemp, potato, almond, and cashew are all alternatives to cow's milk. They differ quite a bit when it comes to taste, texture, and nutrient profile.
Read more about dairy free milk substitutes in this post.
Hot chocolate
Making a cup of dairy free hot cocoa is easy peasy! Whether you want to make it from scratch or use a hot chocolate mix, you've got lots of satisfying options.
For mixes that just need to be mixed with water, check out these brands:
If you prefer to make your own, check out these recipes for dairy free hot chocolate mix (made with coconut milk) and oat milk hot chocolate!
Butter and margarine substitutes
Butter is a dairy product and many types of margarine contain dairy-derived ingredients making them both off-limits to those with dairy allergies.
Both are fats used in cooking and baking to add flavor, texture, and richness to a variety of dishes, including sauces, soups, vegetables, bread, and pastries. And, of course, we love them as a spread on toast, bagels, and other baked goods.
Luckily, there are many dairy free butter alternatives! You can read all about them in this guide to dairy free butter substitutes.
Coconut Oil
Coconut oil can add a similar texture and richness to baked goods that butter does. Its mild coconut flavor adds a unique flavor profile to dishes.
When using coconut oil as a butter substitute, it's important to consider that it's 100% fat and has a lower melting point than butter. This means that it may melt more quickly in warm temperatures or when heated.
Two of my favorite cookie recipes that use coconut oil are gluten free sugar cookies and chocolate chip cookies.
In cooking, coconut oil can be used in a variety of ways, such as for sautéing vegetables or popping popcorn.
It's worth noting that coconut is considered a tree nut by the FDA and, therefore, a top 9 allergen. An allergy to coconut, however, is actually pretty rare.
Highly refined oils are usually safe because the proteins in the oil are no longer intact. If you're not sure if you should avoid coconut oil, ask your allergist or health care provider.
Cooking Oil
In many cases, cooking oils like canola, grapeseed, soybean, or olive oil can be used in place of butter in cooking and baking.
Like coconut oil, cooking oil is 100% fat so substituting oil for butter in baking might take some adjustments.
Here are some general guidelines for substituting oil for butter in baking:
Use slightly less oil than butter - In general, you can substitute ¾ cup of oil for every 1 cup of butter called for in a recipe. This will help maintain the proper texture and moisture level in the final product.
Increase the liquid ingredients - Because butter contains water, you might need to increase the liquid ingredients in your recipe slightly. You can add an extra tablespoon or two of milk, water, or another liquid ingredient to the recipe to compensate.
Be mindful of the flavor - Butter has a distinct flavor that may be missed in certain baked goods. You can try using a neutral-flavored oil, such as canola oil or vegetable oil, to minimize any changes in flavor.
Adjust the baking time - Because oil conducts heat differently than butter, you may need to adjust the baking time slightly. Keep an eye on your baked goods and adjust the baking time as needed to ensure they are fully cooked.
Be sure to check out the recipe index allergy friendly recipes using cooking oil in place of butter. Some of my favorites include these oatmeal applesauce cookies and these gluten free ginger cookies.
Cheese
Dairy-free cheese is made from plant-based ingredients like nuts, soy, coconut, and peas. It can be used in similar ways as traditional cheese made with dairy.
Although it may not have the same taste and texture as dairy cheese, it's still an essential dairy free food to satisfy your cheese craving.
Explore the many cheese options in this dairy free cheese post.
Nutritional yeast
Nutritional yeast has been used as a food additive for decades. Its cheesy or nutty flavor has made it a popular ingredient in dairy free and vegan cooking. An added bonus is it is rich in nutrients, including B vitamins, protein, and fiber.
Nutritional yeast can be used in a variety of ways. Try it sprinkled over popcorn or pasta, mixed into dips and sauces, or used as a topping on pizza.
You can buy nutritional yeast at your local specialty store, online retailers, or on Amazon.
Cream and Half & Half
Whipping cream is a dairy product that is made by skimming the top off of milk before it is homogenized. It is used to make dairy products like ice cream, whipping cream, and half and half.
Whipping cream and half and half differ in fat content. A tablespoon of whipping cream has about 5 grams of fat while half and half has about 1.5 grams.
Both are used in cooking to make sauces and soups creamy and rich. And whipping cream is also used to make a delicious topping for hot chocolate, pudding, and many other desserts.
In many recipes, substituting dairy free milk for half and half or cream works just fine. For example, I make this chicken wild rice soup with a milk substitute (usually soy or oat milk) and it still turns out creamy and delicious.
When I make chicken tetrazzini, I make a sauce using a milk substitute and dairy free butter to match the creaminess of heavy cream. It turns out delicious without dairy!
Dairy free whipping cream alternatives
If you have a specific recipe that calls for heavy whipping cream and a milk substitute won't do because of its lower fat content, here are some options:
Silk Dairy Free Heavy Whipping Cream Alternative
Ingredients: coconut oil, sunflower oil and lecithin, faba bean protein, natural flavors, and guar gum.
Allergens: top 9 free (except coconut)
Notes: With 5 grams fat per tablespoon, its fat content is similar to dairy cream making it a good 1 to 1 substitute for cooking, baking, and as a dessert topping.
Califia Heavy Whip
Ingredients: coconut oil, sunflower oil, fava bean protein isolate, acacia, xanthan gum, gellan gum, and natural flavors
Allergens: top 9 free (except coconut)
Notes: With 1 tablespoon providing 3.5 grams of fat, this product is slightly lower in fat than whipping cream but can still be used as a 1 to 1 substitute in cooking and baking.
Country Crock Plant Cream Heavy Whipping Cream Alternative
Ingredients: Plant Milk (Water, Lentil Protein), Plant-Based Oil Blend from Coconut And Canola Oils, Sugar, Modified Corn Starch, Sucrose Esters of Fatty Acid, Natural Flavor, Mono & Di-glycerides, Salt, Guar Gum, Sunflower Lecithin, Locust Bean Gum, Beta-Carotene (Color).
Allergens: top 9 free (except coconut).
Notes: It has 4.5 grams of fat per 1 tablespoon, similar to the Silk product so it whips up nicely for topping desserts.
Dairy Free Half and Half Alternatives
Dairy half-and-half is much lower in fat than cream. This makes it easier to replace with your favorite dairy free milk. I especially like using oat milk because of its creamy texture!
There are some half-and-half substitutes that are made by blending milk substitutes and fat to make it a creamier texture. Following are a few dairy free half and half alternatives:
Silk Dairy Free Half & Half Alternative
Ingredients: coconutmilk (Filtered Water, Coconut Cream), oatmilk (filtered water, whole oat flour), organic coconut oil, faba bean protein, baking soda, natural flavor, gellan gum.
Allergens: top 9 free (except coconut)
Notes: It contains 1.5 grams of fat per tablespoon which is equivalent to dairy half & half and many dairy free milk alternatives.
Califia Better Half
Ingredients: almond milk, coconut cream, sunflower Lecithin, natural flavor, calcium carbonate, sea salt, potassium citrate, guar gum, gellan gum.
Allergens: tree nuts (almonds, coconut)
Notes: Califia makes two types of half and half: original and unsweetened. Both are much lower in fat than regular half and half (only 1 gram per 2 tablespoons) but still have a creamy texture.
Ripple Dairy Free Half & Half Alternative
Ingredients: sunflower oil, pea protein, acacia gum, cane sugar, potassium citrate, sodium bicarbonate, natural flavor, sunflower lecithin, sea salt and gellan gum.
Allergens: top 9 free
Notes: It has the highest fat content of the three listed here with 2 grams per tablespoon.
Be sure to read on for more dairy free dessert toppings including canned whipped cream!
Cream cheese
Made from plant-based ingredients such as nuts, soy, or coconut, dairy free cream cheese is a delicious alternative to traditional cream cheese that you can enjoy in the same way.
There are many brands available on the market today. Some of them include Kite Hill, Miyoko's Creamery, Tofutti, Daiya, Wayfare, Follow Your Heart, Violife, and So Delicious.
Each of these brands offers a variety of flavors including plain, chive and onion, and strawberry.
When selecting a dairy-free cream cheese, it's important to read the ingredients list carefully. Many of the brands listed above contain common allergens like tree nuts and soy.
A couple of standout brands that are free from the top 9 allergens (but do contain coconut ingredients) include:
These vegan cream cheese options can be used for spreading on bagels or toast, used as a dip for vegetables, or for recipes like this gluten and dairy free fruit pizza.
Sour cream
Whether you're making a creamy dip, topping a baked potato, or mixing it into a sauce or soup, sour cream adds creaminess and a bit of tang. Luckily, dairy free sour cream options have come a long way in recent years.
Some dairy free sour cream brands include:
As with other dairy substitutes, some of these brands do contain common allergens. Forager and Kite Hill, for example, are made with tree nut ingredients and Tofutti contains soy.
Wayfare and Follow Your Heart are both free from the top 9 allergens except for coconut.
I love using dairy free sour cream as a topping for chicken tortilla soup and Mexican lasagna.
Yogurt
Yogurt is a creamy and delicious food on its own and when added to dips, smoothies, and sauces. It can even be added to baked goods for added moisture.
Non-dairy yogurt can be used in the same ways! It's made with a variety of plant-based ingredients including soy, coconut, almond, cashew, and oat milk. As you can imagine, taste, texture, and nutrient profile varies quite a bit depending on the yogurt base.
And, of course, many of these options are not safe for people with allergies to soy and tree nuts.
Yogurt nutrition benefits
One of the benefits of dairy products, including yogurt, is their protein, calcium, and vitamin D content. Also, yogurt has probiotics that support a healthy gut.
Dairy free yogurt contains calcium and vitamin D in similar amounts to dairy yogurt. They also contain live and active cultures (probiotics) for gut health. Where dairy free yogurt can really differ from dairy yogurt is the protein content.
It's difficult to find dairy free yogurt that is free from common allergens AND high in protein. I've been looking for a nut-free, protein-rich yogurt that my son enjoys and, that's a tall order!
But the options continue to increase so I'm hopeful that eventually, we'll find the yogurt "sweet spot".
Read on for dairy free yogurt brands to try.
Dairy free yogurt brands
In this section, I'm sharing dairy free yogurt brands categorized by the base ingredient(s). Many of these contain common allergens which I will also list.
As mentioned above, protein is important to me when choosing a dairy free yogurt. Therefore, I am including how many grams of protein each brand of yogurt provides per serving.
Soy Based
Silk soy yogurt was the first non-dairy yogurt that I tried years ago. It remains on grocery store shelves 15+ years later. Kite Hill is the only other brand I found that makes soy milk yogurt.
Here is how they stack up:
Coconut Based
Coconut milk products have exploded onto the market over the past several years. Most of the dairy free yogurt options available on the market are coconut milk-based. They are a great option for people with dairy AND soy allergies.
Here is how they stack up:
Oat Milk Based
Oat milk has been very popular as a dairy free alternative. And there are a couple of oat milk yogurt options from Oatly and Nancy's. Because oat milk is not very high in protein, both options have pea protein added for a protein boost.
Tree Nut Based
Almonds and cashews are used in a few dairy free yogurt brands. If you avoid tree nuts, this category of dairy free yogurt is not an option. But if you follow a vegan diet, you'll find some unique flavors including honey alternatives.
So, as you can see, there is an increasing availability and variety of dairy-free yogurts on the market. Whether you use it as a snack, breakfast, or in your favorite recipes, dairy-free yogurt is a versatile food that everyone can enjoy!
Pudding
Pudding is a delicious dessert and can be a great way to help kids meet their nutritional needs in a fun and tasty way.
You can very easily make your own dairy free pudding. In this recipe, I use oat milk but you can use any dairy free milk you like.
Surprisingly, many pudding mixes are dairy-free. However, the directions on the packaging often call for dairy milk to be used in the recipe. You can just substitute dairy free milk instead. The thickness of the pudding may vary based on the milk you use. I have found it works best with oat milk.
If you don't want to make your own pudding there is another option! Wayfare makes dairy free pudding that is free from the top 9 allergens. It is made with butter beans and oats and flavors available include chocolate, vanilla, and butterscotch.
Ice cream
Ice cream happens to be one of my favorite foods so finding a dairy free substitute was a top priority for me!
My son's dairy allergy was a great excuse to purchase an ice cream maker attachment for my stand mixer...and boy, has it come in handy! I have made countless batches of ice cream and sorbet.
Here are two recipes we love:
If you don't feel like making your own ice cream, don't worry! There are plenty of dairy-free ice cream brands made with coconut, soy milk, oat milk, and more.
With a wide variety of flavors that include other common allergens like tree nuts and peanuts, it's important to read labels carefully when choosing a dairy free ice cream.
Here are just some of the dairy free ice cream brands that offer ice cream and novelties like bars and sandwiches:
Cado
Base: Avocado
Products/flavors: ice cream in a variety of flavors including vanilla bean, lemon, deep dark chocolate, and cookies and cream.
Allergen notes: Most products nut-free (except Cherry Amaretto and Choco Peanut Butter). Products containing coconut, nuts, dairy, and egg are produced in the same facility. Read more about the company's allergen policy on their website.
Daiya
Base: Coconut cream
Products/flavors: ice cream bars in chocolate fudge crunch, salted caramel swirl, classic vanilla bean
Allergen notes: Contains coconut cream and coconut oil.
Nada Moo
Base: coconut milk
Products/flavors: ice cream pints and snack bites. Offers many flavors including vanilla, gluten free cookies and cream, gluten free cookie dough, strawberry cheesecake and pumpkin.
Allergen notes: Contains coconut. Some varieties contain soy and tree nuts (almonds). Read more about their allergen practices on their website.
Oatly
Base: oat milk
Products/flavors: A wide variety including vanilla, chocolate, strawberry, salted caramel, and gluten free cookie dough. They also offer ice cream bars.
Allergen notes: Contains coconut oil.
So Delicious
Base: several varieties including oat milk, coconut milk, soy milk, cashew milk, almond milk, and Wondermilk (contains coconut oil and pea protein).
Flavors: a wide variety including vanilla, chocolate, mint chip, gluten free cookie dough, salted caramel, and smores. Ice cream bars and sandwiches are also available.
Allergen notes: Several flavors contain tree nuts (pecan, hazelnut) and peanuts. And several of the milk bases are common allergens (cashew, almond, soy, coconut). The company's allergen page describes measures taken to prevent cross-contact.
Chocolate
Are you a chocolate lover but can't have dairy? Don't worry! There are many delicious dairy-free chocolate options available that are just as indulgent and satisfying as traditional chocolate.
Many semi-sweet chocolate chips are dairy free but may have issues with cross-contact in production. These products sometimes have "may contain traces of dairy" advisory statements which we usually avoid.
I put together this list of nut free chocolate that is also free from the top 9 common allergens. Be sure to check it out for specific brands to look for.
Looking for some dairy free chocolate recipes? Here are some of our favorites:
Dairy free dessert toppings
Frosting
Need a dairy free topping for cupcakes, cookies, and bars? This dairy free buttercream frosting is super easy to make and so delicious!
If you want a lighter, whipped frosting, try this whipped "cream" frosting recipe.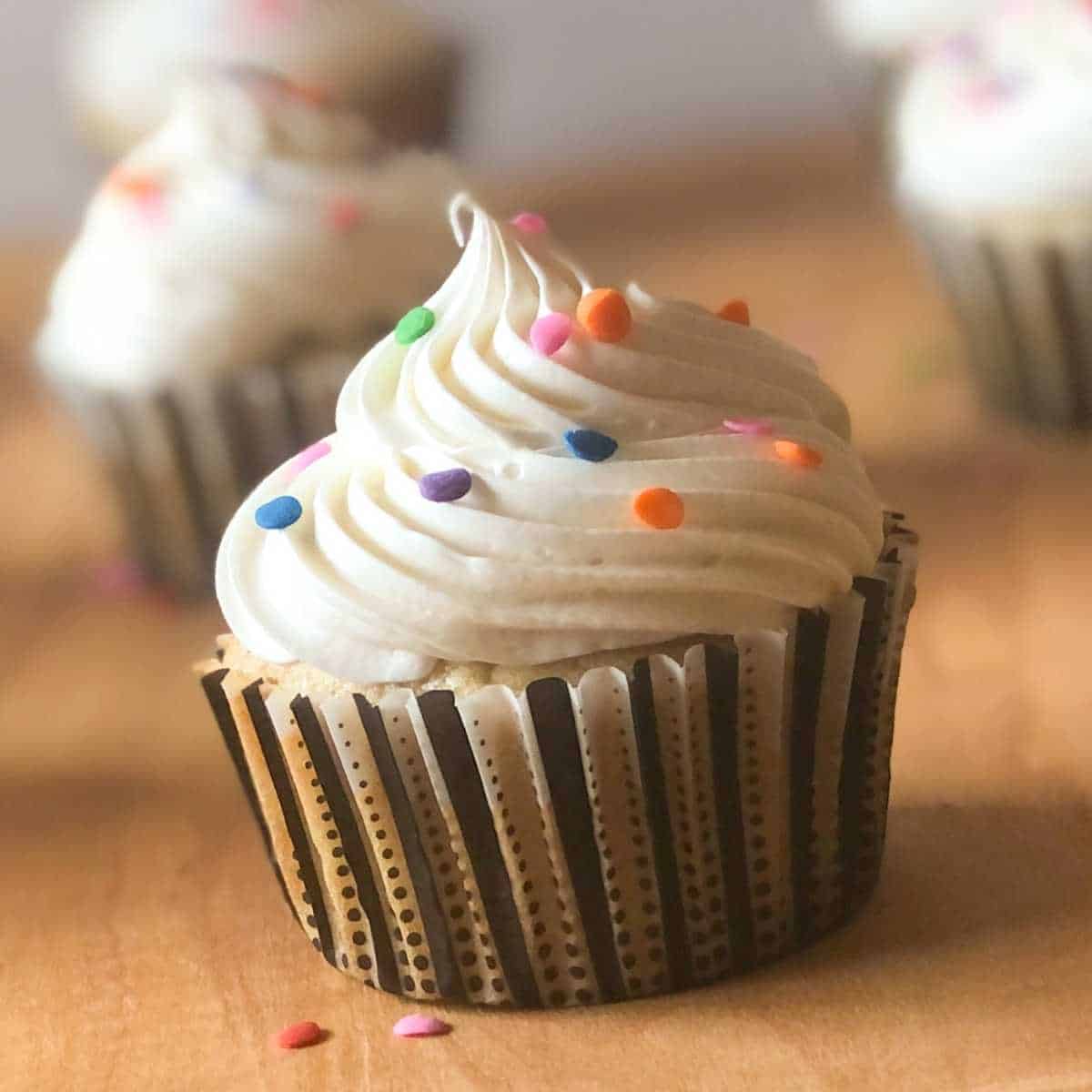 If you prefer to buy ready-made frosting, there are several easy-to-find brands that are dairy free.
Pillsbury Creamy Supreme is my go-to ready-made frosting. It comes in vanilla, cream cheese, and chocolate varieties. Duncan Hines also makes several dairy free frosting options.
With both of these, it's important to read labels carefully because they do make products with dairy and other allergens.
Whipped topping
If you aren't allergic to coconut, you have several options for whipped cream substitutes!
You can make your own whipped cream using a can of coconut cream. Just let it separate in the fridge, drain the liquid, and whip up the leftover solids using a mixer.
If you'd prefer to buy ready-made dairy free whipped cream, here are some options:
So Delicious Cocowhip (original and light) - Comes in a tub and is made with coconut oil and pea protein.
Reddi-Wip - the classic whipped cream in a can now comes in dairy free coconut milk and almond milk varieties.
Gay Lea - coconut whipped topping in a can. Available at Aldi.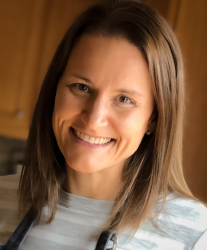 Latest posts by Kristi Winkels, RDN, LD
(see all)