If you have a dairy allergy, you're probably looking for some dairy substitutes now that your favorite foods are off the table.  Luckily, there are many alternatives available.  Some of these substitutes will only be found at your nearest specialty food store but many of them can be found at your regular grocery store next to their dairy-filled counterparts.
Jump to:
These substitutes can be used in cooking and baking to re-create your favorite recipes in a new, dairy free form.  If you're not ready to experiment with new ingredients, check out the allergy free recipes page for recipes using dairy substitutes.
If you are allergic to dairy and soy, be sure to check out the soy substitutes page for more ideas.
Dairy free milk substitutes
Milk is not only a beverage but also an important ingredient in a lot of favorite foods and recipes.
The milk substitute aisle at the grocery store has grown bigger and bigger at grocery stores. Soy, rice, oat, coconut, hemp, potato, almond, and cashew are all alternatives to cow's milk but they're not all the same in terms of taste and nutrients.
Go to the milk substitutes page for more details on the many options.
Dairy free hot chocolate
When it comes to enjoying a hot cup of cocoa, you have many options nowadays! Following are some hot chocolate mixes that are dairy free and just need to be mixed with water.
If you prefer to make your own, check out these recipes for dairy free hot chocolate mix (made with coconut milk) and oat milk hot chocolate!
Butter and margarine substitutes
Dairy free margarine
Margarine can work as a butter substitute in cooking and baking but it's important to find the right one.
You might be wondering why...does margarine contain dairy?
The asnwer is, yes, many varieties of margarine do contain dairy derivatives and are not safe for those with a dairy allergy.
For dairy free margarine, we use Earth Balance Natural Buttery Spread. It can be commonly found at the regular grocery stores and is a one-to-one substitute for butter in cooking and baking.
Earth Balance comes in a dairy free variety that contains soybean oil and a dairy and soy free variety that excludes soybean oil.  This is great news for those managing both a dairy allergy and a soy allergy.  You can find both varieties in tubs as well as sticks for baking.
For more information about Earth Balance products, visit www.earthbalance.com.
Coconut Oil
Coconut oil is a good substitute for shortening or margarine in baked goods. It is solid at room temperature but, like butter and margarine, when heated will melt. I use it in place of the shortening in this recipe for wheat free sugar cookies.  It gives the cookies a delicious flavour!
Note, coconut is considered a tree nut by the FDA. Though an allergy to coconut is rare, it is worth noting that this is included in the top 8 allergens. Highly refined oils are usually safe because the proteins in the oil are no longer intact, however, it is always best to check with your allergist about whether or not you should avoid coconut oil if you have a coconut or tree nut allergy.
Cooking Oil
In many cases, cooking oil such as canola, grapeseed, soybean, or olive oil can be used in place of butter in cooking and even in baking.  If substituting oil for butter in baking, decrease the amount.  For example, if a recipe calls for ½ cup butter, try using ⅓ cup oil instead.
I use canola oil instead of butter or margarine in these oatmeal applesauce cookies.
Dairy free cheese
Dairy free cheese has come a long way since 2007 when we began eating with food allergies!
I've put together some stand-outs on this dairy free cheese post. Check it out!
Dairy free cream cheese
Like sour cream, I thought we would just do without cream cheese but it turns out Tofutti makes a soy based variety of cream cheese as well.
Like soy sour cream, the texture is a little different. When blended with other ingredients, however, it works just fine. I use it in the filling in this Fruit Pizza recipe and have used it in many different dips and spreads.
Dairy free sour cream
If you're missing sour cream and can have soy, you're in luck! Your specialty food store will likely have a selection of dairy free products including sour cream. One brand, for example, is Tofutti.  The texture is not the same as real sour cream but it works well in recipes for dips, dressings, and toppings (like on this Chicken Tortilla Soup).
Follow Your Heart Vegan Gourmet is another brand of dairy free, vegan sour cream. This product does contain soy.
I often will use non-dairy Greek yogurt as sour cream. Go look in the yogurt aisle at your local grocery store and you're sure to find at least one brand of plain, Greek yogurt (Read on to read more about yogurt).
---
Dairy free yogurt
Soy Based
If you're a yogurt fan and are not allergic to soy, several different brands of soy-based yogurt are available (Silk is one example). 
Coconut Based
Coconut milk products have exploded onto the market over the past several years. Yogurt made with coconut milk can be commonly found at the grocery store and is a great alternative for those allergic to dairy AND soy. (Obviously, this isn't a good solution if you have a coconut allergy.)
Oat Milk Based
Brands including Chobani, Silk, and Nancy's are just a few that make oatmilk yogurts. Some of these contain coconut so they are not technically free of the top 8 allergens. Some use pea protein which won't work for everyone either.
Dairy free pudding
When you're looking for dairy substitutes for a child with a dairy allergy, pudding is probably on your list.
When my son was in elementary school, he loved a certain soy-milk based pudding cup. Unfortunately, they became difficult to find.
Luckily, I discovered that it's really very easy to make your own dairy free pudding using a dairy free milk substitute like oat milk.
I have also bought pudding mixes (like Jello) and mixed in half the amount of dairy free milk that the directions on the package call for. This works, but I prefer to make my own because it's so easy and I can leave out some less desirable ingredients.
If you can have tree nuts, there are some ready-made options that contain almond milk like this one from Whole Foods.
Dairy free ice cream
Ice cream happens to be one of my favorite foods so it was top priority to find a dairy substitute for the creamy treat.
My son's dairy allergy was a great excuse to purchase an ice cream maker attachment for my stand mixer...and boy, has it come in handy! I have made countless batches of ice cream, sorbet and gelato.
Here are two recipes we love:
Dairy, Egg, and Soy Free Ice Cream
If you aren't into making your own ice cream, you're in luck! You can find many dairy free ice cream options at your regular grocery store (and even more at the specialty store!) These dairy free ice cream options are often soy based but there are also rice "cream" and coconut milk ice cream options.
Dairy free chocolate
Who doesn't love chocolate? You can continue to love it even if you're avoiding dairy!
If you only have a dairy allergy and have no issues with nuts, you should be able to find baking chocolate like semi-sweet and bittersweet at the regular grocery store. I have found them but they often contain the advisory statement "may contain nuts".
If nuts are an issue, try Enjoy Life Chocolate Chips. They are made in a nut free facility, are dairy free and soy free and they work well in cookies, muffins, sauces and frosting.
This post on nut free chocolate also lists many dairy free chocolate options from morsels to bars and beyond.
Here are some of our favorite recipes using dairy free chocolate chips:
Toppings 
Dairy free frosting
Frosting is a dairy substitute that is easy to find at the regular grocery store. The one that I currently use is a variety by Pillsbury (the one with the blue lid). Please be sure to check labels, though, because many of the same brand DO contain dairy AND product ingredients change far more often than I update this page!
Cherrybrook Kitchen also makes a ready made frosting and can be found at many regular grocery stores.
If you can't get to the grocery store, make this easy frosting recipe that works great on sugar cookies.
Or, for a great cupcake topping, try this whipped cream frosting recipe.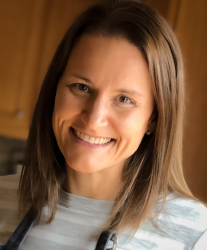 Latest posts by Kristi Winkels, RDN, LD
(see all)