If you're a cheese lover but are avoiding dairy due to an allergy or intolerance, there are many dairy free cheese options to choose from!
Jump to:
When my son was first diagnosed with multiple food allergies in 2005, including a dairy allergy, cheese options were far and few between. At the time, I remember missing cheese more than any other food. (Well, cheese and ice cream!)
Fast forward 10+ years later and we've got many more options! Following are five dairy free cheese options to try in your favorite cheese-worthy dishes.
Daiya Foods Shredded Cheese
Daiya Foods makes many dairy-free substitutes including dairy-free cheese in slices and shreds. We always have a package of cheddar-style shreds on hand for dishes like Mexican lasagna, quesadillas, and tacos.
We keep the shred-style cheese in the freezer which Daiya says is fine, as long as you don't freeze it, thaw it, and refreeze it.
Daiya cheeses are free of the top 9 allergens including dairy, soy, and wheat/gluten.
Go Veggie Dairy Free Parmesan
Go Veggie (previously Galaxy Foods) makes several varieties of cheese alternatives but one stand-out is the grated parmesan style topping.
It comes in a shaker container (like regular parmesan cheese) and reviewers say that it tastes just like the real thing. It would be great sprinkled over a dish like this Instant Pot pasta!
Go Veggie Dairy Free Parmesan is free of dairy and gluten but does contain soy protein.
Follow Your Heart Cheese Slices
Follow Your Heart makes several varieties of dairy-free cheese including grated parmesan, feta crumbles, and cheese slices.
These slices come in several "styles" including pepper jack, American, cheddar, garden herb, smoked gouda, provolone, and mozzarella.
The slices are one of the few dairy-free cheese products that don't contain ingredients from soy or other legumes. They're free of the top 9 allergens except they do contain coconut oil.
So Delicious Cream Cheese Style Spreads
Dairy free cream cheese used to be limited to soy-based products. Now, there are so many more options! The one that stands out is cream cheese style spreads from So Delicious.
You can find these spreads in regular and herb and chive varieties.
They are soy, dairy, and gluten-free. What makes it stand out is that it is also free of pea protein which can be difficult to find in dairy-free substitutes.
They do contain coconut oil which is technically a tree nut according to the FDA , but does not contain almonds or any other tree nuts.
Kite Hill Ricotta
It hasn't been too hard for us to live without ricotta cheese but there is one dish that I have missed without it: lasagna!
Kite Hill, a company that makes almond milk-based dairy alternatives, has answered the call for dairy free ricotta!
This product is made with almond milk so it is not tree nut free but it is free from dairy, wheat/gluten, soy, and other legumes. Reviewers on Amazon say it makes a delicious dairy free lasagna!
Recipes using dairy free cheese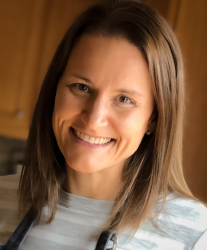 Latest posts by Kristi Winkels, RDN, LD
(see all)