Looking for a delicious and easy-to-make dessert that's free from dairy? Look no further than this recipe for vanilla dairy free ice cream! Made with simple ingredients, this recipe is perfect for those who are lactose intolerant, have a dairy allergy, or follow a vegan diet. Plus it's free of other common allergens like soy, eggs, wheat, and nuts.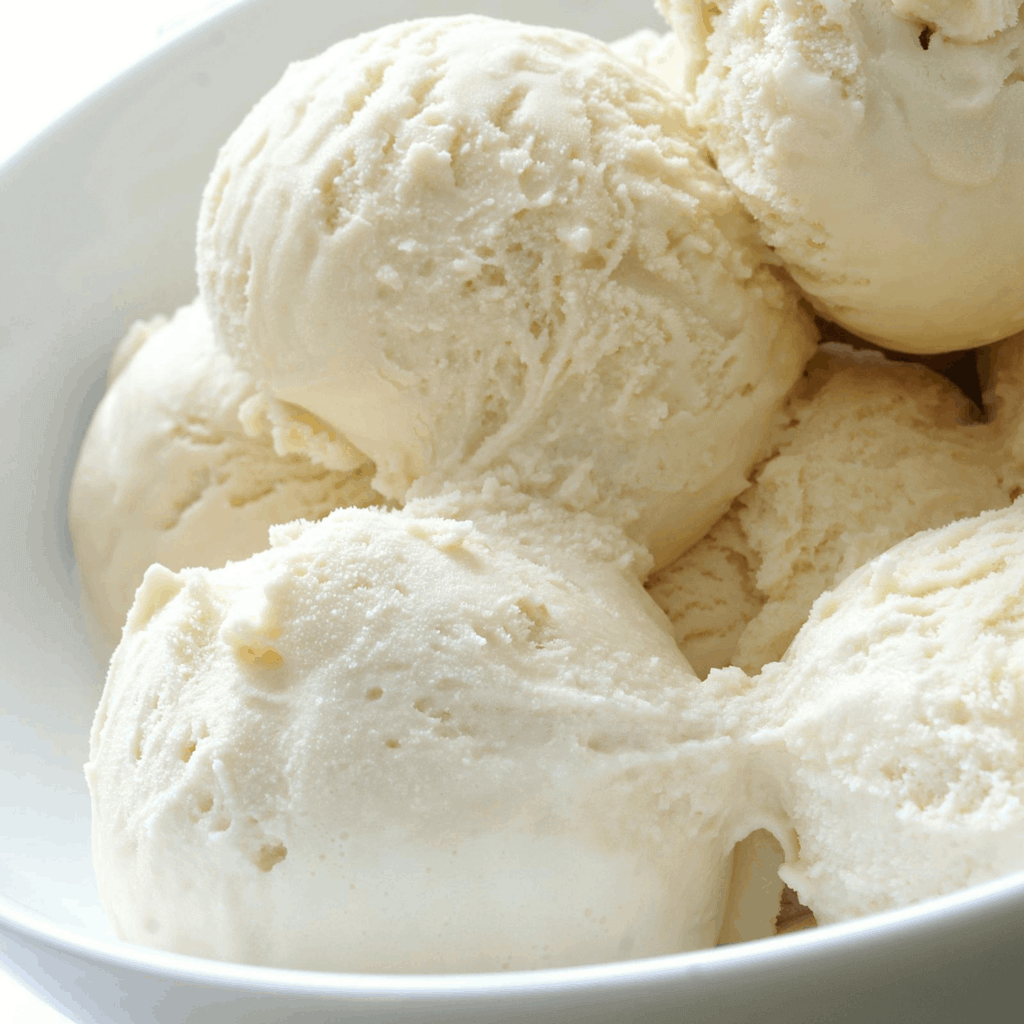 Jump to:
It used to be difficult to find ice cream that is free of common allergens, but not anymore! You won't have to look too hard in the freezer aisle at the grocery store to find dairy free options made from oat milk, soy milk, rice milk, almond milk, cashew milk, and more!
These dairy-free ice cream options can be pretty pricey and often have advisory statements regarding cross-contact with other common allergens. So, why not make your own?
Ingredients
Making allergy friendly ice cream requires a few specialty ingredients, many that you can easily find at the regular grocery store.
Milk
So many of the ice cream options at the grocery store contain at least one of the top 8 allergens, so I wanted to make one that is top 8 free. I make this ice cream with rice milk or soy milk. Either way, it turns out creamy and delicious!
Fat
Fat is an important part of achieving smooth, creamy ice cream. Ice cream made with dairy has milk fat and even lower-fat ice cream made with reduced-fat milk has some of that milkfat to help produce that creamy texture.
I use canola in this recipe because it is free of the most common allergens and it is basically flavorless. You could use vegetable oil or grapeseed oil as well.
Starch and stabilizers
Arrowroot starch comes from the roots of the arrowroot plant. It is similar to cornstarch but helps give this ice cream its silky texture.
Xanthan gum is a stabilizer in ice cream that helps to reduce the size of ice crystals that form during the freezing process. This also helps create a smooth, creamy texture. Other stabilizers you might see on ice cream ingredient lists include locust bean gum, carrageenan, and guar gum. Xanthan gum works well and is easy to find at the specialty food store whereas other stabilizers may be more difficult to find.
Marshmallows have gelatin in them and this works as a stabilizer, too. Some gourmet marshmallows are made with egg white so be sure you choose one that is "safe" for you. Marshmallows also add some additional sugar and add to the sweet flavor of this ice cream.
Equipment
Ice cream happens to be one of my favorite foods! When we started eating dairy free, it didn't take me long to invest in an ice cream maker so I could make my own dairy free ice cream!
I already had a Kitchenaid mixer (which, by the way, I absolutely love!) and Kitchenaid makes a variety of attachments for the mixer including this ice cream maker attachment. It includes a mixing bowl, drive assembly, and a dasher to mix the ice cream.
You will need to freeze the mixing bowl for at least 15 hours prior to making the ice cream in order to freeze the inner water-filled compartment. I just store mine in our deep freeze wrapped in a plastic bag so it's always ready.
Recipe tips
If you prefer chocolate ice cream, you can whisk in ½ cup of unsweetened cocoa powder to the batter while it's cooking.
The batter will be very thick. This helps to minimize ice crystals from forming which helps prevent the ice cream from having an "icy" texture.
Be sure to cool the batter completely before adding it to the ice cream maker!
Serve with safe chocolate syrup (we like Hershey's Simple 5 chocolate syrup) and other safe toppings like sprinkles, chocolate chips, mini marshmallows! Yum!
Related recipes
📖 Recipe
Vanilla Dairy Free Ice Cream
A recipe for ice cream that is dairy free, egg free, soy free, wheat/gluten free, peanut free, and tree nut free.
Ingredients
4

cups

vanilla rice milk, divided

3

tablespoons

arrowroot starch

15

large "safe" marshmallows

⅓

cup

sugar

Dash of salt

½

cup

canola oil

½

teaspoon

xanthan gum

1-½

teaspoons

vanilla extract
Instructions
In a large mixing bowl, combine the arrowroot starch with ¼ cup of the rice milk, set aside. In a large saucepan, combine the remaining rice milk, marshmallows, sugar and salt. Cook over medium high heat until marshmallows are melted and mixture comes to a boil, stirring occasionally. Once mixture comes to a boil, remove from the heat. Pour the hot mixture over the arrowroot flour and milk mixture; stir well. Add the oil, xanthan gum and vanilla extract and whisk mixture together until blended. Mixture will be thickened to the consistency of gravy. Place in the refrigerator until completely cooled.

Pour cooled mixture into an ice cream maker and freeze according to the manufacturer's instructions. Makes about 1 quart.
Notes
Nutrition Facts: Serving size: ½ cup, calories: 280, total fat: 15 grams, saturated fat: 1 g, cholesterol: 0 mg, sodium: 106 mg, total carbs: 35, fiber: 0 g, sugar: 22 g, protein: 1 g
Nutrition
Love this recipe?
Please leave a rating ⭐⭐⭐⭐⭐ and share your comments below!
Stay in touch on social media! You can find me @ Instagram, Facebook, and Pinterest. I love getting your feedback so please tag me if you try a recipe!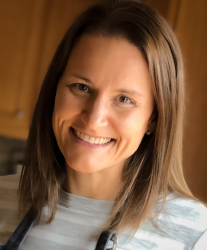 Latest posts by Kristi Winkels, RDN, LD
(see all)