,Allergy free cereal bars are a quick and easy dessert that can be dressed up for any occasion. Plus, they only require three ingredients and are free of the top 8 allergens!
Jump to:
When my kids were little and we would go visit my grandma, she wanted to make them a treat in the worst way! But it was difficult for her to keep special ingredients on hand just for those visits.
Soon, she figured out that she could make these cereal bars (and always have the ingredients on hand without worry of them expiring in her pantry!)
Allergy friendly ingredients
The beauty of this dessert is that it only requires three ingredients but it is still so delicious! It's also a versatile recipe allowing you to use ingredients that work for you.
Dairy free margarine
To make this, we start with some kind of oil. Traditionally, the recipe calls for butter or margarine. I usually use Earth Balance Buttery spread because it works with our allergens, I always have it available, and it tastes good, too!
Sometimes, I use extra virgin coconut oil which has a really nice flavor! If you can have coconut, give this substitute a try!
If you don't have either of those available, you can use good 'ol fashioned cooking oil. This was my grandma's solution when she made these bars for my kids. When I do this, I use half the amount that I would use of margarine and it works well.
My grandma has also made these without any oil or margarine at all! It works but the bars are just a little bit dryer.
Marshmallows
Most marshmallows are made of corn syrup, cornstarch, and gelatin and are free of the top 8 allergens. Of course, always check the label to be sure! Homemade marshmallows are often made with egg whites so, if you happen to be buying gourmet marshmallows and have an egg allergy, be sure they are egg free.
Cereal
Most of us know these bars as Rice Krispie Bars. When I first started making them allergy free, I couldn't find gluten free Rice Krispies so I would use a variety of other cereals. Rice Chex was my go-to cereal for quite a while and then I found gluten free Crispy Rice at Aldi.
Really any kind of cereal will work! It really depends on what kind of flavor you want the bars to have. If you're going for the traditional Rice Krispie Bar flavor, choose a rice-based cereal.
How to make them
These really could not be simpler to make! All you need is three ingredients, a microwave, a large bowl, a spoon, and a pan to spread the bars in. It just takes four steps to make them:
Melt the margarine. Use a large microwave-safe bowl because you will be adding the marshmallows and the cereal to the same bowl. If you don't have a microwave, you can do this on the stovetop. Use a large saucepan because you will be adding the marshmallows in the next step.
"Melt"/soften the marshmallows. My mom is the Rice Krispie Bar Queen and taught me an important tip: Don't overheat the marshmallows! If you do, the bar will be a little crunchier rather than the soft texture we love.
Start by tossing the marshmallows in the melted margarine so they are coated. Microwave them for 1-2 minutes but keep an eye on them while they're heating. When they just start to puff up is when you can take them out of the microwave. When you stir them, they should be melting but it's OK to have some intact pieces of marshmallows.
Stir in the cereal. This is the easy part! Just measure out the cereal and start stirring. You want to work kind of quickly because the whole thing is easier to stir when the marshmallows are warm. Make sure all of the cereal is well-coated in marshmallow-y goodness.
Press into a pan. A large spoon coated with a little cooking spray to prevent sticking works well. To be honest, a (clean) hand with a little water on it also works really well with minimal sticking. 😉
Dessert for every occasion
This is a great dessert not only because it's simple to make but it's like a blank canvas for decorations! Here are a few ideas of how to dress up your cereal bars:
Add food coloring to the marshmallow/margarine mixture before adding the cereal. I have made orange bars for Halloween (cut out in pumpkin shapes!), green for Easter, and pink for Valentine's day.
Mix in extras. I have mixed in safe sprinkles and candies depending on the occasion. You would just add this when you add the cereal so it all sticks together. You can also just put these decorations on top. Just be sure to do it when the bars are still sticky. As they sit, the marshmallows firm up and are less sticky.
Make into shapes. For Easter, I added pastel sprinkles (about ¼ cup) to the mixture and formed them into egg shapes (I used a ⅓ cup measure). I also made birds' nests and filled them with safe jelly beans (so cute and the kids love them!)
You can also use cookie cutters to cut them into fun shapes!
Add frosting or drizzle. One of the simplest ways to make these bars just a little bit fancy is to melt about ⅓ cup chocolate chips with ½ teaspoon oil in the microwave (or on the stovetop works, too). Put it in a resealable sandwich bag, snip the corner off, and pipe the chocolate onto the pan of bars. The chocolate will harden and it gives the bars a little something "extra"!
My mom has even made an entire birthday cake (two layers!) out of these cereal bars!
Use your imagination and have fun with it! I'd love to see your allergy free cereal bar creations! Take a photo and tag #eatingwithfoodallergies on Instagram!
More recipes you might like
📖 Recipe
Allergy Free Cereal Bars
Allergy free cereal bars are a simple to make treat and they're dairy free, egg free, soy free, wheat/gluten free, peanut free, and tree nut free.
Ingredients  
1- 10

ounce

bag of marshmallows

2

tablespoons

canola oil or "safe" margarine

6

cups

gluten free cereal

such as GF Rice Krispies, Rice Chex, etc

Frosting

optional

Sprinkles

optional
Instructions 
In a large, microwaveable bowl melt the margarine (if using oil, skip this step). Combine the marshmallows and oil or melted margarine; toss to coat. Microwave on HIGH for 1 minute or until the marshmallows just start to expand. Remove from the microwave and stir the mixture until smooth. Add the cereal (and sprinkles if desired) and stir until it is evenly coated with the marshmallow mixture.

Pour mixture into a  9x13 inch pan and press firmly to the edges using a rubber spatula. 
Notes
Nutrition Facts: Serving size: 1 bar, calories: 120, total fat: 2 grams, saturated fat: 1 g, cholesterol: 0 g, sodium: 97 mg, total carbs: 25, fiber: 0 g, sugar: 13 g, protein: 1 g
Nutrition
Love this recipe?
Please leave a rating ⭐⭐⭐⭐⭐ and share your comments below!
Stay in touch on social media! You can find me @ Instagram, Facebook, and Pinterest. I love getting your feedback so please tag me if you try a recipe!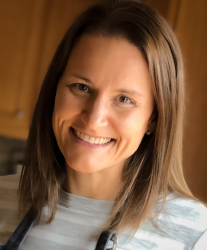 Latest posts by Kristi Winkels, RDN, LD
(see all)