Halloween is known for its spookiness but the food shouldn't be causing a scare! Sure, food is a big part of this holiday but having food allergies shouldn't keep you from enjoying it! Follow these tips for an allergy friendly Halloween.
Part of the fun of Halloween is having a good scare, right? Haunted houses, witches, ghosts, and goblins are all the rage!
For most people, the least scary part of Halloween is the bag full of treats that are collected on Halloween night.
But for parents managing their child's food allergies, that might be the most frightening part!
So how do we cope? The following are tips for having an allergy friendly Halloween while still having fun!
Fuel up for the fun
My kids never really cared about having a meal before trick-or-treating on Halloween. They would rather skip right to the treats!
Going trick-or-treating on an empty stomach can make it more tempting for kids to have a treat without an adult checking it first.
That's one reason to have a good meal before heading out for the evening.
On Halloween, I like slow cooker meals so I don't have to mess with cooking amidst getting costumes on, answering the doorbell for early trick-or-treaters, and whatever else is going on.
Our favorite Halloween meal is chili! Here are a few other meals that can be made ahead of time for a busy Halloween night.
Find allergy friendly Halloween events
Check with your local food allergy support group for allergy-friendly events taking place in your area.
Many groups plan events that do not include food treats but offer other fun activities instead.
Join the Teal Pumpkin Project
Launched in 2012 by food allergy mom, Becky Basalone, the Teal Pumpkin Project raises food allergy awareness and makes Halloween even more fun for kids with food allergies.
A teal pumpkin indicates that there are non-food treats available at the house displaying it. You can find teal pumpkins at craft stores and grocery stores alongside the traditional orange pumpkins and jack-o-lanterns.
For more information about the Teal Pumpkin Project and printable signs (and more!) to display at your doorstep, go to FARE's website.
Do a post-trick-or-treating swap
If you want to go trick-or-treating but fear your child will not be able to eat any of the candy they collect, here's an idea: Put together a bag of "safe" treats at home.
When your child arrives home with the treats collected while out trick-or-treating, swap them for the "safe" treats.
Following are some of our favorite candies that are free of the top 8 allergens (updated October 2021):
These candy varieties are made by companies that have good allergen practices in place.
If you're looking for nut-free chocolate, I have a list of candy makers specializing in that on the nut-free foods page.
Make allergy friendly treats
If you would prefer to forgo the candy, you can make safe treats instead! Here are some recipes perfect for Halloween!
Happy Halloween!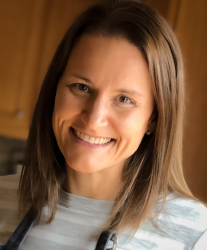 Latest posts by Kristi Winkels, RDN, LD
(see all)