These candy cane cookies are dairy, soy, egg, wheat/gluten, peanut, tree nut free and are a beautiful addition to any holiday cookie plate!
When I first made this recipe, I intended to make candy cane shaped cookies out of the dough.
However, when I attempted to make them into the candy cane shapes, I found it to be way too tedious! I made two and was tired of fussing with them so I changed my game plan.
Instead, I decided to go for a checkerboard look. It's not as perfect as a checkerboard, I know. But it is red and white like a candy cane...and that was the goal! 🙂
Allergy friendly ingredients
To make these candy cane cookies free of the top 8 allergens, I used a few allergy friendly ingredients.
Dairy free margarine
For the margarine, I use Earth Balance Buttery Spread. I prefer to use the sticks for baking, only because they're so convenient. The margarine needs to be softened so I let it sit on the counter for a bit before mixing.
Egg replacer
I have used both Ener-G Foods egg replacer and Bob's Red Mill egg replacer for this recipe. Both of these products are made from potato starch, tapioca starch, a leavening agent, and a binder and they both work well.
Gluten free flour
I used Bob's Red Mill all-purpose gluten free flour for this recipe. It is a blend of rice flours, tapioca starch, potato starch, sorghum flour and also has xanthan gum added which acts as a binder.
You can also make your own gluten free flour blend.
Food coloring
To color the red part of the dough, I used ½ teaspoon of Wilton's food coloring gel. This product is free of the top 8 allergens but does have an advisory statement "Made in a facility that processes peanuts, tree nuts, fish, shellfish, milk, soy and wheat products". If you are very sensitive to any of these allergens, I would recommend looking for another food coloring option.
McCormick makes food coloring from plants, vegetables, and seeds rather than artificial colors. This product is free from the top 8 allergens.
If you prefer not to use any food coloring, a white cookie with candy cane sugar sprinkled on it would be just as pretty as the pinwheel design!
Candy canes
Candy canes are usually free of the most common allergens but that doesn't mean you shouldn't check to make sure. Candy is often susceptible to cross-contact in the manufacturing process so always be sure to check for this.
One brand that has good manufacturing practices when it comes to food allergies is Spangler. These candy canes are free of dairy, eggs, wheat, gluten, peanuts, fish, shellfish, and sesame. They do contain a small amount of soybean oil which may be tolerated depending on the severity of your soy allergy. You can read their allergen statement on their website.
Brach's candy canes are another option that is free of the most common allergens. Brach's parent company, Ferrara, states on their Frequently Asked Questions page that they do include advisory statements on labeling if cross-contact with common allergens occurs in production.
How to make them
Step 1
Make the dough as outlined in the recipe (no additional tips needed!)
Step 2
Divide the dough in half. To do this, I scrape the sides of the mixing bowl and press the dough evenly in the bowl Then, I cut a line through the middle of the dough and scoop out half of it, and put it in a bowl.
Step 3
Add the food coloring to the dough remaining in the mixing bowl and mix well. 
Step 4
Put the white and red dough in separate bowls and refrigerate for an hour or until firm.
Step 5
Add flour to a large surface (I used a large wooden cutting board). Divide the white dough in half and divide the red dough in half and form each into a ball. Now you have two balls of red dough, and two balls of white dough.
Step 6
Roll each of these balls into a log about 6 inches long.
Step 7
Place a red log next to a white log. Then place the remaining white log on top of the red log and the remaining red log on top of the white log. 
Gently squish the four logs together and roll until they are one log that is about a foot long. The diameter of the log should be about 2 inches. Push on each end so the diameter is the same from one end to the other.
Step 8
Using a paring knife, cut ½ inch thick cookies and place them on a cookie sheet. Dip a small glass in sugar and press the cookie down slightly.
Step 9
For the candy cane sprinkles, take 3-4 large candy canes and put them in a resealable sandwich bag. Crush using a rolling pin until the candy cane is in small pieces. You could also put them in a food processor and pulse a few times until they are chopped up fairly finely.
Sprinkle the candy cane bits on top of the cookies. Now it's time to bake!
A few more tips...
The cookies will be very soft when they're done but firm up as they cool. Wait a minute or two before transferring to a cooling rack.
Store these in an airtight container for up to 5 to 7 days.
If you have extra candy cane/sugar mixture, don't throw it out!  Put it in a airtight container and save it to add to coffee, tea or dairy free hot chocolate.
More holiday treats
📖 Recipe
Candy Cane Cookies
These candy cane cookies are dairy, egg, soy, wheat/gluten, peanut, and tree nut free!
Ingredients
1

cup

"safe" margarine or butter, softenend

(such as Earth Balance)

1

cup

powdered sugar

2

teaspoon.

Ener-G Foods Egg Replacer

2

tablespoons

warm water mixed together

2

teaspoons

vanilla extract

2 ½

cups

wheat-free all-purpose flour mix

1

teaspoon

salt

½

cup

crushed candy cane

½

cup

granulated sugar

½

teaspoon

red food coloring
Instructions
In a mixing bowl, combine the margarine and sugar until creamy. In a small bowl, whisk together the egg replacer and 2 tablespoons warm water. Add this mixture and vanilla extract to the margarine and sugar mixture. Add flour to the margarine and sugar mixture. Remove half of the dough from the mixing bowl. Add the red food coloring to the other half and mix well. Refrigerate the dough until firm, about 1 hour.

Divide the red dough and roll each piece into a log that is about 1" in diameter. Repeat with the white dough. You should have 2 strands of white dough and 2 strands of red dough. To make the checkerboard pattern, lay a red and white strand next to each other, then lay a white strand on top of the red and a red on top of the white next to it. Roll the strands to combine them into one. Wrap in plastic wrap and refrigerate for about an hour.

Remove from the refrigerator and slice into cookies that are about ½" thick. Place cookies on a cookie sheet and sprinkle with the candy cane and sugar mixture.

Bake at 350 degrees for 6-8 minutes.
Notes
Nutrition Facts - Serving size: 1 cookie, calories: 135, fat calories: 68, total fat: 8 grams, saturated fat: 1.2 g, cholesterol: 0 g, sodium: 188 mg, total carbs: 16, fiber: less than 1 g, sugar: 7 g, protein: 1 g
Nutrition
Love this recipe?
Please leave a rating ⭐⭐⭐⭐⭐ and share your comments below!
Stay in touch on social media! You can find me @ Instagram, Facebook, and Pinterest. I love getting your feedback so please tag me if you try a recipe!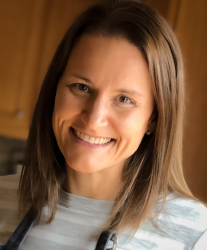 Latest posts by Kristi Winkels, RDN, LD
(see all)