Sunflower butter blossoms are a variation of one of my holiday favorite holiday treats, peanut butter blossoms. These cookies still have the delightful flavors of chocolate and peanut butter but without the top 8 allergens!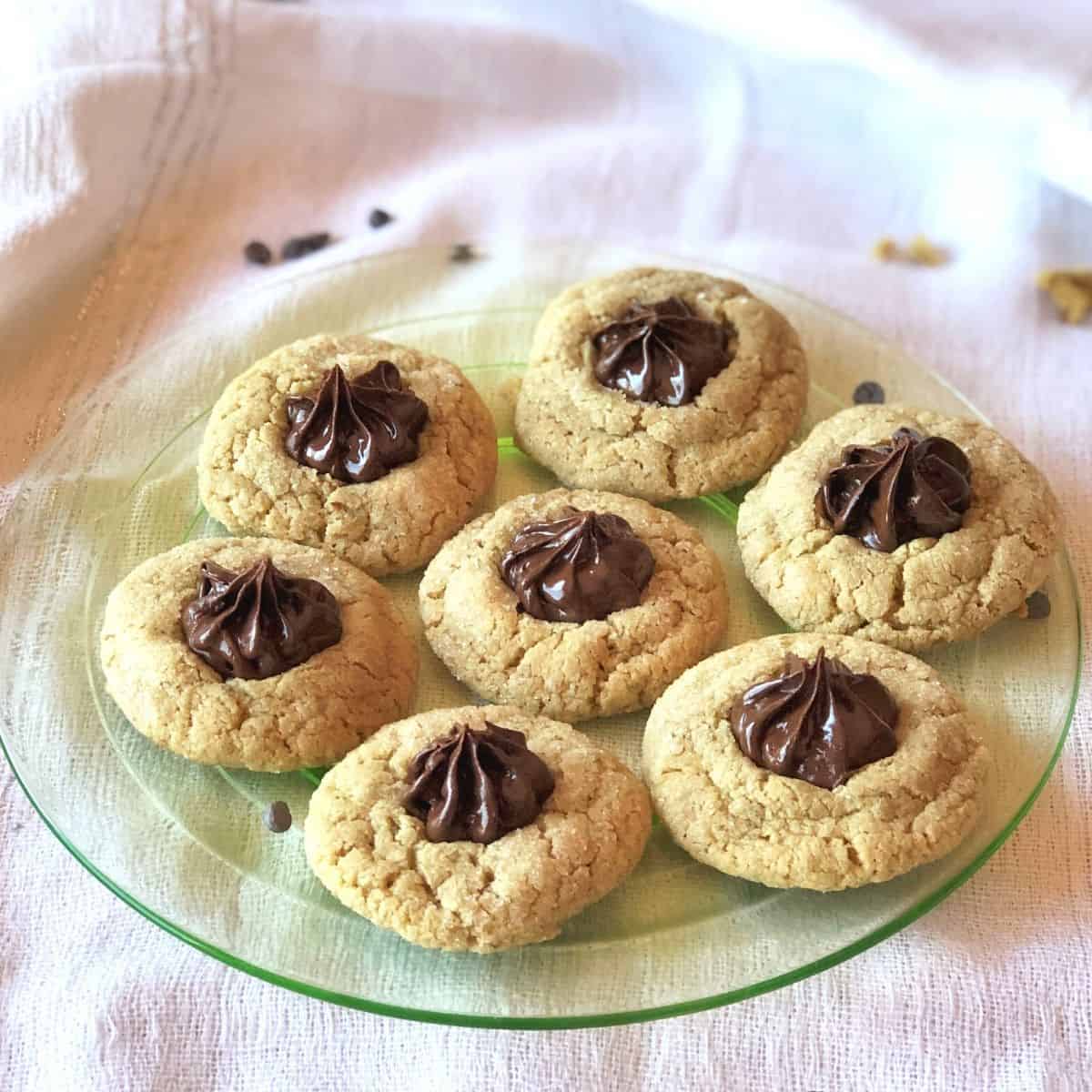 Sunflower butter blossoms are a variation on one of my favorite Christmas cookies: peanut butter blossoms.
To make them "allergy free", plenty of substitutions and effort are needed - but these delightful blossoms are well worth it!
Ingredients
Sunflower butter
Sunflower butter is an excellent peanut butter substitute! It tastes a little different than peanut butter but is very similar.
An interesting thing about sunflower butter is that, when used in baked goods with baking soda, it can turn green! According to the Sunbutter website, this happens because of a chemical reaction between the chlorogenic acid in sunflower seeds and baking soda and baking powder. It isn't harmful at all - just kind of weird to see!
This recipe calls for a very small amount of baking soda, just ⅛ of a teaspoon. That's just enough to help leaven the cookies without causing the cookies to turn green!
Margarine
Peanut butter blossoms usually call for butter so I subbed in Earth Balance Buttery Spread instead. Earth Balance has a good flavor and works well in baking.
Earth Balance is dairy free but, if you're allergic to soy and dairy, look for the Earth Balance that is dairy and soy free.
Egg replacement
To replace the egg in the original recipe, I subbed a flax egg instead. To make a flax "egg", mix 1 tablespoon of ground flaxseed meal with 3 tablespoons of warm water and let it sit for a few minutes. It will thicken to the consistency of a beaten egg.
Milk
I use 2 tablespoons of a milk substitute in this recipe to add extra moisture to the cookies. You can use whatever milk substitute is safe for you. If you don't have milk, don't worry! Water will work here too since it is just a small amount.
Flour
For this recipe, I use Bob's Red Mill Gluten Free All Purpose Flour. This blend already has xanthan gum added to it and can be used as a wheat flour substitute cup for cup.
I used to mix all of my own flour and add xanthan gum to each recipe. If you do this, I would recommend adding ½ teaspoon xanthan gum to the flour.
Chocolate
Back when I was a kid, we made peanut butter blossoms with milk chocolate star candies on top of each cookie.
I haven't been able to find chocolate star candies that are free from the top 8 allergens so I make my own.
Yes, this is a bit of a process but, honestly, it's kind of fun! See the section below on making the candies for more details.
The main ingredient you need to make the chocolate candies is safe chocolate. I use Enjoy Life Chocolate Chips but you can use any semi-sweet chocolate chip that is safe for you. If you can have dairy, you can use any semi-sweet chocolate chip.
And, of course, if you can find safe chocolate star candies use those and save the work of making your own!
Making the chocolate candy
Making the chocolate candies to top the sunflower butter blossoms with is the most time-consuming part of making these treats. Mostly because of the time it takes for the chocolate to harden enough to press onto the cookies.
I recommend making the chocolates before you start making the cookies.
Start by placing a piece of wax paper in a shallow container. This container needs to fit in your refrigerator or freezer so choose your container wisely.
Next, add the chocolate chips and margarine to a microwave-safe dish or glass measuring cup. Microwave the mixture for about 45 seconds, take out and stir, and repeat until the chocolate is smooth.
Pour the chocolate into a decorating bag. To make he chocolates look like stars, you will need decorating bags and a star tip like these:
If you don't have these, you still have options! You can use a baggie with the corner snipped off and just pipe the chocolate into a roundish shape. I did this by making a dime-sized circle and then continuing around several times until the shape is sort of similar to a Hershey's kiss. 🙂
After you have piped the chocolate onto the wax paper, cover the container and put it in the freezer or refrigerator for them to harden. Obviously, the freezer works faster than the refrigerator but if you have time, the refrigerator will work.
The first time I made these, I just used the baggie method and it was perfectly fine! However, when I actually realized I had a star-shaped decorating tip and made the chocolates that way I was much happier with the appearance.
Either way, they taste like little bites of heaven so you really can't go wrong!
Recipe tips
Once you've made the chocolates, it's time to make the cookies. This is the easy part!
Once the dough is all made, make the cookies by scooping out 1 tablespoon of dough, rolling it into a ball, rolling it in the sugar, and placing on a cookie sheet. There is no need to press the cookies down as the will spread out while baking.
Once they're done baking, let them sit for a minute and then transfer to a cooling rack. After cooking for a few minutes, press a chocolate candy in the center of each cookie.
It's important to let the cookies cool a little bit before you do this step or the chocolate will melt. However, if you want too long, the cookie will firm up and the chocolate won't stick. I waited about 5 minutes before I added the chocolate.
I store the sunflower butter blossoms in an airtight container usually in the freezer. You can keep them at room temperature for a few days (if they aren't gone by then!)
More holiday treats
📖 Recipe
Sunflower Butter Blossoms
These cookies are a holiday favorite with the classic flavor combination of peanut butter and chocolate. The best part is they are free of dairy, eggs, wheat/gluten, soy, peanuts, and tree nuts.
Ingredients
½

cup

"safe" margarine

like Earth Balance

½

cup

sunflower butter

½

cup

granulated sugar

½

cup

packed brown sugar

1

teaspoon

baking powder

⅛

teaspoon

baking soda

1

tablespoon

flax seed meal and 3 tablespoons warm water

mixed together

2

tablespoons

soy or rice milk

1

teaspoon

vanilla

1-¾

cups

gluten free all-purpose flour mix

¼

cup

granulated sugar
For chocolate "kisses":
1 ¼

cups

"safe" semi-sweet chocolate chips

2-½

teaspoons

"safe" margarine or coconut oil
Instructions
Preheat the oven to 350 degree F.

In a large mixing bowl, beat the margarine and sunflower butter with a mixer on medium speed for about 30 seconds. Add ½ cup granulated sugar, brown sugar, baking powder and baking soda. Beat until combined, scraping the sides of the bowl. Add the flax seed meal and water mixture, milk and vanilla; mix well. Gradually mix in the flour.

Form dough into balls, using about 1 tablespoon of dough for each. Roll in granulated sugar and place on an ungreased cookie sheet about 2 inches apart.

Bake in a 350 degree F oven for 10-12 minutes or until edges are firm. Remove from oven and transfer to cooling rack and allow to cool for 10 minutes.

Press a piece of chocolate candy into the center of each cookie.
To make the chocolate candies:
Add the chocolate chips and margarine or coconut oil to a glass measuring cup or bowl. Microwave in 30-second intervals, stirring after each one until the chocolate chips have melted and the mixture is smooth.

Transfer the melted chocolate to a decorating bag or a resealable plastic sandwich bag. If using a plastic bag, snip a very small piece from the corner of the bag with scissors. When the chocolate begins to firm up, pipe it onto a piece of wax paper. Start with about a dime-sized circle and go around about 5 times to create a chocolate candy. Alternatively, you can pipe the chocolate into candy molds.

Allow the candy to cool and firm up. You can speed up this process by putting them in the freezer for 10-15 minutes.
Notes
Nutrition facts for 1 cookie: Calories: 157, total fat: 8 grams, saturated fat: 3 grams, trans fat: 0 grams, cholesterol: 0 mg, sodium: 74 mg, total carbohydrate: 20 grams, dietary fiber: 1 gram, sugars: 11 grams, protein: 2 grams
Nutrition
Love this recipe?
Please leave a rating ⭐⭐⭐⭐⭐ and share your comments below!
Stay in touch on social media! You can find me @ Instagram, Facebook, and Pinterest. I love getting your feedback so please tag me if you try a recipe!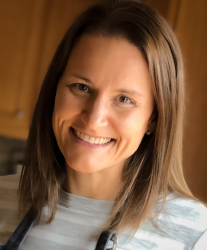 Latest posts by Kristi Winkels, RDN, LD
(see all)