You will want to run as fast as you can to catch these allergy free gingerbread cookies! They're dairy free, egg free, soy free, wheat/gluten free, peanut free, and tree nut free and are super fun to make and decorate!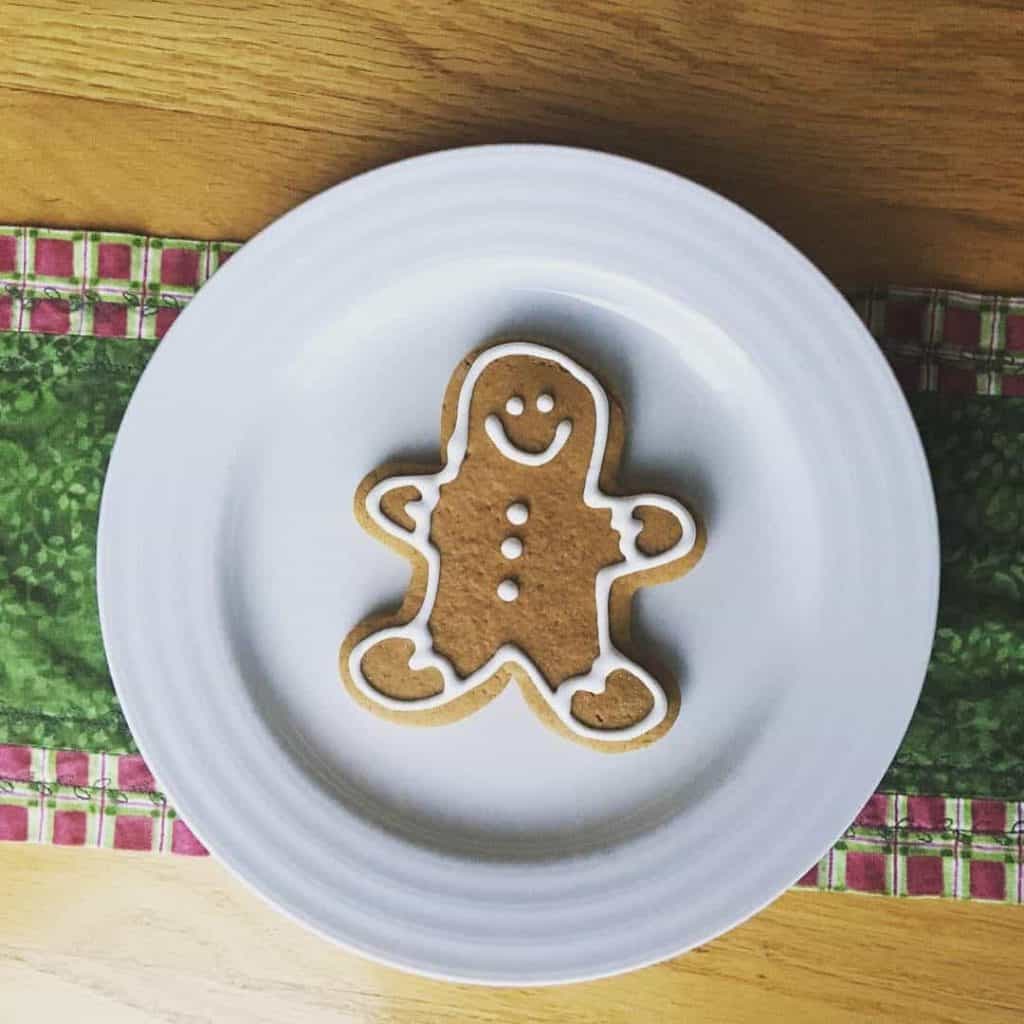 Jump to:
When my son was in preschool his teacher contacted me about a fun project they would be doing in class. She was reading The Gingerbread Man ("Run as fast as you can! You can't catch me, I'm the Gingerbread Man!") and wanted to have the kids make their own gingerbread men.
The kids each got to roll out gingerbread, cut out their very own "man" and put it into the oven to bake.
I hadn't attempted to make any kind of roll-out cookie that was gluten/wheat, egg, and dairy free but was motivated to do it so my son wouldn't miss out on the classroom fun.
The ingredients
Many of the ingredients in a traditional gingerbread cookie do not contain the most common allergens. The main substitutes I had to make were for the egg and wheat flour.
Flour
When I first made these, I was mixing up my own all-purpose gluten-free flour:
3 cups of rice flour
1 cup of potato starch flour
½ cup tapioca starch
I often doubled it and kept it in a large airtight container to substitute cup-for-cup in recipes. Then I would add about ½ teaspoon xanthan gum to each recipe.
In more recent years, however, I have found more all-purpose gluten-free flours available at a reasonable cost. Our go-to gluten-free flour is from Bob's Red Mill. This blend already has xanthan gum so we very seldom add it to recipes.
I do like to have some plain rice flour on hand because I use it to flour the surface for rolling the dough out. You can use the all-purpose flour, of course, but rice flour is cheaper!
The egg substitute
For replacing eggs, I use a flax "egg" most of the time. To make one flax "egg" combine 1 tablespoon of flaxseed meal with 3 tablespoons of warm water. Stir it together and let it sit until it is thickened. Then it is ready to add to your recipe!
How to make them
Make the dough
Making the gingerbread dough is just like making any other cookie dough. First, add the wet ingredients to your mixing bowl and combine them.
In a separate bowl, add the dry ingredients and mix together. Then, put the mixer on low and gradually add the dry ingredients into the wet ingredients.
The dough will be more firm than regular cookie dough but I still like to refrigerate it for 30-60 minutes so it firms up even more.
Roll them out
When you're ready to roll out the dough, flour the surface where you will be doing it. It might be a large cutting board or even your kitchen counter that has been cleaned well (this is usually what I do).
Take about a quarter of the dough and form into a ball. Put some flour on your rolling pin and then press down on the ball and roll out in one direction. Repeat in the opposite direction, and then again in another direction so the dough becomes flattened and is in sort of a circular shape.
Don't go for perfection here. As long as there is enough surface to cut out some cookies, you're good to go. And don't roll too thin! You want them thick enough so they are easy to remove from the surface that you're rolling on.
Get out your cookie cutters
Now it's time for the fun part - cutting them out! The kids love to do this part. I try not to get too bossy (after all, it's supposed to be fun!) but I do encourage the kiddos to get the shapes as close together as they can be to maximize the rolled-out dough. The more you work with the dough, the drier it gets so it's best to minimize that.
Once cut out like to transfer the cookies to a cookie sheet using a mini spatula like this one:
It just helps to keep the cookie intact. I find that gluten and egg free dough can be a little more fragile than regular dough.
Baking and decorating
These cookies bake for about 9-10 minutes but this can vary depending on how thick you roll them and how big the cookies are. We have some mini gingerbread that bake faster than the regular-sized ones.
To decorate, I frost with standard powdered sugar frosting or royal icing that I make with aquafaba.
I divide up the frosting and add food coloring to it, then put it in baggies and snip a tiny hole into the corner. This works pretty well for piping the frosting onto the cookies.
Sometimes we only decorate with royal icing (my favorite - it is so fun to work with!) But other times, we like to dress up our gingerbread men with candies, chocolate chips, and sprinkles. Some of our favorites are Mike and Ikes (which work great as eyes and buttons) and Gummi Lifesavers (great smiles or hair). Use whatever is "safe" for you!
Gingerbread men are a tradition at our house each holiday season. We always have so much fun decorating them. Just remember not to take your eyes off of these little guys or they might just run away!
Related recipes
📖 Recipe
Allergy Free Gingerbread Cookies
These gingerbread cookies work really well for making cut out gingerbread cookies and are free of dairy, egg, soy, wheat/gluten, peanuts, tree nuts, fish, and shellfish.
Ingredients
⅓

cup

granulated sugar

⅓

cup

unsulphured or dark molasses

I use Grandma's Original

¼

cup

canola oil

2

tablespoons

+ 2 teaspoons hot water

1

tablespoon

flax seed meal

3

tablespoons

warm water

2 ½

cups

wheat free all-purpose flour

¼

teaspoon

baking soda

⅛

teaspoon

salt

¼

teaspoon

ground cinnamon

½

teaspoon

ground ginger
Instructions
Preheat the oven to 350 degrees. In a small bowl, mix together the flax seed meal and 3 tablespoons warm water. Let stand for about 10 minutes.

In a mixing bowl, combine the sugar, molasses, oil and water. Add the flax seed and water mixture. In a separate bowl, combine the flour, baking soda, salt, cinnamon and ginger. Add the dry mixture gradually to the wet mixture and mix well. Roll the dough into a ball, cover the mixing bowl and refrigerate the dough for at least 1 hour.

Roll out the dough to ¼ inch thickness on a floured surface (I use rice flour). Using cookie cutters cut into desired shapes. Place cookies onto an ungreased baking sheets.

Bake for 9-10 minutes in a preheated oven or until cookies are firm.
Notes
Nutrition Facts: Serving size: 1 cookie, calories: 124, total fat: 3 grams, saturated fat: 0 g, cholesterol: 0 mg, sodium: 400 mg, total carbs: 22, fiber: 1 g, sugar: 8 g, protein: 2 g
Nutrition
Love this recipe?
Please leave a rating ⭐⭐⭐⭐⭐ and share your comments below!
Stay in touch on social media! You can find me @ Instagram, Facebook, and Pinterest. I love getting your feedback so please tag me if you try a recipe!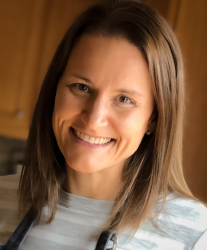 Latest posts by Kristi Winkels, RDN, LD
(see all)