Peanut free buckeyes are a traditional Holiday treat at our house. I always put together a plate of treats to bring to holiday parties and these usually disappear first!
Jump to:
Sweet treats around the holidays are just one of many traditions. Having food allergies can put a damper on enjoying the usual treats but many can be made with safe substitutes. Buckeyes are no exception!
Ingredients
Buckeyes are usually made with butter, peanut butter, and powdered sugar. Then they are dipped in chocolate. To make these allergy friendly, I used a couple of allergy free substitutes:
Sunflower butter
Sunflower butter is an excellent alternative to peanut butter and other nut butters. It has a slightly different flavor than peanut butter but works well in these peanut free buckeyes.
Margarine
I use Earth Balance Buttery Spread in this recipe in place of the butter. It works just as well and still has a buttery flavor. Be sure you use softened margarine or you will get lumps in your buckeyes. It's best to let the margarine soften at room temp for a bit rather than trying to microwave. Whenever I try this I inevitably melt it and that will lead to runny buckeyes. 🙁
Chocolate
For the dipping chocolate, I usually use Enjoy Life chocolate chips which are free of the top 8 allergens. They melt just as well as regular chocolate morsels so they work really well here. I add a bit of margarine or coconut oil to help them melt smoothly making the buckeyes easier to dip.
How to make them
Start by mixing the softened margarine and sunflower butter together until creamy. Then add the powdered sugar and vanilla extract. The dough will be very thick and on the dry side (perfect for forming into balls!)
Next, form the dough into balls using a cookie scoop like this:
This cookie scoop holds about 1 tablespoon of dough. If you don't have a cookie scoop, just measure out a tablespoon of dough and roll it into a ball. Try to minimize how long you roll each ball because your warm hand will start to soften the margarine and sunflower butter.
Place the balls in a shallow container that will fit in your freezer. Once you've rolled them all out, cover and freeze for an hour or two. This will help firm them up making the dipping process easier.
Now comes the fun part - adding the chocolate coating! You will want to use a microwave safe container that is skinny and tall rather than wide and shallow. This makes it easier to dip the buckeye without touching the sides of the dish. I like to use my 2 cup Pyrex measuring cup for the job.
Pour your chocolate chips in the measuring cup, add the margarine or coconut oil, and microwave in 1 minute intervals, stirring in between, until it is completely smooth.
Next, place a toothpick in the center of the sunflower butter ball and dip it into the melted chocolate until it is almost covering the ball but leaving a small bit of it exposed. Return the dipped ball to the container, remove the toothpick, and continue with the remaining balls.
I like to keep these in the freezer until I am ready to serve them. After the chocolate has firmed up, I will transfer them into a smaller container as it's OK for them to touch at that point.
I hope you enjoy them!
More holiday favorites
📖 Recipe
Peanut Free Buckeyes
These peanut free buckeyes will be the first things to disappear from you holiday cookie plate. Nobody will know they are free of dairy, egg, soy, wheat/gluten, peanuts, tree nuts, fish, and shellfish!
Ingredients
¾

cup

sunflower butter

½

cup

"safe" margarine, softened

such as Earth Balance

¼

teaspoon

vanilla extract

2 - ½

cups

powdered sugar
For Dipping Chocolate:
1-½

cups

"safe" semi sweet chocolate chips

such as Enjoy Life

1-½

tablespoons

coconut oil or "safe" margarine
Instructions
In a large mixing bowl, combine the sunflower butter, margarine, vanilla extract and powdered sugar (dough will be dry). Using a small cookie scoop or tablespoon, scoop dough and roll into 1 inch balls. Place onto cookie sheet lined with wax paper.

Insert a toothpick into the top of each ball (this is for dipping the ball into chocolate later). Place in the freezer for 1-2 hours until firm.

Pour the chocolate chips and coconut oil in a small bowl. Microwave for 1-2 minutes, stirring every 30 seconds, until chocolate is melted and smooth.

Remove the sunflower butter balls from the freezer and, using the toothpick, dip each one in the chocolate leaving the top uncovered (to look like a buckeye). Return to the refrigerator until ready to serve.
Love this recipe?
Please leave a rating ⭐⭐⭐⭐⭐ and share your comments below!
Stay in touch on social media! You can find me @ Instagram, Facebook, and Pinterest. I love getting your feedback so please tag me if you try a recipe!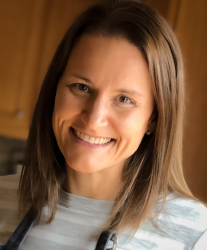 Latest posts by Kristi Winkels, RDN, LD
(see all)