Are you a fan of frozen treats but have trouble finding dairy free options? Look no further than dairy free sorbet! Made with just 3 ingredients, this sweet and refreshing treat is free from the top 9 allergens and perfect for any occasion!
Jump to:
June is strawberry picking season in Minnesota and I always pick more than I bargained for. I make jam, freeze some berries, bake at least one dessert, and if there's some left I make a sauce to put on ice cream.
But one of my favorite things to make with fresh strawberries is sorbet. It's a sweet treat that's free from common allergens so it's safe for my sons but delicious enough for everyone to enjoy. On top of that, it's super easy to make!
What is sorbet?
Sorbet is a frozen treat made primarily with fruit and sugar. Sometimes, the sugar is in the form of simple syrup, a mixture of sugar dissolved in water.
The recipe in this post is simply fruit and sugar which are mixed together and then rests until it becomes syrupy. The mixture of fruit and sugar syrup is then pureed and frozen.
Does sorbet have dairy?
Frozen treats like ice cream contain dairy so it's only natural to suspect that sorbet might have dairy, too.
Luckily, sorbet is one frozen dessert that is generally dairy free. It is basically a mixture of fruit and sugar that is churned, like ice cream, to add air and prevent ice crystals from forming when frozen. This gives it a smooth texture.
Sorbet is a great frozen dessert for people with a dairy allergy because no milk or milk substitutes are needed. It is a delicious non dairy treat!
Does sherbet have dairy?
Sorbet and sherbet are both frozen desserts made with fruit and sugar but that's where the similarities end.
Sherbet has milk or cream, dairy products that give it a creamier texture but that are definitely off limits if you have a dairy allergy.
Sorbet is dairy free and has a smoother texture. It is sweet but still allows the natural flavor of the fruit to take center stage. So, if you're after a refreshing dairy-free delight, sorbet is the way to go!
Is sorbet gluten free/allergy friendly?
Traditional sorbet is not made with any ingredients from wheat, barley, and rye so it is naturally gluten free!
Because it only contains fruit and sugar, sorbet is generally free from the most common allergens like soy, peanuts, tree nuts, dairy, wheat, and eggs.
Some sorbet recipes may incorporate egg whites to improve the texture and give it a smoother, fluffier texture. As always, it's important to read ingredient lists carefully to make sure the recipe or product you are choosing is safe for you if you're avoiding eggs.
This sorbet recipe is free from the top 9 allergens including eggs, soy, nuts, wheat, and dairy. It does not contain animal products making it suitable for a vegan diet as well.
Ingredients
To make sorbet, you only need a handful of ingredients - a total of three, to be exact.
Strawberries - I use fresh strawberries but you could use frozen if that's what you have on hand.
Granulated sugar
Lemon juice - brings out the natural sweetness of the strawberries and enhances their flavor. Fresh lemon juice is best but I often used bottled lemon juice in a pinch.
See the amounts in the recipe card.
Equipment
Here's what you'll need to make this delicious treat:
Mixing bowl - A medium to large bowl works best for tossing the strawberries in the sugar.
Food processor - I have had this one from Cuisinart for 20+ years. It is just big enough to handle 4 cups of fruit plus sugar. You can also use a blender if you don't have a food processor.
Ice cream maker - While not all sorbet recipes require an ice cream maker, I prefer to use one as the churning process prevents excess ice crystal formation and incorporates air, resulting in a smoother and lighter texture. I love my Kitchenaid mixer's ice cream maker attachment! It has made TONS of dairy free ice cream and sorbet over the past 15+ years!
How to make sorbet
Making sorbet is surprisingly easy! Here are the steps:
Start with strawberries that have been washed, destemmed, and quartered.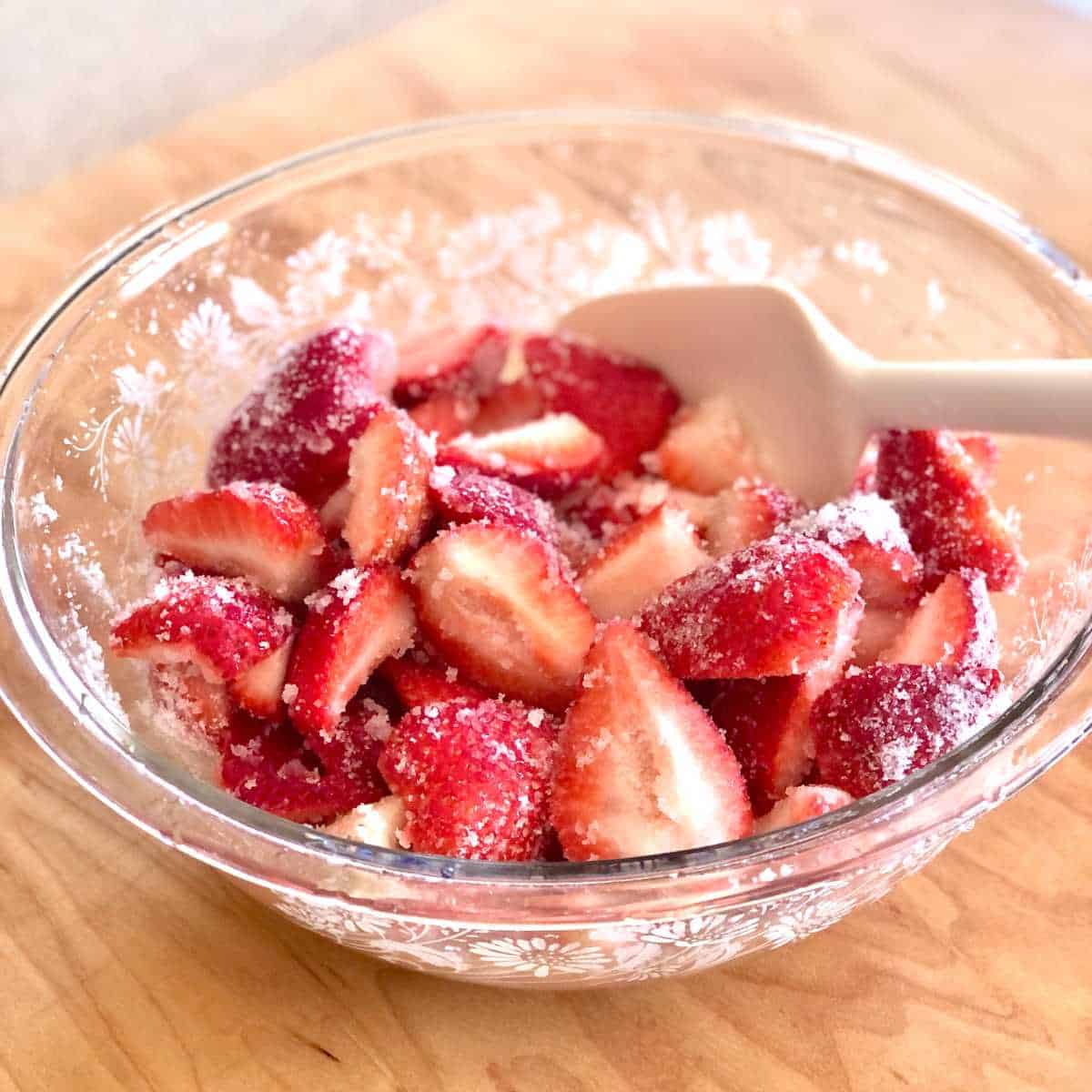 Add the strawberries and sugar to a medium to large mixing bowl and stir until the strawberries are evenly coated with sugar.
Put the mixture in the refrigerator, covered, for 30 minutes, stirring once or twice. The mixture will become syrupy and the sugar will dissolve.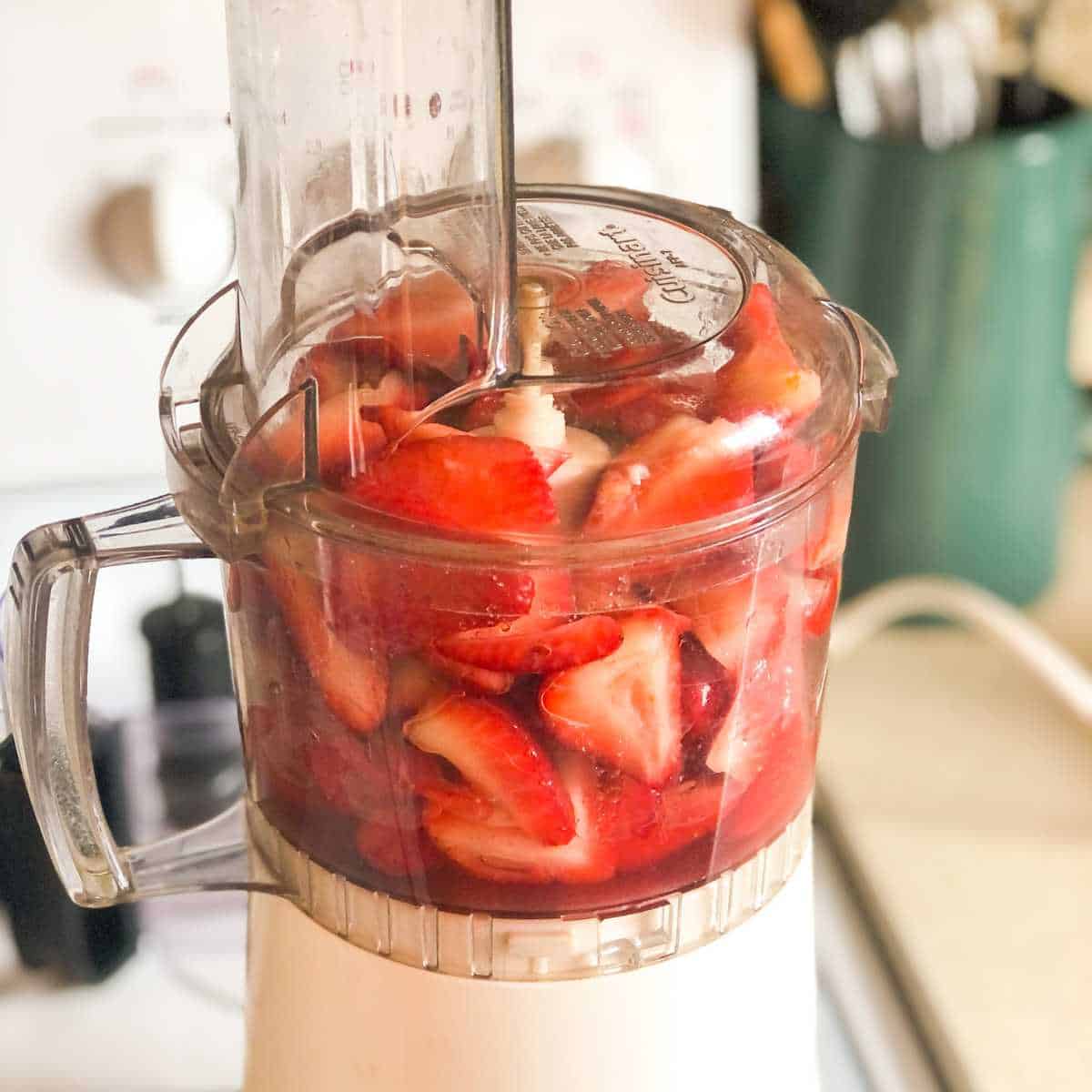 When the sugar is mostly dissolved, transfer the mixture to a food processor or blender and add the lemon juice.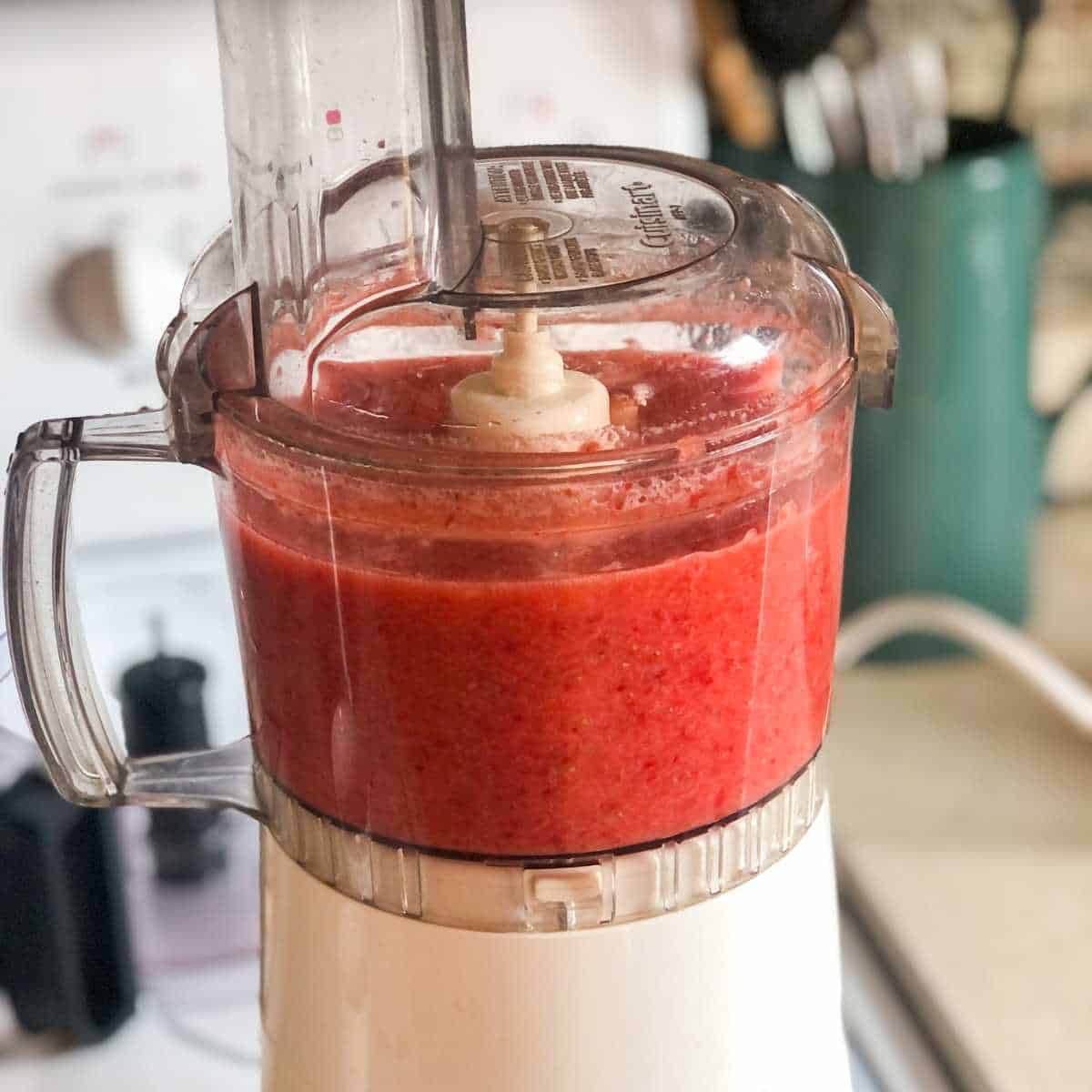 Puree until the mixture is smooth.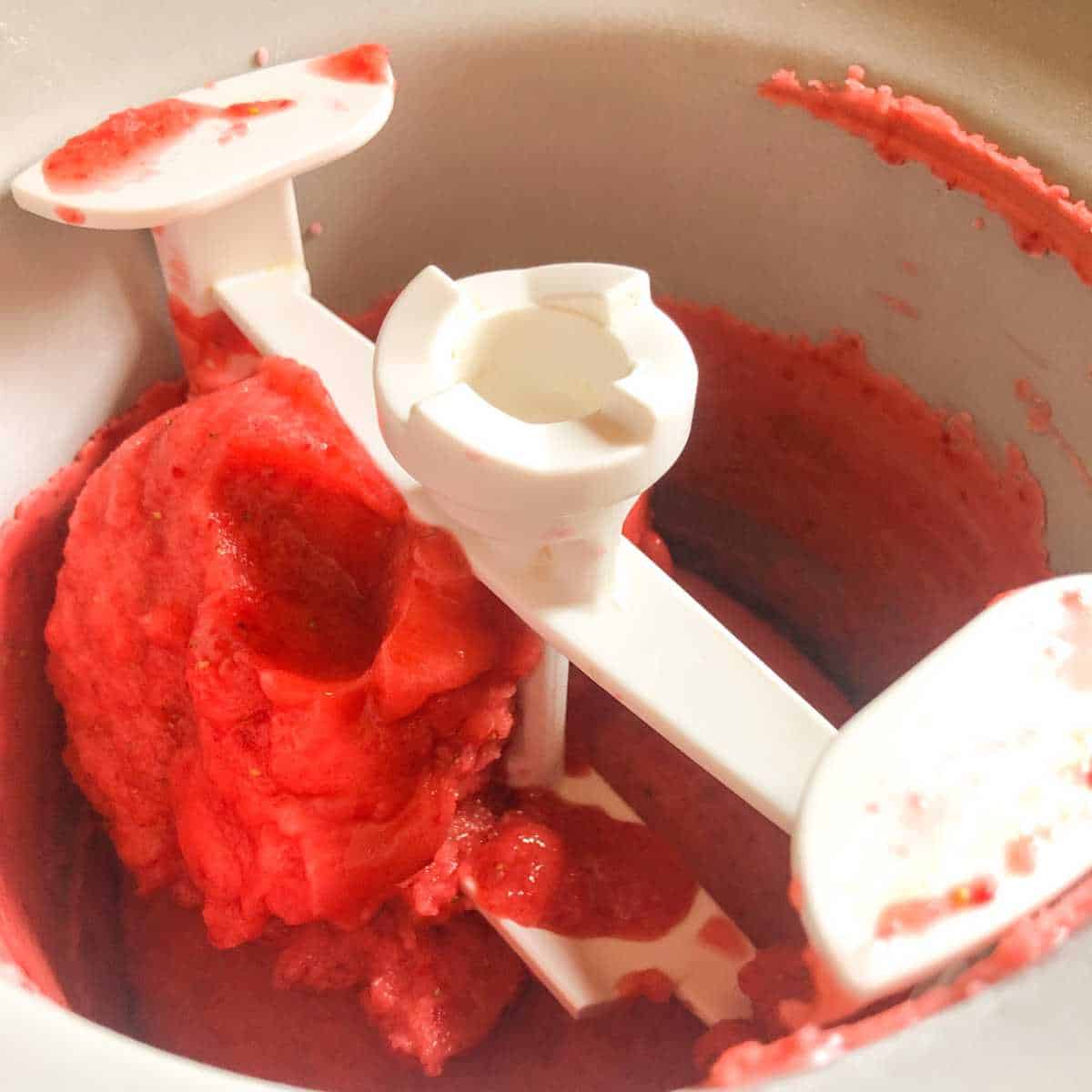 Transfer the mixture to your ice cream maker and churn for about 20 minutes.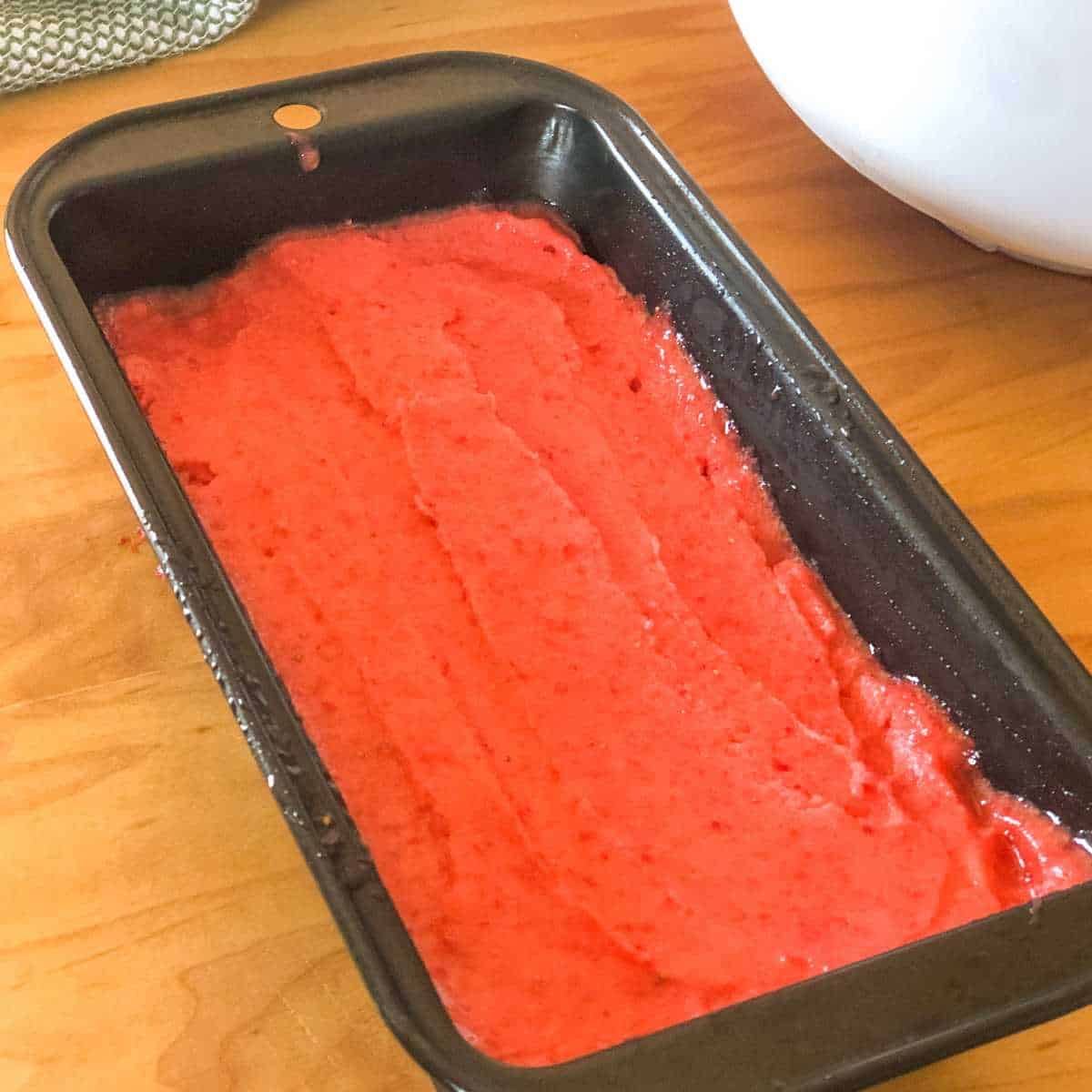 Transfer the mixture to a freezer-safe container, cover, and freeze for about 2 hours or until the sorbet is firm.
After it has frozen for a couple of hours, scoop it into serving dishes and serve or store it in the refrigerator for up to a month.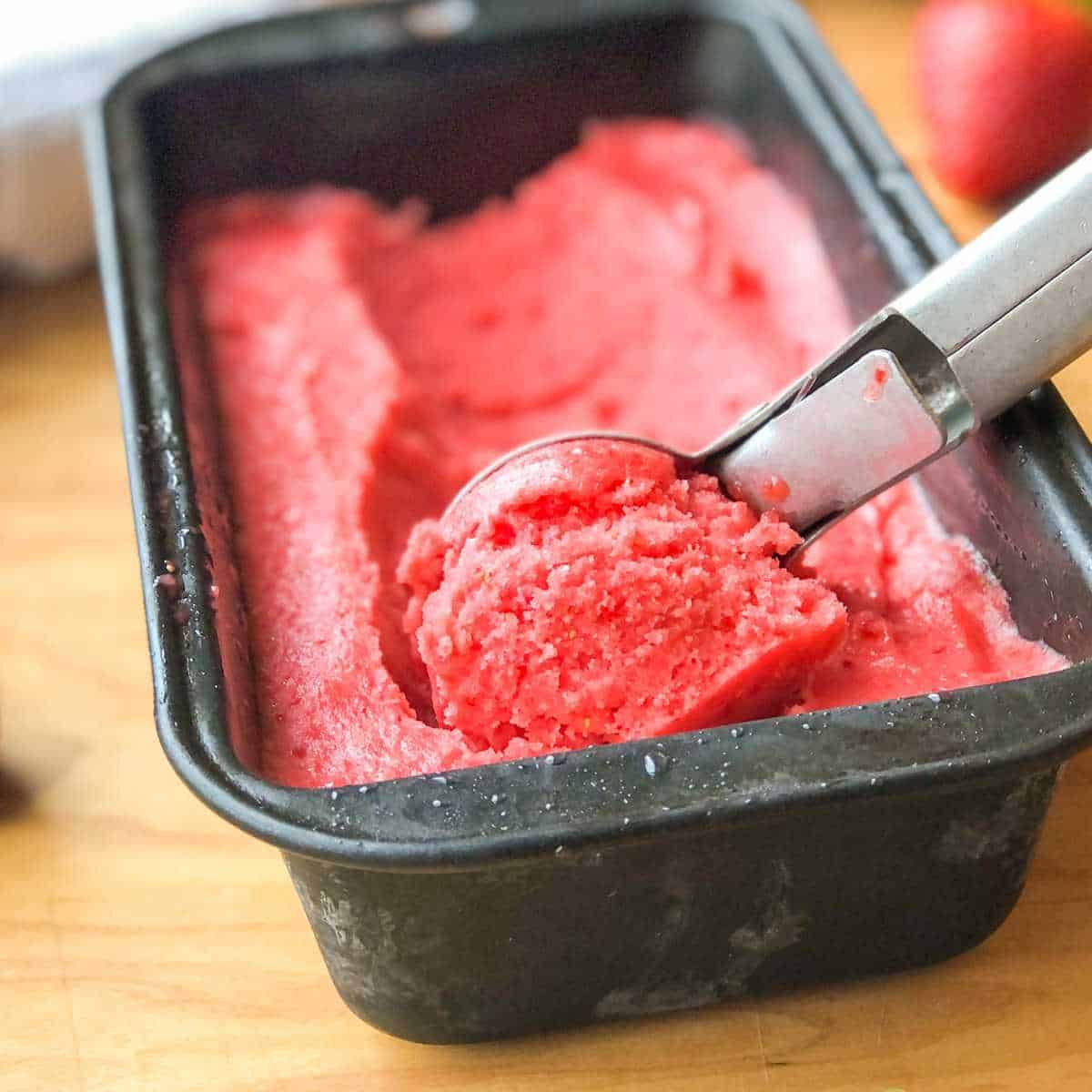 Recipe tips and variations
Adjust the sweetness: I experimented with different amounts of sugar and found that less sugar allowed the natural flavor of the berries to shine through.
If you like it sweeter, you can add up to ½ cup additional sugar. You will want to taste the syrup before pureeing and, if it's not sweet enough for your taste, add the sugar and let the mixture sit for another 15 minutes so the sugar can dissolve.
Be aware that adding more than ½ cup additional sugar can cause your sorbet to be soupy.
Use frozen berries: If berries aren't in season or you don't have fresh, you can use 4 cups of frozen berries.
Use a variety of berries: Try using different berries like blueberries, blackberries, raspberries, or a combination of all of them.
Experiment with different fruits: You can make sorbet with any kind of fruit you like. Just keep in mind that the sweetness of the fruit will determine how much sugar you need to add. Taste-test the mixture before you add it to the ice cream maker.
Make popsicles: You can easily make popsicles out of sorbet and there are so many choices for molds!
These individual silicone molds come with a cover which I love for packing in a lunch box. Yes, the sorbet melts but it becomes like smoothie consistency!
You can also find molds that make ten popsicles at a time and have a silicone cover.
Even though there are lots of molds in all shapes and sizes, a paper cup with a popsicle stick stuck in the middle works, too!
Kids of all ages will be delighted with this sweet, dairy free treat!
📖 Recipe
Dairy Free Sorbet
Dairy free sorbet is a simple-to-make frozen dessert that is gluten free and free from common allergens like dairy, soy, wheat, peanuts, and tree nuts.
Ingredients
4

cups

strawberries

hulled and quartered

½

cup

granulated sugar

see notes

1

tablespoon

lemon juice

fresh or bottled
Instructions
Combine the strawberries and sugar in a medium to large-sized mixing bowl. Set aside, covered, for 30 minutes, stirring once midway through.

When the sugar is mostly dissolved and has turned into syrup, transfer the mixture to a blender or food processor, add the lemon juice, and puree until smooth. Pour into an ice cream maker and churn for about 20 minutes.

Transfer to a freezer-safe container and freeze for 2 hours until the sorbet is firm.
Notes
To adjust the sweetness: After the strawberries and sugar have rested in the refrigerator for 30 minutes, taste the syrup. If desired add up to ½ cup sugar, stir well, and let sit for another 15 minutes to allow the additional sugar to dissolve.
Don't have fresh berries? Substitute the same amount of frozen berries.
Try a combination of berries for an easy and delicious variation.
Store in a freezer-safe container for up to one month.
Nutrition
Serving:
0.5
cup
Calories:
97
kcal
Carbohydrates:
25
g
Protein:
0.7
g
Sodium:
1
mg
Fiber:
2
g
Sugar:
22
g
More sweet treats
Love this recipe?
Please leave a rating ⭐⭐⭐⭐⭐ and share your comments below!
Stay in touch on social media! You can find me @ Instagram, Facebook, and Pinterest. I love getting your feedback so please tag me if you try a recipe!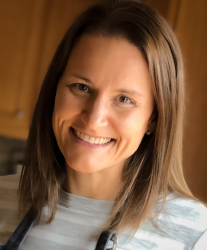 Latest posts by Kristi Winkels, RDN, LD
(see all)