This classic gluten free hummus is creamy, delicious, and nutritious! It's free of the most common allergens, including sesame, wheat, dairy, and soy. And the best part is you can whip up this satisfying snack in less than 15 minutes!
I love hummus because it's easy to make, and can be adapted to your own tastes, preferences, and dietary restrictions.
Not to mention, it's really nutritious! It includes complex carbohydrates, fiber, protein, and healthy fats. This combination of macronutrients makes for a satisfying snack that has staying power.
Jump to:
Ingredients
One of the great things about hummus is that you don't need a lot of special ingredients to make it.
Here is what you'll need...
Garbanzo beans - AKA chickpeas, these are easy to find at the regular grocery store.
Aquafaba - This is the liquid in the can of garbanzo beans. Just a few tablespoons help to thin the puree making it smooth and creamy. If you have an egg allergy, you might consider freezing the leftover aquafaba to use as an egg substitute.
Lemon (for the juice) - While I have used bottled lemon juice for this recipe, freshly squeezed lemon juice makes it so much better!
Garlic - I have used fresh garlic and minced garlic from a jar for this recipe. Most people would say that fresh is best because the flavor is more pungent. Those that are sensitive to too much garlic (like me), might prefer to use the jarred stuff (and you get the bonus convenience of it already being minced).
Extra virgin olive oil
Sunflower butter - This is a substitute for tahini which is made from sesame, a common allergen. If you can have peanut butter you could substitute that instead.
Cumin
Paprika
Instructions
Making hummus really couldn't be easier! As long as you have a food processor or blender, you can whip this up in no time!
Step 1: Drain the liquid from garbanzo beans, reserving it for later. Then rinse with cool water.
Step 2: Remove the skins from the beans. This is an optional step but I have found the texture of the hummus to be smoother when the skins are removed. They almost come off on their own as you rinse and roll them around the strainer - it's really more of a process to pick them out of the beans.
Step 3: Add the ingredients to a food processor or blender and puree. Gradually add small amounts of the reserved aquafaba until the mixture is smooth and creamy.
Step 4: Transfer the hummus to a serving dish and serve immediately or refrigerate until you're ready to serve it.
Step 5: Before serving, drizzle with additional extra virgin olive oil and sprinkle with paprika and chopped parsley, if you'd like.
Tips and FAQs
Is hummus gluten free naturally?
Hummus traditionally is made with chickpeas, olive oil, sesame paste (tahini), and spices which are all naturally gluten free.
Commercially prepared hummus, however, may have issues with cross-contact in production and is not always gluten free.
Making your own ensures that it's safe for you. Plus, you can tailor it to your taste!
Allergens in hummus
Although the majority of people are allergic to the top 9 allergens, it is possible to have an allergy to virtually any food. So really any ingredient in hummus may be an allergen.
With that said, a common ingredient in hummus, tahini paste, is made from sesame seeds which is a top 9 allergen in the US. This recipe is sesame-free but still delicious!
What to eat hummus with
Hummus is great with fresh vegetables like cucumbers, peppers, carrots, celery sticks. It's also great with gluten free crackers and chips!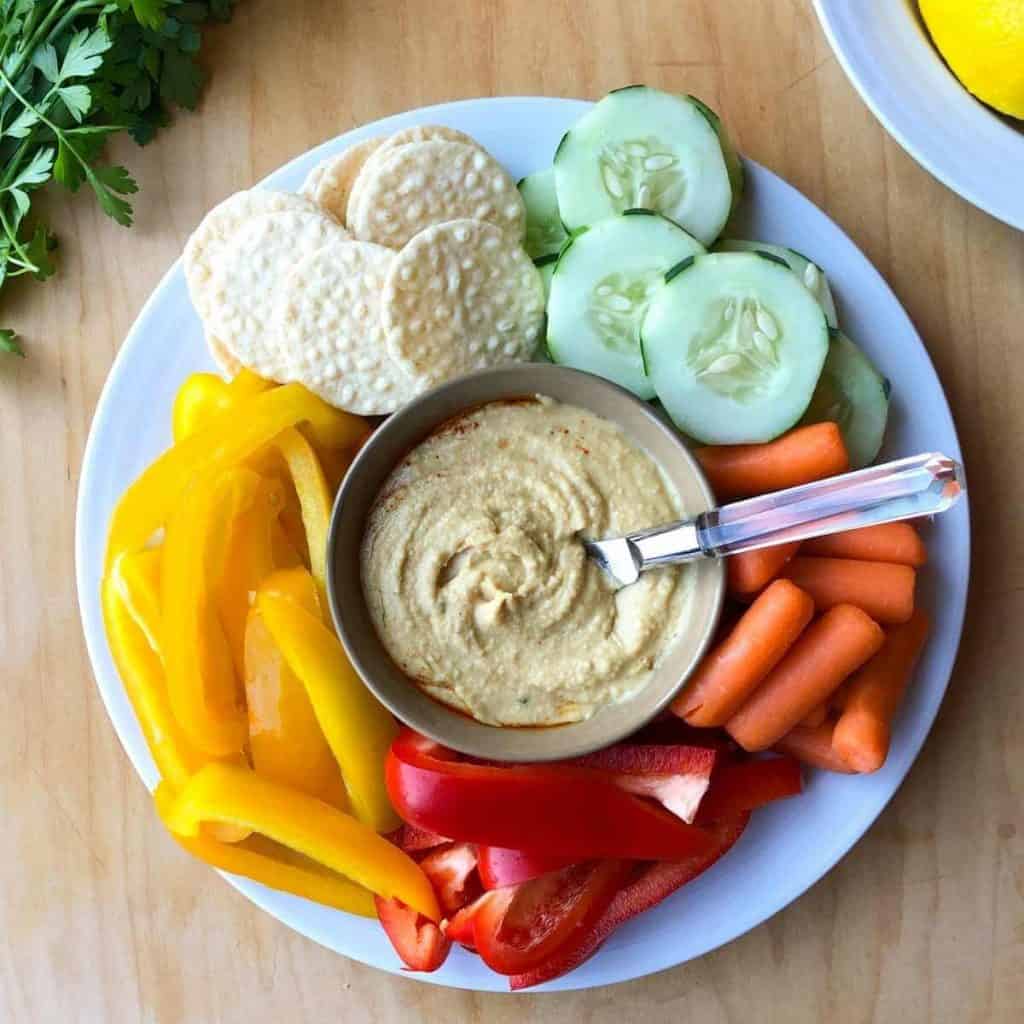 Is hummus vegan?
If you are following a vegan diet or avoiding common allergens like dairy you can enjoy this hummus! 
Hummus is generally vegan because it is made with plant-based ingredients. Some hummus dips, however, have dairy products added to them so it is important to always read food labels to be sure. 
How long is hummus good for?
Store-bought hummus often has preservatives added to it so it can last in the refrigerator for about a week. Homemade hummus doesn't have preservatives so it should be stored in the refrigerator and eaten within 3-4 days.
More allergy friendly appetizers
📖 Recipe
Gluten Free Hummus
This classic gluten free hummus is creamy, delicious, and a nutritious dip to complement fresh veggies, whole grain crackers, or anything else you like to dip! The best part is you can whip up this satisfying snack in less than 15 minutes!
Equipment
Food processor or blender
Ingredients  
1

15.5 ounce

can garbanzo beans

¼

cup

lemon juice

freshly squeezed

1

clove

garlic, minced

1

tablespoon

sunflower butter

½

teaspoon

cumin

1

tablespoon

extra virgin olive oil

Salt to taste
Instructions 
Drain the liquid (aquafaba) from the chickpeas and reserve for later. Rinse well. Remove the skins from the chickpeas for a more smooth texture (optional).

Add the drained chickpeas to a food processor or blender. Add the lemon juice, garlic, sunflower butter, cumin, and extra virgin olive oil. Begin pureeing the mixture and add a little bit of reserved aquafaba at a time until smooth.

Remove from the food processor and serve immediately or transfer to a container and refrigerate until ready to serve. Sprinkle with paprika and parsley for serving (optional).
Notes
Nutrition facts for ¼ cup of hummus: Calories: 140, Total fat: 7 grams, saturated fat: 0.8 grams, cholesterol: 0 mg, sodium: 122 mg, Total carbohydrate: 15 grams, fiber: 4 grams, total sugars: 3 grams, added sugars: 0 grams, protein: 5 grams.
Nutrition
Love this recipe?
Please leave a rating ⭐⭐⭐⭐⭐ and share your comments below!
Stay in touch on social media! You can find me @ Instagram, Facebook, and Pinterest. I love getting your feedback so please tag me if you try a recipe!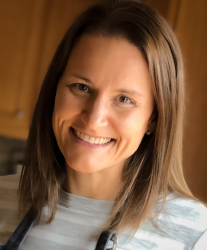 Latest posts by Kristi Winkels, RDN, LD
(see all)