When you're eating with food allergies, it can be hard to think of allergy free snacks that are not only safe but also healthy and tasty! Here I provide a variety of snack ideas from nutritious snacks to tasty treats to convenient packaged snacks.
Jump to:
What is an allergy free snack?
The term "allergy free" is different to everyone depending on individual food allergies.
I originally created this snack guide for one of my son's teachers who was so kind to ask for a list so she could bring snacks that my son could have.
For my son, an "allergy free" snack is free of dairy, eggs, wheat, barley, peanuts, and tree nuts. For another child, a peanut free snack might be "allergy free".
With that said, this guide includes snacks that are free of the top 9 allergens because, in the U.S., over 90% of all food allergies are to these foods.
Nutrition
As a Registered Dietitian, I often get asked, "Is it ok to snack?"
The answer is yes! Snacking can help bridge nutrition gaps, especially for kids who don't eat large portions at meals.
Nutrient-dense snacks that include protein, carbohydrates with fiber, and healthy fats are going to get you the most nutrition bang for your buck.
Here are some examples:
Whole grain (gluten free if needed) crackers or bread with sunflower butter
Trail mix - make your own with your choice of "safe" cereal, dried fruit, pumpkin seeds, sunflower seeds, etc - be creative!
Fresh fruit
Fresh vegetables with allergy friendly dips like hummus (tahini free if you have a sesame allergy), salsa, dairy free cream cheese dips, etc.
Corn Thins (similar to a thin rice cake) or gluten free rice cake topped with sunflower butter (also can work as a sandwich if you haven't found a bread that works)
Sliced "safe" toast topped with avocado
Cereal (Rice Chex, Corn Chex, Kix, Berry Kix, Honey Kix, Perky O's) with dairy free milk.
Smoothies
Oat milk chocolate pudding with bananas
Allergy friendly treats
While I like snacks to be nutrient-dense, they can also just be "treats". It's totally fine to have a mix of both.
When we put certain foods on a pedestal or demonize certain ingredients (other than allergens) we set ourselves up for some food power struggles, especially with toddlers.
Food is meant to be enjoyed and all foods really can fit (as long as they are free of your allergens!) So don't be afraid to mix it up! 🙂
Here are a few "treat" recipes that you might like:
Packaged Allergy Free Snack Ideas
The following is a list of packaged snacks that are generally free of the top allergens. As always, be sure to check labels for yourself! Don't rely only on this list as products change without notice and they can differ from region to region as well.
Snack bars (Enjoy Life Foods, Made Good Foods)
Canned/prepackaged fruit cups
Applesauce cups and pouches
Raisins and other dried fruits (be aware of choking risk for small children)
Fruit snacks
Pretzels (Ener-G Foods, Glutino, Snyder's, Live GFree at Aldi)
Those are just a few ideas. Be creative! And don't forget to share your favorite snack below (and read what others have shared!)
Do you have a favorite snack? Share it in the comments!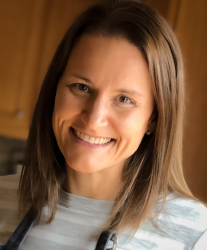 Latest posts by Kristi Winkels, RDN, LD
(see all)