Made Good Allergy Friendly Snacks are convenient, nutritious, and taste good too! But don't take it from me. This review was done by one of the toughest critics out there - my son, Gavin!
Like many kids with food allergies, both of my boys take their lunch to school every day. By my count, I have packed 64 school lunches so far this year (for those of you packing more than two lunches per day, I salute you!)
Keeping those lunches interesting can be a challenge so it's always fun to find convenient, healthy, and tasty treats to jazz things up.
Enter Made Good allergy free snacks! My family had a chance to sample 5 of these allergy friendly snack foods thanks to the folks at Made Good Foods. These products are all free of the top 8 food allergens (woohoo!) and are actually nutritious.
Ingredients include whole grains, fruit, healthy fats, minimal added sugar, and even some veggie powder to sneak in some extra vitamins and minerals. They're tasty and great "grab and go" options for those lunches and after school snacks.
So, that's from the perspective of a mom and dietitian but what did the kids think? My son, Gavin, had some thoughts to share on the subject!
Vanilla and Chocolate Crispy Squares
The Vanilla Crispy Squares were the first thing I tried, and I must be honest, I found it unappetizing when I read the ingredients included vegetable powder with ingredients such as beets and tomatoes. However, when I opened the wrapper and got a first glimpse, I decided it looked quite tasty. I studied the ingredients one last time and took a bite.
I loved them! They were crunchy yet soft, and they definitely delivered the sweet vanilla taste! Normally when I have rice crispy bars I would get annoyed because of the sticky substance they left behind, but that didn't happen with the vanilla crispy squares!
The Chocolate Crispy Squares are very similar to the vanilla variety but they have chocolate chips and cocoa butter so, obviously, they taste like chocolate. However, my brother says they also taste like honey...? Either way, we liked them a lot!
Chocolate Granola Banana Minis
These little snack sized balls of granola are very tasty and healthy, AND they even have banana in them?! These are quite crunchy and give a sweet savory feel in your mouth. Although it does have hint of taste that's similar to raisins, I personally have never been a fan of raisins… but someone who is (my mom), will definitely enjoy these.
Mixed Berry Granola Bar
The thing is, I've never really liked granola bars with fruit in them, so my expectations were low. But it really wasn't that bad I tasted it and noticed raspberry and other fruit like that. It may have left an odd after taste in my mouth, but I still enjoyed it and ate every last crumb. When looking at the ingredients I noticed cranberries were present in the bar. CRANBERRIES! I really dislike cranberries but I really like this bar… maybe I just don't like cranberries while they are alone I have also noticed that everything so far has contained vegetable powder. It's tasty and healthy? Wow, I didn't think it was possible.
I hope you find the review helpful and give some Made Good allergy friendly snacks a try!
Please note: The opinions shared here are our own and no compensation was received in exchange for this review. We did receive free samples from Made Good Foods. Read this site's disclosure statement here.
Looking for more snack ideas?
Check out some of our favorites!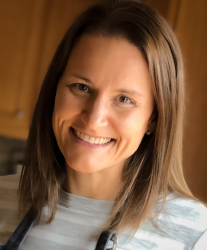 Latest posts by Kristi Winkels, RDN, LD
(see all)