Allergy free protein powder is an excellent way to add protein to meals and snacks but without the top 9 allergens. In this post, you'll learn why protein powder can be useful, how much to use, allergy free brands, and recipes to try.
Jump to:
What is protein and why is it important?
Protein is made up of amino acids which help build and repair tissues, build muscle mass, and many other functions in the body.
Getting enough daily protein may not be a challenge if you're including meat, poultry, or fish, at one or two meals per day.
But protein is important to have throughout the day, even in smaller amounts. Protein helps slow down the digestion of the rest of the meal making you feel more satisfied for longer after the meal. In other words, protein helps the meal stick with you longer.
How much protein do I need?
The amount of protein you need depends on your age, activity level, and a number of other factors.
The Dietary Reference Intake for protein in the United States is 0.8 grams of protein per kilogram of body weight. For someone weighing 150 lbs, that would be about 55 grams of protein.
For kids, protein needs vary based on age.
1-3 years old: 13 grams
4-8 years old: 19 grams
9-13 years old: 34 grams
Girls 14-18 years old: 46 grams
Boys 14-18 years old: 52 grams
For reference, a 3-ounce piece of meat, poultry, or fish has about 20 grams of protein.
These are minimum estimated protein requirements. You may need more based on individual factors like activity level.
Benefits of protein powder
Many of the common food allergens are good sources of protein so it can sometimes seem difficult to find good alternatives.
Cow's milk, for example, provides 8 grams of protein per cup. But many popular milk substitutes such as oat, almond, and coconut milk have only about 1 gram per 1 cup serving.
Adding protein powder to these milk substitutes can give a protein boost!
Protein powder is also very versatile! You can mix it into many different foods to add that extra protein. Oatmeal, dairy-free pudding, and yogurt, pancakes and waffles, muffins, granola bars, no-bake snack bites are just a few places where you can add protein powder.
Should I give my child protein powder?
Protein powder can help to add extra protein to meals where options are limited.
Breakfast is a meal that many people struggle to get in some protein, especially when managing multiple food allergies. Adding a little bit of protein powder to oatmeal or a smoothie can give your child a protein boost.
With that said, I wouldn't recommend adding protein powder all day long to your child's food. If there is already a protein source in the meal (meat, poultry, fish, legumes, nuts/seeds, eggs, dairy products), then protein powder may not be necessary.
Which protein powder is best for me?
When I choose a protein powder, I consider the following things:
Is it safe? Of course, this is always an important question when you're managing food allergies. Always check ingredients carefully every time you buy any food, including protein powder. You might also want to contact the manufacturer to ask about production practices to ensure there is no risk of cross-contact with other allergens.
Protein powder options that are free of the top 9 allergens include:
Rice protein
Pea protein
Hemp protein
Pumpkin seed protein
Sunflower seed protein
What are the ingredients? Protein powders often have "extras" added to them including vitamins, minerals, and sweeteners. I look for powders that have minimal ingredients. This is also an important consideration if you're choosing the protein powder for children as their vitamin and mineral needs are less than that of an adult.
What does it taste like? When you're buying, you won't know what it tastes like so it comes down to trial and error. When shopping for protein powders, look for small sample-sized packets so you can try a little before committing to a large canister.
I like to buy unsweetened protein powder. This way, it has fewer ingredients and it's more versatile. I can use an unsweetened protein powder in a sweet or savory dish without throwing off the flavor.
Allergy friendly protein powder brands
New plant-based protein powders are showing up on store shelves all the time. These are ideal for those with dairy or egg allergies.
Unfortunately, many of these plant-based protein powders have advisory statements ("Manufactured in the same facility as tree nuts" for example).
Following are plant-based protein brands that are top 9 allergen free. If there is a risk of cross-contact, I reached out to the company to learn more about their practices to prevent it and include it in the summary.
Nutribiotic Rice Protein powder
Nutribiotic plain rice protein powder is one we have used often because of its neutral flavor. That makes it easy to stir into oatmeal, pudding, smoothies, etc.
Varieties: Plain, vanilla, chocolate
Ingredients (plain variety): organic rice protein.
Nutrition: For 2 tablespoons of this powder, you'll get 12 grams of protein and 60 calories.
Allergen notes: Top 9 free, gluten free. Also free from corn, yeast, and sugar substitutes.
Where to buy it: Online or on Amazon.
Orgain
Orgain's plant-based protein is made with a blend of pea protein, brown rice protein, and chia seeds. My favorite is the unsweetened variety because of its neutral flavor but my sons use the vanilla and chocolate powders in their Blender Bottles frequently.
Orgain does use common allergens like dairy, wheat, and peanuts in some products. This is definitely a concern for me so I reached out to them to find out what steps they take to prevent cross-contact. You can read their explanation here.
Overall, I feel comfortable with the steps they take to prevent cross-contact for my family but realize everyone won't feel that way and that's OK! There are other products to choose from.
Here are the details about Orgain:
Varieties: Unsweetened, Chocolate Vanilla
Ingredients (unsweetened variety): pea protein, brown rice protein, chia seeds, and Orgain's organic creamer base (acacia gum, high oleic sunflower oil, rice dextrin, rice bran extract, and rosemary extract), natural flavors acacia gum, guar gum, and xanthan gum.
Nutrition: Two scoops (¼ cup) of this protein powder provide 140 calories, 21 grams of protein as well as 4.5 grams of fat (0.5 grams saturated fat), and 7 grams of carbohydrates including 4 grams of fiber. It also has 35 milligrams of calcium and 6 milligrams of iron.
Allergen notes: The plant-based protein powders are top 9 free but the manufacturing facilities are not free from the top 9 and gluten. See my note above and read more on their allergen FAQ page.
Where to buy: Orgain.com. I am a member of the Orgain affiliate program which means if you purchase through that link, I do receive a commission. You can get 30% off your first order, with the promo code Kristi30.
Hemp Yeah!
Hemp Yeah! is made with hemp seeds. When you think of hemp, you might think of marijuana because they're both from the cannabis plant family but they are different. Hemp only has a tiny amount of THC, the chemical in marijuana that causes psychoactive effects.
Hemp contains essential amino acids making it a complete protein. It also has healthy fats and fiber. I like the short ingredient list of the Max Protein variety especially, just hemp protein and oregano extract. It is hemp-based so it's free of the top 9 allergens and certified gluten free.
Varieties: They offer several varieties including Max Protein unsweetened, Protein + Fiber, and Max Fiber. Flavors include chocolate and vanilla.
Ingredients (Max Protein Unsweetened variety): Organic hemp protein concentrate, natural oregano extract.
Nutrition (Max Protein Unsweetened variety): one serving (¼ cup) contains 140 calories, 20 grams of protein, and 3 grams of fiber.
Allergen notes: Free from the top 9 allergens. Does not contain gluten but is not certified gluten free due to the risk of cross-contact.
Where to buy: Amazon
OWYN
OWYN (stands for Only What You Need) makes ready-to-drink shakes as well as protein powder.
Varieties: Chocolate, Smooth Vanilla, Cookies and Creamless
Ingredients (Vanilla): pea protein, pumpkin protein, chia seeds, branched-chain amino acids, organic cane sugar, natural flavors, silica, monk fruit extract, mineralized seaweed, Bacillus coagulans MTCC 5856 (1 mg), flax seed, salt.
Nutrition: One serving (2 scoops) provides 140 calories and 20 grams of fiber.
Allergens: Free from the top 9 allergens and certified gluten free.
Where to buy: Amazon or at liveowyn.com (I am an affiliate - for 20% off, use the promo code KristiWHealth).
Recipes that use protein powder
I have several recipes that incorporate protein powder for a protein boost. Also, be sure to check out my nut-free protein bar post for convenient snacks when you're on the go!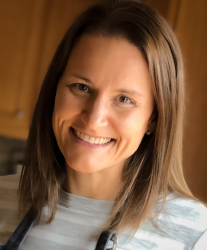 Latest posts by Kristi Winkels, RDN, LD
(see all)