Planning a road trip? Then you'll need a road trip food list that includes healthy and satisfying meals and snacks!
Jump to:
Road trips are such a fun way to see new sights and spend quality time with the family! But for my family, traveling is complicated a bit by my kids' food allergies.
We can't just drop into any restaurant or convenience store and count on finding allergy friendly foods to eat. And, even if there are restaurants that can accommodate our allergies, it often feels more stressful to dine out than to prepare something ourselves.
With some up front planning, meal time stress on the road can be reduced greatly!
Here are my best tips for eating well on road trips:
Tip 1: Create a meal plan
When I'm planning a trip, I write down meal ideas for each day we'll be traveling. Usually we eat the same things for breakfast and lunch while dinner is a different meal everyday.
Consider your equipment
When making your plan, you'll want to consider what cooking tools you'll have available on your trip. Will you have a microwave? Refrigerator? Full kitchen?
I love bringing my Instant Pot on road trips because it's perfect for one pot meals. I can sauté and pressure cook all in one pot. Plus, it's easy to pack, cook with, and clean up. I have even taken it camping!
Location
In addition to what equipment you can use, you'll also want to think about where you'll be at mealtime.
We usually had breakfast before leaving our hotel or cabin for the day so that was easy. Lunch was often on the road or hiking trail so meals had to be packable. And for dinner, we planned to be back at the cabin so we could cook a meal.
Here is what our allergy friendly meal plan during a recent road trip looked like:
Day 1
Breakfast at home
Lunch: Sandwiches, fruit, and vegetables
Dinner: Dine out (we knew we would be in a larger city that would have some options we're comfortable with)
Day 2
Day 3
Breakfast: Waffles (we made a full batch and used leftovers for sandwiches), fruit
Lunch: Beef jerky and meat sticks, no bake energy bites, fruit, vegetables, chips
Dinner: Taco bowls with taco meat and black beans, chips, lettuce, black olives, salsa
Day 4
Tip 2: Pack road trip foods strategically
Cooking tools
Whether we're camping or staying in a hotel or cabin, I have a plastic tote that is designated for cooking tools. Items I might pack in the tote include:
Instant Pot
Mini waffle maker
Large spoon
Knife
Cutting board
Measuring spoons
Cooking oil
Salt and pepper
Can opener
Dish scrubber and towel
Dish soap
Plastic utensils
Paper plates and bowls
A few zip lock bags in various sizes
A couple of plastic containers for leftovers
And a few shelf stable foods like:

Oatmeal packets
Potatoes
Small can of black olives (for the taco bowls)
Small jar of salsa (also for taco bowls)
If we know we won't have access to electricity, we bring our small camp stove and supplies to light a fire. In this case, these hobo dinner foil pack meals would definitely be on our menu as would these banana boats for dessert!
Cold foods
When it comes to packing a cooler for a road trip, the main goal is, of course, is to make sure everything stays cold to prevent food-borne illness.
If a food or beverage can be frozen ahead of time, that helps keep the food cool as well as the entire cooler. I do this with the meats that I'll be using for our dinners.
For example, for the menu above, I prepared some of the meat ahead of time by following these steps:
I browned a pound of ground beef and a pound of ground turkey together with a chopped onion
I set aside half of the meat mixture to cool and added beans and taco seasoning to the other half.
When both were cool, I put them in quart or gallon-sized zip lock bags and put them in the freezer. This way, it stays cooler longer and helps keep the cooler...cooler! 🙂
I packed these in another gallon-sized zip lock to prevent water from the cooler from getting into the meat.
I also like to put things like lunch meat, veggies, and fruits in containers so they're easy to pull out and create a little buffet on a picnic table or tailgate.
We like to use a separate smaller cooler for beverages to reduce clutter in the main cooler and prevent it from being opened as often.
Shelf-stable foods
I have a large canvas bag with lots of pockets that I load up with shelf-stable snacks, plastic utensils, some plates, paper towels, etc.
Allergy friendly foods that we often put in this bag include:
Applesauce cups or pouches
Sunflower butter cups
Rice cakes or safe crackers
Cereal
Chips
We usually keep this bag in the backseat with the kids so snacks are easy to access, although, this might not be the best plan with smaller kids!
Tip 3: Bring a water bottle
Staying hydrated is just as important as being well-fed, especially if you'll be doing activities outdoors like hiking. Having a water bottle for each traveler reduces the number of beverages you have to buy which helps reduce waste and saves you money.
Even though I'm not a huge fan of flavoring water all day long, my kids sometimes like adding an individual lemonade packet or another flavoring to their water bottle for a little variety. These are easy to pack and mix!
We often bring a gallon jug of water that we've frozen ahead of time which not only helps keep things cool but also becomes a very refreshing beverage as it melts! 🙂
Tip 4: Convenience store picks
When you're on a road trip, you're probably stopping at convenience stores frequently. It can be really tempting to grab a bag of chips, candy, and soda each time you stop. But, at the end of the day, all of that sugar and salt can make you feel pretty crummy.
Sure, some of those treats have their place but there are some healthy options at convenience stores, too. Some of my favorite allergy friendly options include:
Nuts and seeds - these provide protein, fiber, and healthy fats and are very satisfying. If you have allergies to nuts obviously you wouldn't choose nuts but also be sure the seed options don't have any cross-contact with nuts.
Seed butters - Sunflower butter, watermelon seed butter, pumpkin seed butter - there are so many options these days! You can also make a jar of this nut free chocolate spread for a sweeter option.
Fruit - Some convenience stores might only have bananas, oranges, and apples (if they have fruit at all) but I'm seeing more of them with fresh fruit cups. Dried fruit is also an option (again, be sure there's no cross-contact with nuts) as well as fruit cups like applesauce.
Vegetables - These are a little more difficult to find but some of the bigger convenience stores sometimes have mini bags of carrots or cups of fresh-cut vegetables.
Meat sticks/jerky - While this would be considered more processed meat which means it's salty, it does provide protein which can leave you feeling more satisfied than a bag of chips or animal crackers.
Whole-grain crackers (gluten free if needed) - Look for items that have 2 or more grams of fiber per serving. Again, this is helpful for feeling full and satisfied.
Tip 5: Take notes for the next trip
One thing I always appreciate after a trip is having some notes written about what worked well, and what I wished I had done differently.
I try to journal a little every day of our trip about what we did, and what we saw, and I might add a couple of notes about what/where we ate.
It doesn't always happen but sometimes I will type up my meal and snack plan along with a list of groceries and cooking utensils and save it in a vacation folder. After the road trip, I can update it based on what worked well and what I would do differently.
Then, when I start planning for the next trip, I already have a meal plan, snack list, and list of kitchen tools I need to pack. This makes the next trip so much easier to plan for!
Road trip food list
Breakfast Ideas
Oatmeal packets
Cereal
Fruit: apples, oranges, clementines, bananas, grapes, pre-cut melon, berries, applesauce cups/pouches, fruit cups, dried fruit
Protein shakes (we like these from Orgain and they also have a kids version. Use code KRISTI30 for 30% off your first order)
Lunch Ideas
Sandwiches with deli meats on "safe" bread, a bun, tortilla, or waffle
Seed butter (like Sunbutter) on a rice cake or apple slices
Fresh cut veggies with individual hummus cups or homemade hummus
Homemade "lunchables" with cubes of deli meat, gluten free crackers, fruit, and veggie sticks.
Pasta salad
Preassembled salad jars
Chicken salad (made with vegan mayo if needed)
Dinner Ideas
These dinner ideas are for limited kitchen equipment. If you have a full kitchen available, there are many more!
Taco bowls (corn chips, taco meat with black beans, shredded lettuce, salsa, black olives, cheese (if safe)
Hobo dinners or other foil pack meal
Precooked rotisserie chicken with instant potatoes or rice and a frozen vegetable
Grilled burgers with foil pack potatoes and carrots
Chicken breasts or thighs grilled and served with rice from a pouch and veggies
Snack ideas
Applesauce cups or pouches
Sunflower butter cups
Rice cakes or safe crackers
Cereal (we really enjoyed chocolate Cheerios on our last trip!)
Nuts* or seeds
Tuna or salmon pouches*
Chips
Related recipes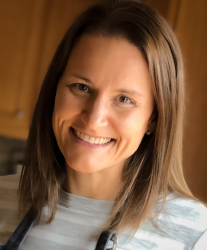 Latest posts by Kristi Winkels, RDN, LD
(see all)