Hobo dinner hamburger foil packets are easy to make and can be cooked in the oven, on a grill, or even over an open fire. And the best part is clean-up is a breeze!
Jump to:
When I was growing up, we spent a lot of time boating on the St. Croix River bordering Minnesota and Wisconsin. Good food was part of the experience whether it be snacks for a quick outing or full meals for longer days on the water.
We often had these hobo dinner hamburger foil packets - one of my favorite meals while out on the river. We didn't have a lot of space on our runabout boat so meals had to be simple and easy to pack.
My sister and I would help my mom assemble the foil packs that included a hamburger patty, slices of carrots, and diced potatoes topped with a slice of onion.
When it was time to eat, we would find a campsite along the river and dad would fire up the little grill we had with us. We swam while dinner cooked and by the time it was ready, we were HUNGRY!
Hamburger foil packets are ideal for camping
Hobo dinners are a good old-fashioned meat and potatoes kind of meal. Each individual pack is filling and satisfying (especially with a healthy topping of ketchup!)
When my family goes camping, hobo dinners are on our menu every time. Maybe it's the nostalgia I feel when I have them or that they can be prepared ahead of time or that clean up is so easy...or that they taste so good! I think it's all of the above!
How to assemble the foil packets
I assemble these hamburger foil packets before we even leave our house. Assembly goes like this:
Layout as many squares of aluminum foil as meals you are making (sometimes I make one extra to split if appetites are bigger than expected). The foil squares should be about 12x12 inches.
Spray the foil with cooking spray.
Add a hamburger patty to each piece of foil.
Add a handful of diced potatoes (about ½ of a large potato).
Add a handful of carrots (I often use baby carrots for convenience but thick carrot coins would be great, too).
Top with a slice of onion.
Salt and pepper to taste.
It should look something like this: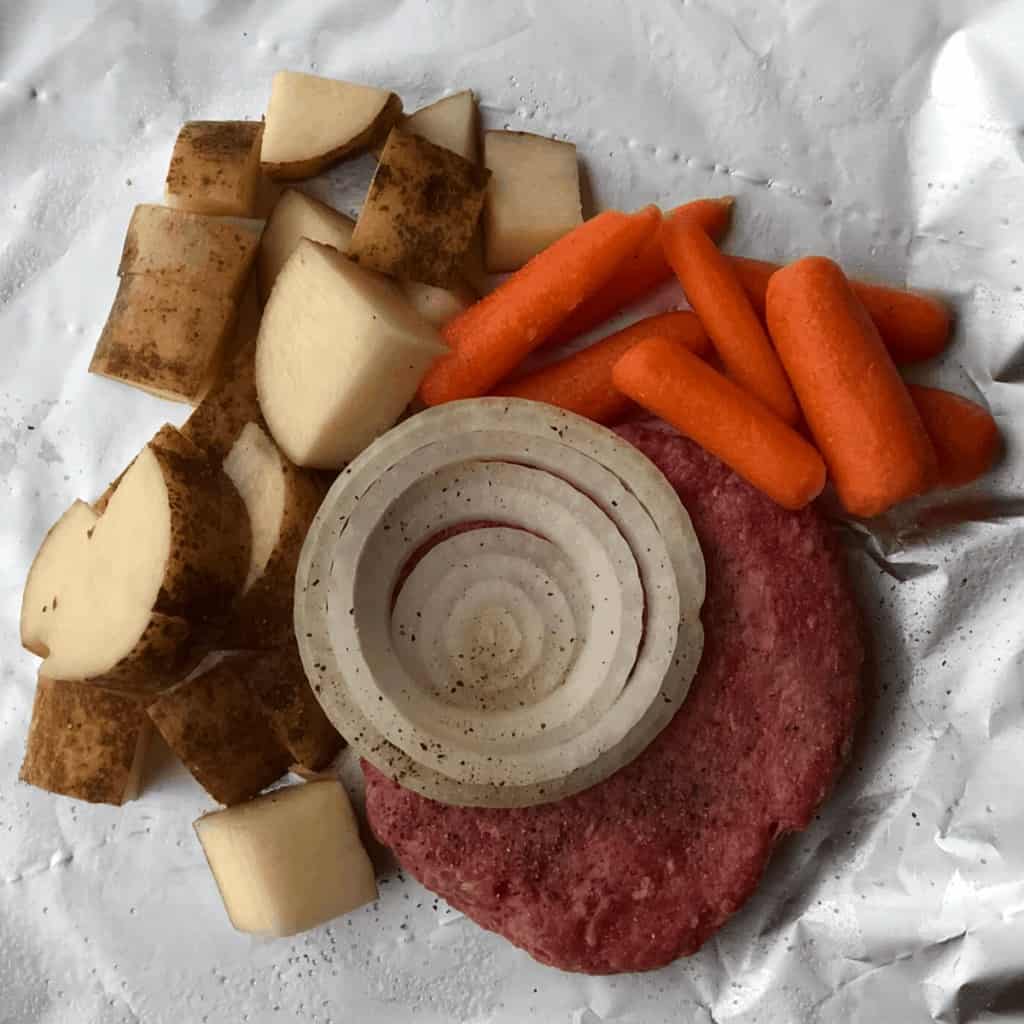 Now, it's time to pack it up! Start by folding the foil over the top. Make two small folds so it seals tightly. The potatoes and carrots will end up on top of the burger patty and that is perfectly fine!
Next, fold over one of the ends twice to seal tightly.
Finally, add a tablespoon or two of water to the open end of the pack. This will help create some steam while cooking. Seal up the other end and you're done!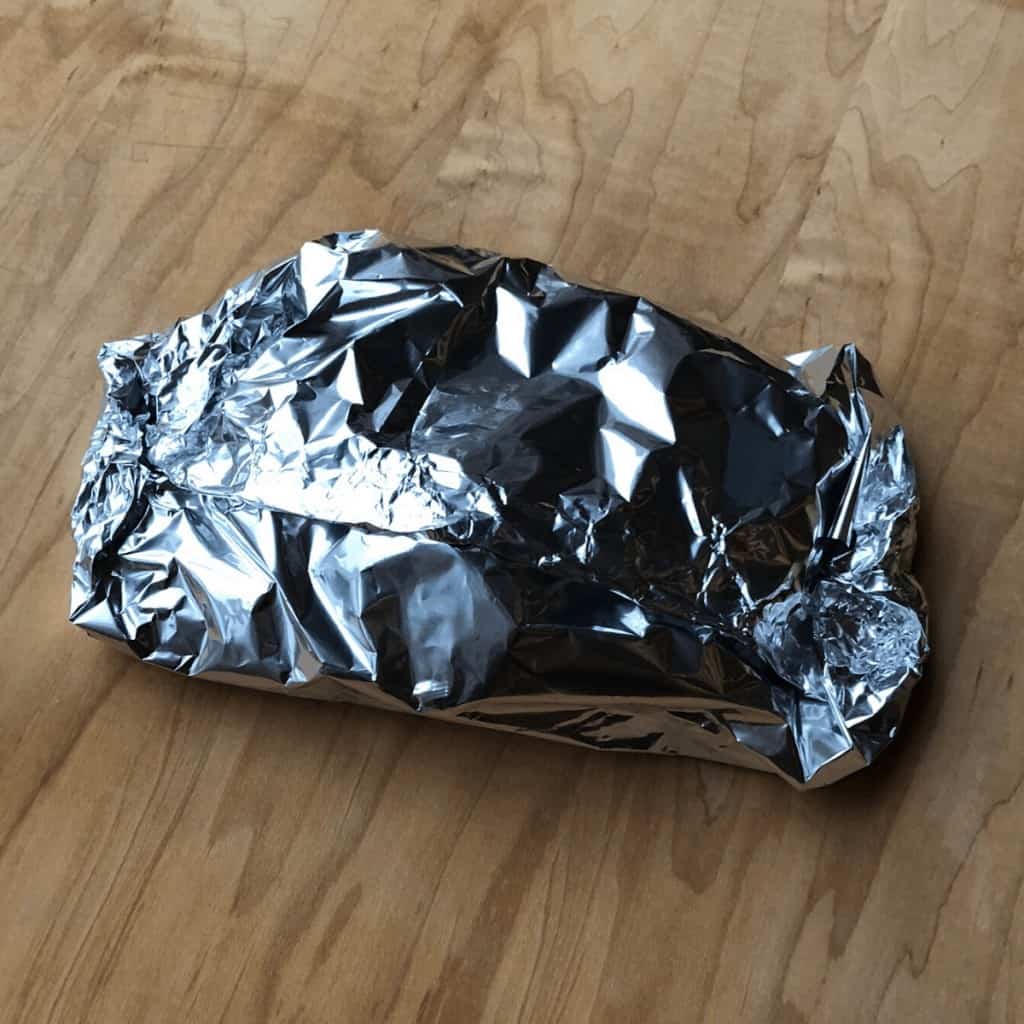 I like to do these ahead of time when we go camping and put them in resealable bags so they don't leak in the cooler.
How to Cook Them
When it's time to cook, we either use our grill or put them right over an open fire. Open fire cooking is a bit more unpredictable. The secret is patience! Get a good fire going first because you'll want some nice, hot coals at the bottom. This might take 45 minutes to an hour.
Your fire is ready when you have some hot coals. Place your foil packs next to them (not on them) or, ideally, on a fire grate above the fire. Let them cook for 45 minutes to an hour, rotating occasionally to ensure even heat.
If you have a grill, it's a little easier! Just put those foil packs on a preheated grill and cook for 45 minutes on medium heat.
Recipe variations
You don't have to camp to enjoy these meals in a pouch! Just put them in your oven at 375 degrees for 45 minutes and you'll have a delicious meal with no clean up afterward!
Hobo dinners are a great "meal for one" option. Just use a premade hamburger patty, cut up a small potato add a few baby carrots and you're done! No campfire is necessary!
You can really tailor these meals to your own tastes and allergens. I have made the burger patties with ground turkey as well as half ground turkey and half ground beef.
We have also varied the vegetables that we use. You could do sweet potatoes instead of regular potatoes and a variety of steamable vegetables as an alternative to carrots.
More main dishes
📖 Recipe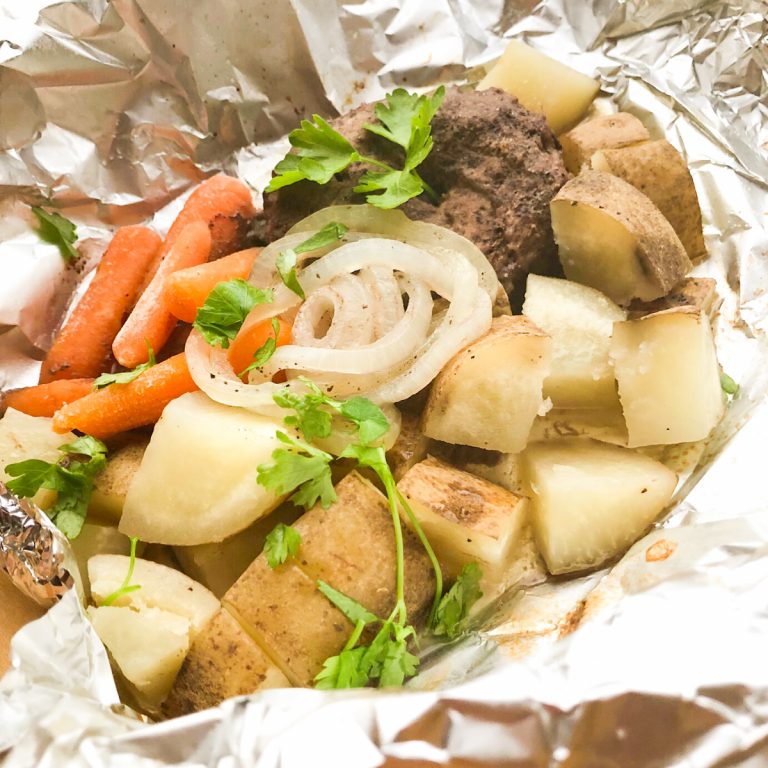 Hobo Dinner Hamburger Foil Packets
Hobo dinner hamburger foil packets are perfect for camping. This recipe is free of dairy, egg, soy, wheat/gluten, peanuts, tree nuts, fish, and shellfish.
Ingredients
For one serving:
1

Square of aluminum foil

"Safe" cooking spray

4

ounce

ground beef patty

or ground turkey

10

baby carrots

1

small potato

diced

1

slice

onion

salt to taste

pepper to taste
Instructions
Spray the square of aluminum foil with cooking spray. Place the ground beef patty, potatoes, and carrots on the foil. Top with the slice of onion and salt and pepper. Bring two of the sides of the foil together and fold twice to seal tightly. Seal one of the ends. Add 1-2 tablespoons of water in the remaining open end and then seal tightly.

Cook over medium high heat for 45 minutes to 1 hour or until hamburger is no longer pink. Serve with ketchup.
Notes
Nutrition facts for one foil packet: Total calories 363, Total fat 12 grams, saturated fat 4.4 grams, trans fats 0.4 grams, cholesterol 69 mg, sodium 128 mg, total carbohydrates 40 grams, fiber 5 grams, sugars 6 grams, added sugars 0 grams, protein 25 grams
Nutrition
Love this recipe?
Please leave a rating ⭐⭐⭐⭐⭐ and share your comments below!
Stay in touch on social media! You can find me @ Instagram, Facebook, and Pinterest. I love getting your feedback so please tag me if you try a recipe!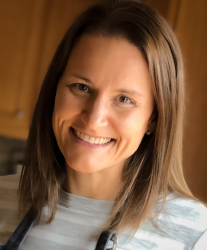 Latest posts by Kristi Winkels, RDN, LD
(see all)