A chef's card is a helpful tool for people to use when they are eating out with food allergies. Read on to learn more about chef's cards and how to get your own printable version.
Several versions of a chef's card exist but they all serve two purposes:
To alert the chef and restaurant staff of food allergies.
To provide instructions on preparing a "safe" meal. 
I asked a group of chefs on two forums for culinary professionals what they thought about this tool and this is what I learned:
While some of the chefs admitted seeing a chef's card in the middle of a busy dinner service might cause a little stress, they are still mostly accepted as helpful tools of communication between customers, chefs, and restaurant staff.
Chefs seem to appreciate them the most when used after the patron calls the restaurant ahead of time. If you aren't able to call ahead, however, don't throw this helpful tool in the trash. It can still serve its purpose.
After discussing these cards on the forums, I decided to take the feedback that I received and create one of my own. It differs from others in that it includes a space for jotting down three dishes that are of interest to you. The chef can then consider three dishes, rather than the entire menu, and choose which one can be prepared safely. 
Here are a few tips to make using a chef's card the most effective:
If possible, use it in combination with calling the restaurant ahead of time to alert them of your special needs.
If you weren't able to call ahead, present your card promptly after being seated at the restaurant
Print your card out on heavier paper like card stock and choose a bright color that will stand out in the kitchen
Keep a few copies with you always so one is available whenever you are out and about. Consider keeping a few copies with your med kit (a bag with epinephrine and/or an antihistamine).
To get a free printable chef card, sign up below:
More helpful resources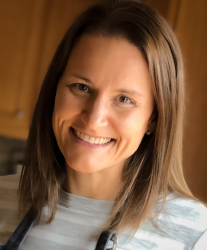 Latest posts by Kristi Winkels, RDN, LD
(see all)