Crunchy and sweet, allergy free caramel corn is free of the top 8 allergens but a delicious snack that everyone will enjoy!
Jump to:
Dairy free butter substitutes
Making caramel corn allergy friendly really isn't much different than traditional recipes. The main substitute in this recipe is cooking oil or "safe" margarine in place of butter.
Caramel corn purists will insist that you cannot make caramel corn without butter. That's because the flavor of butter is pretty darn good. But you can still make really delicous caramel corn without it.
I usually use some type of cooking oil such as canola for this recipe. It doesn't really add much flavor at all but works well in making the caramel sauce to coat the popcorn.
I have also used Earth Balance Buttery Spread, a dairy free margarine (they also make soy and dairy free). This does have more flavor. If you like the flavor of Earth Balance in other baked goods, that would be a fine option.
If coconut oil is safe for you, that would also be a good option. Unrefined coconut oil (also known as virgin) has a distinct coconut flavor that actually goes well with caramel corn (and plain popcorn, I might add). If you don't like that flavor, you can use the refined variety of coconut oil which doesn't have much flavor at all.
Recipe variations
You can use any type of popcorn you like for this recipe. One Christmas my parents gave us an actual movie theater style popcorn popper which easily makes the 8 cups of popcorn needed for this recipe. If you don't have a ginormous popcorn popper that's okay, you can pop it on the stove or even in a paper bag in the microwave. Just please don't use an actual bag of microwave popcorn because they have added ingredients that you don't want in your caramel corn.
If you want to skip the step of making the popcorn, you can buy a bag of plain popcorn at the store. Many brands just include popcorn, oil, and salt so it's fairly easy to find an allergy friendly option.
Another option, especially if you don't like the popcorn hulls, is to use puffcorn. Puffcorn is made with cornmeal and then baked so it does not contain the hulls. My kids love puffcorn on its own and in this caramel corn!
Though product formulations and labels change, currently Old Dutch Puffcorn is dairy free. It does contain a mixture of vegetable oils including soybean oil so if you're avoiding soybean oil this isn't a good option for you.
Chester's Buttered Flavored Puffcorn is another option that is free of the top 8 allergens currently (again, always check labels to be sure!)
More allergy friendly treats
📖 Recipe
Allergy Free Caramel Corn
A sweet treat that is dairy free, egg free, wheat free, soy free, peanut free, and tree nut free!
Ingredients
8

cups

of popped corn

¼

cup

canola oil, "safe" margarine, or other oil

¾

cup

brown sugar

5

tablespoons

light corn syrup

1

teaspoon

baking soda

¼

teaspoon

vanilla
Instructions
Preheat the oven to 250 degrees. Put the popcorn on a large baking sheet or roasting pan.

In a medium saucepan, combine the oil/margarine, brown sugar and corn syrup. Cook over medium high heat until mixture boils. Cook for another 2-3 minutes. Remove from the heat and stir in the baking soda and vanilla (mixture will bubble and foam). Pour the hot mixture over the popcorn and stir well making sure to cover it all in caramel.

Put in the preheated oven and bake for 45 minutes, stirring occasionally. Remove from the oven and cool. Store in an airtight container.
Notes
Nutrition Facts : Serving size: 1 cup, calories: 205, total fat: 8 grams, saturated fat: 0 g, cholesterol: 0 g, sodium:172 mg, total carbs: 38, fiber: 2 g, sugar: 31 g, protein: 1 g
Nutrition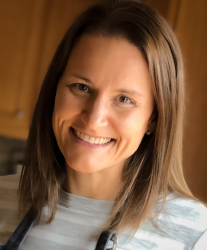 Latest posts by Kristi Winkels, RDN, LD
(see all)