This red beans and rice skillet recipe is a one-pot wonder that is a quick and easy meal to prepare - perfect for a weeknight dinner!
Jump to:
It's a busy workday, I have nothing planned for dinner, and I have only an hour to get the kids fed and off to their evening activities. Sound familiar?
Traditional red beans and rice, born in Louisiana, takes several hours to make. First, dry kidney beans are soaked, then sausage is cooked, vegetables are added, and then the dish simmers for several hours.
This dish is a variation of red beans and rice that is a bit faster and can be easily altered to your family's tastes.
The ingredients
Sausage
For traditional red beans and rice, a smoked sausage would be sliced into ½ inch rounds and cooked in a skillet with some kind of fat. I have used a variety of different sausages for this dish including kielbasa, chicken, and turkey sausages - all pre-cooked. This cuts down on the cooking time and, if I forgot to take it out to thaw, it thaws quickly in the microwave.
You can use whatever sausage you like. I often will use Trader Joe's Sweet Italian Sausage because my family doesn't like things very spicy. (I know, I know...those of you from the South are cringing!) I have also used just a plain turkey kielbasa cut into ½ inch rounds.
Some sausages do contain hidden allergens so always read food labels carefully. For example, some have wheat/gluten derived ingredients and others may have cheese (dairy) added.
Red Kidney Beans
Another time-saver is to use canned kidney beans. I just pour the canned beans into a colander and rinse them. If you don't like red kidney beans, you really could use any bean you like. It will change the dish, of course, but it's another variation you can try to suit your tastes.
Vegetables
The traditional red beans and rice dish contains onion, green peppers, celery, and garlic. I have made this dish with an orange pepper because I didn't have a green pepper. I have also skipped the celery. This dish allows for some flexibility so use what you have.
My kids don't like big chunks of tomatoes in soups and stews so I try to buy petite cut canned tomatoes. If I don't have them on hand, I just empty the can of larger cut tomatoes into my Magic Bullet, pulse a couple of times, and voila - they're petite cut!
Rice
I like to use brown rice whenever possible to get a little more fiber. The problem with brown rice is that it takes longer to cook. To solve this problem, I buy instant brown rice that cooks in about the same amount of time as white rice.
With beans being a big part of this dish, it's already a high fiber meal. So, if you prefer white rice, use that and enjoy it!
How to make it
Sometimes I forget to take the sausage out so it's frozen when I begin. If that's the case, I throw it in the microwave for a few minutes so it is thawed enough to cut into ½ inch rounds. Because it's already cooked and just needs to be heated through, I will often put the sausage, onion, green pepper, and celery in the pan at the same time. If you use sausage that isn't precooked, just make sure to cook it completely before adding those veggies.
After the sausage and veggies are heated up and tender, the garlic gets added and cooked for a minute or two. Then, the tomatoes and beans are added to the pan along with thyme, pepper, and bay leaf.
Finally, when the tomatoes are heated and the mixture is bubbly, add the water and rice. It is covered and simmers for about 20 minutes. This is another reason I love this dish - it can be covered and forgotten until it is ready to eat!
Nutrition
When I say "one-pot wonder" with this dish, I'm not kidding. Not only is everything added to one pan to prepare it but all of the bases are covered nutritionally also!
Protein: sausage and beans
Grain/starch: beans and rice
Vegetables: Tomatoes, onions, celery, peppers, garlic. You could also serve this with a simple side salad.
The only thing missing here is a fruit that would go great as a side dish or a great on-the-go dessert!
If you're looking for something a little sweeter, check out the recipe index for some other dessert ideas!
More main dishes
📖 Recipe
Red Beans and Rice Skillet
This is a one-pot wonder that your whole family will love! It is free of dairy, eggs, soy, wheat/gluten, peanuts, tree nuts, fish, and shellfish.
Ingredients
"safe" cooking spray

1 (12-14)

ounce

package precooked turkey or chicken sausage

cut diagonally in ¼ inch slices

1

yellow onion

chopped

2

ribs

celery

chopped

1

green bell pepper

chopped

1

clove

garlic

minced

1 (16)

ounce

cans dark red kidney beans

drained and rinsed

1 (14.5)

ounce

can petite cut diced tomatoes

½

teaspoon

pepper

½

teaspoon

dried thyme leaves

1

bay leaf

1

cup

water

½

cup

uncooked white rice

or instant brown rice

crushed red pepper flakes

to taste (optional)
Instructions
Spray a large frying pan with cooking spray. Cook the sausage over medium heat until heated through. Add the onion, green pepper, and celery and cook until the onion is translucent and the celery and green pepper are tender. Add the beans, can of tomatoes, pepper, thyme and bay leaf. Cook until heated through. Add the water and rice and stir. Bring mixture to a boil, reduce heat, and simmer covered for 20 minutes.

Sprinkle with crushed red pepper flakes if you like a little heat. Serve immediately.
Notes
Nutrition Facts: Serving size: 1 cup, Calories: 237, total fat: 6 grams, saturated fat: 1.6 g, cholesterol: 50 g, sodium: 635 mg, total carbs: 29, fiber: 7 g, sugars: 4.4 g, Protein: 18 g
Nutrition
Love this recipe?
Please leave a rating ⭐⭐⭐⭐⭐ and share your comments below!
Stay in touch on social media! You can find me @ Instagram, Facebook, and Pinterest. I love getting your feedback so please tag me if you try a recipe!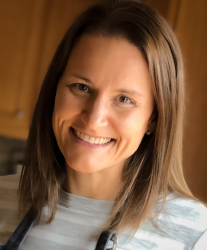 Latest posts by Kristi Winkels, RDN, LD
(see all)