A traditional holiday dish in Swedish homes, these Swedish meatballs are delicious even without the most common allergens.
Jump to:
Melisa Priem, the author of the cookbook 8 Degrees of Ingredients, was kind enough to share her recipe for Swedish meatballs here. Living in Minnesota, she probably has some ties to a Swede as many of us do.
My great-grandparents were Swedish and I grew up in an area where many Swedish immigrants settled. The Scandinavian culture has been kept alive and well, especially in Lutheran churches where they host Scandinavian dinners around the holiday season.
A Scandinavian tradition
I grew up learning about Swedish traditions from my Grandpa and Grandma. They especially liked to have lutefisk on Christmas.
One Christmas when I was probably about eight or nine, my cousins and I had to try lutefisk before we could open presents. I had heard about this fish before and I wasn't excited to try it. The rumors proved to be true and I was not a fan. Luckily, Grandma's rice pudding with lingonberries washed it down nicely!
I don't recall having Swedish meatballs with that meal but have since and I would gladly choose a whole plateful of them in lieu of the salty cod.
Swedish meatballs are traditionally served with boiled or mashed potatoes and lingonberry jam. But they also go great with these twice baked potatoes!
According to the cookbook, Our Beloved Sweden, they may also be part of a Smörgåsbord menu which may also include various types of bread, meats and fish, and vegetables including salads and relishes.
Recipe notes
This recipe calls for ground beef, pork, and veal. Our Beloved Sweden includes several recipes for Swedish meatballs and many of them also include this combination of meats but many of them just use beef. You may sub any combination of meats as long as it equals two pounds.
According to Melisa, the key to making these Swedish meatballs is to use an electric mixer to ensure a smooth yet fluffy texture.
Melisa's recipe states that you can freeze the meatballs (without the sauce) in resealable freezer bags for up to 3 months. When ready to use them, put them in a saute pan with some water and beef bouillon, and simmer for about an hour. Then you can thicken the sauce with some cornstarch or tapioca starch that has been mixed in a bit of cold water.
📖 Recipe
Swedish Meatballs
This recipe was shared by Melisa Priem, author of 8 Degrees of Ingredients. It is free of dairy, egg, soy, wheat/gluten, peanuts, tree nuts, fish, and shellfish.
Ingredients
1

cup

bread crumbs

¼

medium white onion

grated

½

teaspoon

ground cardamom

¼

teaspoon

ground nutmeg

¼

teaspoon

ground ginger

1

teaspoon

salt

¼

teaspoon

pepper

1

pound

ground beef

½

pound

ground pork

½

pound

ground veal

1-¼

cups

water

¼

cup

grapeseed oil

2

cups

beef stock

1

tablespoon

Dijon mustard

1

tablespoon

potato flour

starch
Instructions
Preheat oven to 375 degrees.

Combine the bread crumbs with the grated onion, spices, salt and pepper in a large mixing bowl. Stir with a fork to incorporate all the ingredients.

Add the ground meat and water and beat with an electric mixer on al ow speed until the meat becomes light and fluffy, about 5 to 7 minutes.

Using your hands, roll mixed meat into 1-inch balls.

Heat grapeseed oil in a large skillet over medium heat. Working in batches, saute meatballs until they are well browned on all sides. Transfer meatballs to a baking dish and continue baking in an oven, covered, for about 10 minutes or until meatballs are cooked through. Keep cooked meatballs warm and covered.

Whisk together the beef stock, Dijon mustard, and potato starch and pour directly into skillet used to cook meatballs. Continue whisking and heat over low-medium heat until sauce simmers. Continue to simmer and whisk until sauce thickens, about 3 to 5 minutes. Pour sauce over cooked meatball and serve warm.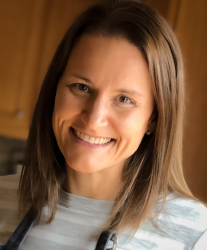 Latest posts by Kristi Winkels, RDN, LD
(see all)