Gluten free butternut squash pancakes are a creative way to incorporate a vegetable into breakfast!
Jump to:
Butternut squash in gluten-free pancakes? Sure, why not? I created these pancakes one summer when I had A LOT of butternut squash in my garden. Unfortunately, my son was particularly picky that summer and WOULD NOT TOUCH butternut squash.
You would think that a child who has so many dietary restrictions would be eager to eat anything he isn't allergic to but allergy moms everywhere know that's just not the case!
At the time, pancakes were all the rage at our house. So, I thought, why not use up some squash in pancakes?!
Cooking strategies for the picky eater
I would classify my son as a Supertaster. That's someone who can detect different flavors much more than the average person. Having allergic reactions to food can definitely cause heightened awareness when eating. That is certainly the case with my son.
When I made these butternut squash pancakes originally, it wasn't really so much about making healthier pancakes but more about using up my squash. My son did not hesitate to eat them, in fact, he ate FOUR!
This may be a testament to the fact that kids need to try foods multiple times before they really know if they like them. It also taught me that preparing foods in different ways might help to accept foods that might not be been accepted in the past.
Once my son had butternut squash in his pancakes and liked it, he was more open to trying it again on its own. He's a teenager now and will eat butternut squash on its own (but it's still not his favorite!)
He still really likes pancakes! 🙂
Related recipes
📖 Recipe
Gluten Free Butternut Squash Pancakes
These pancakes are free of dairy, wheat/gluten, eggs, soy, peanuts, tree nuts, fish, and shellfish.
Ingredients  
2

tablespoons

flax seed meal

6

tablespoons

warm water

1-⅓

cups

gluten free all purpose flour

1

teaspoon

baking powder

1

teaspoon

baking soda

⅛

teaspoon

salt

1

cup

butternut squash

roasted and mashed*

1

cup

milk

I used soy but any "safe" milk will work

¼

cup

maple syrup

½

teaspoon

ground cinnamon

½

teaspoon

ground nutmeg

1

teaspoon

vanilla extract
Instructions 
In a small bowl, combine the flax seed meal and water; set aside for 5 minutes. In a medium bowl, whisk together the flour, baking powder, baking soda and salt. With a mixer, blend the flax seed meal and water mixture with the butternut squash until creamy. Add the milk, syrup, cinnamon, nutmeg and vanilla extract and mix well. Gradually add the flour mixture to the squash mixture until fully incorporated.

Spray a griddle or skillet with cooking spray or 1 tablespoon of canola oil and preheat over medium low heat. Pour ¼ cup of batter onto skillet (I spread the batter out with the measuring scoop to make the pancake a little thinner). Allow to cook until the edges of the pancake are firm and the middle bubbles (about 1-½ minutes). Using a spatula, flip the pancake and cook for another 1-2 minutes. Serve with pure maple syrup and eat immediately!
Notes
*To roast squash, cut in half, scrape out seeds and place cut side down in a glass 9x13 pan. Cook on high setting for about 10 minutes or until the middle of the squash is mushy. Spoon out squash and place in an airtight container. Discard squash skin.
Nutrition Facts: Serving size: 1 pancake, calories: 80, total fat: 1 grams, saturated fat: 0 g, cholesterol: 0 mg, sodium: 147 mg, total carbs: 17 g, fiber: 2 g, sugar: 5 g, protein: 2 g
Nutrition
Love this recipe?
Please leave a rating ⭐⭐⭐⭐⭐ and share your comments below!
Stay in touch on social media! You can find me @ Instagram, Facebook, and Pinterest. I love getting your feedback so please tag me if you try a recipe!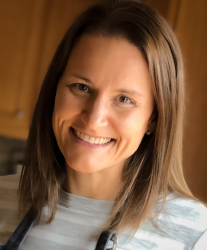 Latest posts by Kristi Winkels, RDN, LD
(see all)