I'm Kristi Winkels, Registered Dietitian, and mom to two kids with food allergies and this is our eating with food allergies story.
It began when my oldest son was 9 months old and ate a bite of a scrambled egg. Within minutes his nose started running and he began coughing and wheezing.  On the way to the Emergency Room, he became lethargic.   I've never seen skin as red as his skin was.
He had an anaphylactic reaction to the egg and was treated promptly in the ER with IV steroids, antihistamine, and epinephrine.
That happened on a Saturday and, on the following Monday, he had more allergy testing done.  It was at that time that we found out that he was also allergic to dairy, wheat, peanuts, and soy (later on we found out that soy was a false positive).
That was just the beginning of our eating with food allergies story.  Even after the shock of the whole thing had subsided, I still found myself actually feeling afraid to feed him! My husband and I had so much to learn - getting into the habit of reading every single food label, knowing what those ingredients actually are, preventing cross-contact, substituting ingredients, and, most difficult, cooking without...cheese!
OK, so cooking without cheese was the smallest of our challenges BUT altering one's diet can be very challenging when you're set in your ways (and really love pizza!) If you're eating with food allergies, you know that it isn't always very easy!
As a Registered Dietitian, I love food and nutrition and I am passionate about helping others eat well - even with food allergies! In my spare time, I enjoy coming up with recipes and finding foods that are free of the top 8 food allergens. I've made a lot of flops, including many "bricks" of bread, but have also come up with some new family favorites.
I hope that all of the information here helps you and your family eat well with food allergies!
What will you find at Eating With Food Allergies?
This site is full of all of the tips, food finds, and recipes that I've found helpful while eating with food allergies. Are you wondering where to go first? Here are some suggestions:
I hope you enjoy this site as much as I enjoy creating it!
Eat Well,
Kristi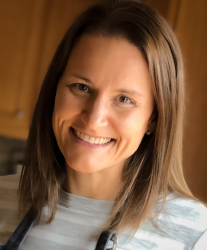 Latest posts by Kristi Winkels, RDN, LD
(see all)