These allergy free waffle cones are the perfect vehicle for allergy free ice cream. While they do take some time to make, they're worth it! 
Allergy free waffle cones (free of the top 8 allergens) can be difficult to find at the grocery store. Though, I see them more often than I used to. I'm a big fan of ice cream cones and kitchen gadgets, so I just had to buy a waffle cone maker and try making my own allergy free cones.
I was skeptical that these weren't going to turn out but was pleasantly surprised when my brand new waffle cone maker produced a perfect cone. My then two year old couldn't wait for me to make allergy free ice cream so he had a plain cone right away.
I knew I had a winner when he said, "Mmmm, Mommy, this is good!"  With that my heart melted like ice cream on a hot, summer day!
If you miss ice cream cones, purchasing a waffle cone maker might just be the ticket. Sure, it's another kitchen gadget that you'll have to find a space for and it does require a small investment up front but the satisfaction of filling yet another void in your or your child's list of treats is well worth it!
These are a few special items you will need to make allergy free waffle cones:
(affiliate links)
Allergy Free Waffle Cones
These allergy free waffle cones are crispy, sweet, and free of dairy, egg, soy, wheat/gluten, peanuts, tree nuts, fish, and shellfish.
Ingredients  
2

tablespoons

Ener-G Foods Egg Replacer

6

tablespoons

warm water

½

teaspoon

salt

1

cup

sugar

1-⅓

cups

wheat free all-purpose flour

¼

cup

cooking oil

1

teaspoon

vanilla extract

¼

cup

water
Instructions 
In a mixing bowl, whisk together the egg replacer and warm water until light and fluffy. Add the salt and sugar and whisk together until fully incorporated. Next, add the flour  and stir until flour is moistened. Add the oil and water and stir well. The batter should be the consistency of muffin batter.

Using a waffle cone maker, cook waffle cones (use about 3 tablespoons of the batter) according to the manufacturer's instructions. Makes about 10 cones.
Notes
Nutrition Facts: Serving size: 1 cone, calories: 175, total fat: 6 grams, saturated fat: 1 g, cholesterol: 0 mg, sodium: 2 mg, total carbs: 32, fiber: 2 g, sugar: 20 g, protein: 2 g
Nutrition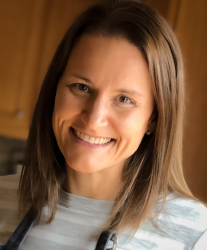 Latest posts by Kristi Winkels, RDN, LD
(see all)