You will want to run as fast as you can to catch these allergy free gingerbread cookies! They're dairy free, egg free, soy free, wheat/gluten free, peanut free, tree nut free, fish free, and shellfish free and are super fun to make and decorate.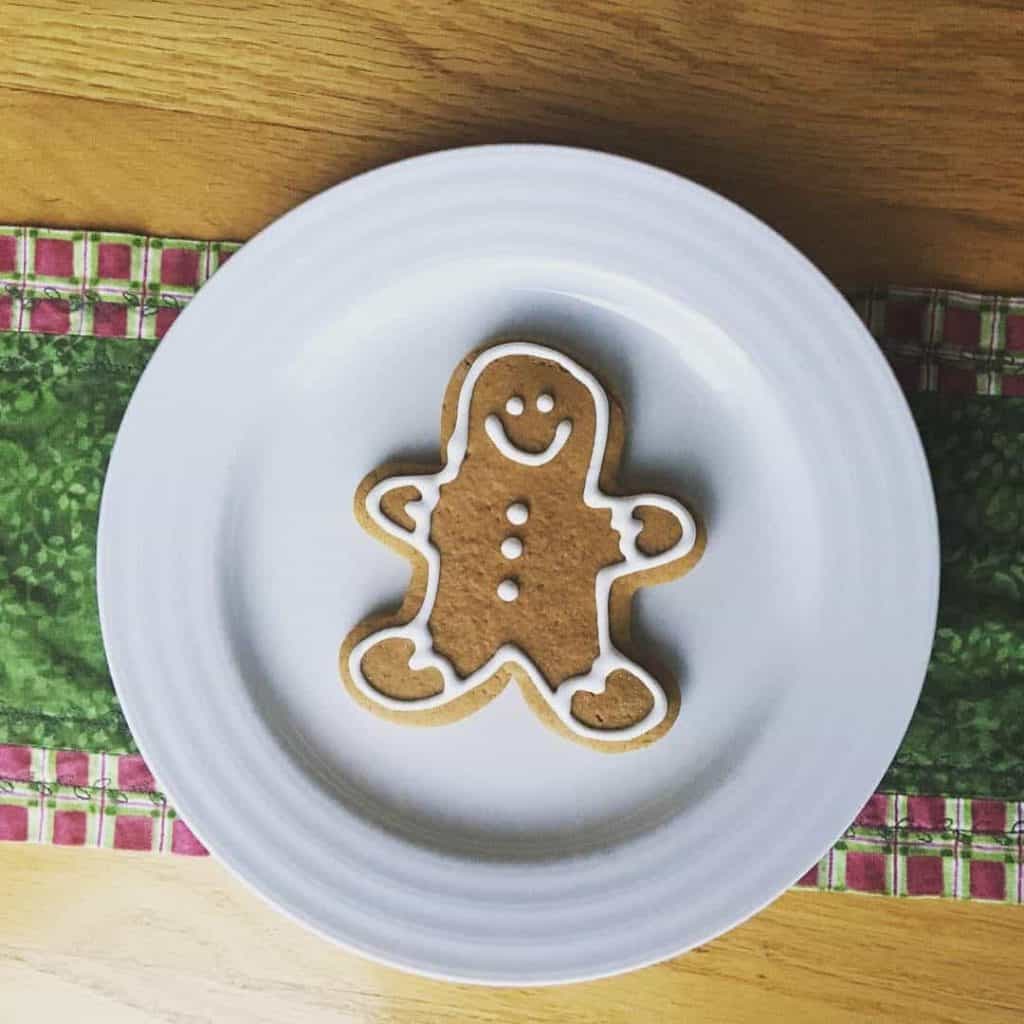 I first made these allergy free gingerbread cookies when my son's preschool class was reading The Gingerbread Man ("Run as fast as you can! You can't catch me, I'm the Gingerbread Man!")
The kids each got to roll out gingerbread, cut out their very own "man" and put it in the oven to bake. I didn't want my son to miss out on the fun so I tweaked the traditional recipe with some allergy free substitutes to make it dairy, egg, soy, and wheat/gluten free (traditional gingerbread doesn't contain nuts or fish/shellfish).
Ever since, we have made gingerbread men at Christmas time each year. We always have fun decorating them!
To decorate, I start by frosting them with standard powdered sugar frosting.  Then, it's time to dress them up! We like to use cut up various candies to use as hair, eyes, nose, mouth, buttons, etc. Some of our favorites our Mike and Ikes (which work great as eyes and buttons) and Gummi Lifesavers (great smiles or hair), chocolate chips, marshmallows and the usual red and green sugar sprinkles.  Use whatever is "safe" for you.
Just remember not to take your eyes off of these little guys or they might just run away!
Allergy Free Gingerbread Cookies
These gingerbread cookies work really well for making cut out gingerbread cookies and are free of dairy, egg, soy, wheat/gluten, peanuts, tree nuts, fish, and shellfish.
Ingredients
1/3

cup

granulated sugar

1/3

cup

molasses

1/4

cup

canola oil

2

tablespoons

+ 2 teaspoons hot water

1

tablespoon

flax seed meal

3

tablespoons

warm water

2 1/2

cups

wheat free all-purpose flour

1/4

teaspoon

baking soda

1/8

teaspoon

salt

1/4

teaspoon

ground cinnamon

1/2

teaspoon

ground ginger
Instructions
Preheat the oven to 350 degrees. In a small bowl, mix together the flax seed meal and 3 tablespoons warm water. Let stand for about 10 minutes.

In a mixing bowl, combine the sugar, molasses, oil and water. Add the flax seed and water mixture. In a separate bowl, combine the flour, baking soda, salt, cinnamon and ginger. Add the dry mixture gradually to the wet mixture and mix well. Roll the dough into a ball, cover the mixing bowl and refrigerate the dough for at least 1 hour.

Roll out the dough to 1/4 inch thickness on a floured surface (I use rice flour). Using cookie cutters cut into desired shapes. Place cookies onto an ungreased baking sheets.

Bake for 9-10 minutes in a preheated oven or until cookies are firm.
Recipe Notes
Nutrition Facts: Serving size: 1 cookie, calories: 124, total fat: 3 grams, saturated fat: 0 g, cholesterol: 0 mg, sodium: 400 mg, total carbs: 22, fiber: 1 g, sugar: 8 g, protein: 2 g