This allergy free brownie biscotti is gluten free, dairy free, egg free, nut free and is a delicious accompaniment to a hot cup of coffee or tea.
Jump to:
What is biscotti?
Biscotti is an Italian cookie that is baked twice. First, it is baked in a large loaf. Then it's sliced crosswise into long, finger-like shapes and baked again resulting in a crunchy texture.
It is true that the process to make these is a bit more time consuming than a regular drop cookie (like our favorite - chocolate chip). But these are totally worth the effort!
When looking through my recipe book one day, I found a biscotti recipe torn out from an old Cooking Light magazine that I had made years before.
Allergy friendly ingredients
Flour
Biscotti is fairly easy to adapt to allergen friendly baking because we're not going for a light, airy texture which is often missing from gluten and egg free baked goods. The crunchy texture is easy to achieve using an all-purpose gluten free flour. I used to mix up my own gluten free flour because it was less expensive. However, gluten free all-purpose flour blends are much more accessible now and less expensive than they used to be. I use Bob's Red Mill 1-to-1 Baking Flour.
Dairy Free Margarine
While dairy and soy free margarine doesn't have the same flavor as real butter, I couldn't tell the difference in this recipe. You can also use coconut oil if it's safe for you.
Flax "Egg"
As with most cookies, using a "flax egg" (flaxseed meal mixed with water) works well as an egg substitute in this recipe.
Biscotti sometimes is brushed with an egg wash to make the top shiny (this is also often done when making bagels). I didn't bother substituting anything for the egg wash for this recipe. I think the biscotti still looks yummy!
Chocolate chips
For the chocolate chips, I used Enjoy Life Foods mini chocolate chips. If you don't have chocolate chips on hand, you could omit them and this will turn out just fine. The chocolate chips just add a little extra something special! ?
Recipe Notes
This biscotti is a dry, crunchy cookie so it keeps longer than other baked goods that may dry out faster. I would recommend freezing it after 2-3 days (if there's any left!)
This is a recipe that makes a nice homemade gift. Take several pieces and place them in a cellophane bag, tie with a pretty ribbon, and make someone's day!
📖 Recipe
Allergy Free Brownie Biscotti
A delicious twice-baked cookie that is dairy free, egg free, wheat/gluten free, soy free, peanut free, and tree nut free.
Ingredients
2

tablespoons

flax seed meal

6

tablespoons

warm water

⅓

cup

"safe" margarine or coconut oil

⅔

cup

granulated sugar

1

teaspoon

vanilla extract

1 ¾

cups

wheat free all-purpose flour

⅓

cup

unsweetened cocoa powder

2

teaspoons

baking powder

½

teaspoon

baking soda

⅓

cup

miniature semisweet chocolate chips

such as Enjoy Life
Instructions
Preheat oven to 375° F. Grease a baking sheet with "safe" margarine or coconut oil. Mix the flax seed meal and warm water together. Let stand until thickened.

Mix together the canola oil and flaxseed meal mixture. Add the sugar and vanilla and mix well, scraping the sides of the bowl to be sure all of the sugar is incorporated. In a medium sized bowl, mix together the flour, cocoa powder, baking powder and baking soda. Gradually stir into the sugar mixture until well blended. Stir in the chocolate chips. The dough will be stiff and you might have to knead in the chocolate chips by hand.

Divide the dough in half. Shape each half into a loaf that is approximately 9 inches long, 2 inches wide and 1 inch thick. Place onto the baking sheet a few inches apart.

Bake for 20 to 25 minutes in a preheated oven. Cool on the baking sheet for about 15 minutes. Using a serrated knife, make diagonal slices that are about 1 inch wide. Place the slices on their sides on the baking sheet and bake for another 10 minutes on each side. Cool completely.
Notes
Nutrition Facts: Serving size: 1 cookie, calories: 190,  total fat: 8 grams, saturated fat: 3 g, cholesterol: 0 g, sodium: 187 mg, total carbs: 29, fiber: 2.5 g, sugar: 9 g, protein: 2 g
Nutrition
More sweet treats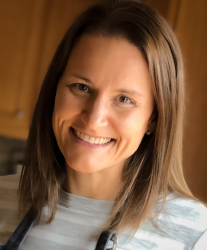 Latest posts by Kristi Winkels, RDN, LD
(see all)